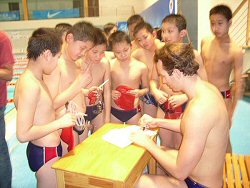 Beijing, December 19. AARON Piersol's Dairy Day 4. IT is 6 AM on Tuesday and I am heading off for a day of sightseeing with our hosts. You are probably reading this a little late as yesterday was an extremely busy day.
We were up at 6 AM to train and to do another clinic with local swimmers. This time we concentrated on speed work and core strength again. The kids and coaches were very interested in everything we said and I think we all got a lot out of it. It is amazing that you can be half way across the World, but training is still tough. Kids still love to train and coaches still love to coach. Swimming and sports in general are universal.
I have no idea about the backgrounds of many of these great young swimmers, but I can see in their eyes they are motivated to get better. Some want to get better because they love the sport, some because they are fortunate enough to be a part of a great program and some because they want to please their parents and coaches… very similar to young swimmers in the United States.
After the clinic we went straight to Tiananmen Square for a quick tour of the center of Beijing. This was a fast trip because of all the things we had planned for the rest of the day, but it was great to see. I love the history and architecture. What an interesting place to be.
After a quick lunch we headed straight back to the pool for our final swimming session. We were greeted by a great group who wanted help on dryland training, stretching, and some very specific backstroke work from Coach Eric Hansen and me.
This was the last of our clinics so we received a gracious goodbye from our new friends at the pool and headed to a "closing ceremony" dinner with all the swimmers, coaches, and parents. Once again it was a traditional Chinese meal with at least 20 different dishes to choose from. My favorite so far has been the duck. The ceremony went well into the night, but we finally made it home around 10 and got some much needed sleep.
Today we are off to see the Great Wall and the Forbidden City. I have been told that in China there is a saying…."You are not a man until you have climbed the great wall." I expect to become a true man tomorrow and climb all the way to the top for my workout.
Wish you were all here with me!!!