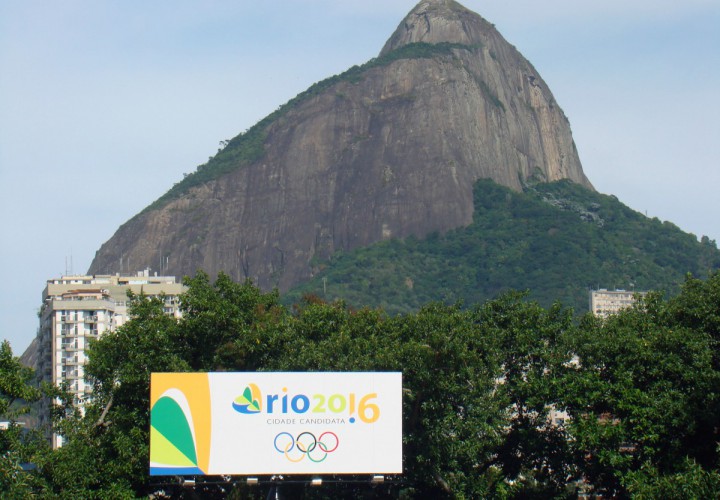 Editorial Coverage Sponsored By FINIS
Photo Courtesy: Rodrigo Soldon
By Christian Hanselmann
RIO DE JANEIRO, Brazil, October 2. A few months ago, we provided our readers with some essential Portuguese words that all swimmers should know as they gear up for the 2016 Rio Olympics. Today, we're back with another bit of a lesson in the host country's language.
Last time out, someone corrected one of my Portuguese terms, and I great appreciated it.  As I was learning the language during my time in Brazil, I made many mistakes and I still make many mistakes. Making mistakes is a very effective way to learn a new language, and can lead to some great anecdotes for the rest of your life. It's also a good way to break the ice when learning a new language; nothing is funnier than mixing up the words for coconut (coco) and poop (cocô) during a conversation. Now, that's a story to tell.
Everton de Castro, one of my friends who helped me learn from my mistakes in the language, will also be contributing to this series as we get closer to the 2016 Rio Olympics.
Here's a full paragraph in Portuguese regarding the qualification process for the Olympics, followed by an English translation:
Portuguese
É muito difícil qualificar para as olimpíadas. A Federação Internacional de Natação (FINA) declarou que os nadadores são convocados da seguinte maneira. Primeiro, todos os nadadores que alcançarem o tempo de qualificação serão garantidos na competição (mas nenhum país pode mandar mais de 26 nadadores.) Segundo, os nadadores que fazem parte de um revezamento são convidados. Os nadadores que não alcançarem o tempo de qualificação, poderão nadar nas olimpíadas somente se participarem do Campeonato Mundial em 2015. Finalmente, se houver espaço, os nadadores que atingirem o tempo de consideração serão convocados. Somente 900 nadadores competirão, mas muitos nadam milhares de metros cada dia pelo sonho de ser um olímpico.
English
It is very difficult to qualify for the Olympics. FINA declared that swimmers are invited in the following order. First, all swimmers who meet the qualifying time are guaranteed to swim (but no country can send more than 26 swimmers.) Second, the swimmers who area part of a relay are invited. If the swimmers do not meet the qualifying time, they can swim in the Olympics if they swim in the World Championships in 2015. Finally, if there is space, swimmers who met the consideration time will be invited. Only 900 swimmers will compete, but many swim thousands of meters every day because of the dream to be an Olympian.
7 Essential Portuguese Swimming Phrases
Last time out, we learned some basics on how to say the Olympics or the pool or swimmer in Portuguese.  This time, we're focusing on the strokes as well as how to properly say the various types of records that will undoubtedly fall in Rio.
estilo livre-freestyle
borboleta-butterfly
nadar de costas-backstroke
nadar de peito-breaststroke
medley-medley
um revezamento- a relay
um recorde (Olímpico, Mundial, Nacional)-a record (Olympic, World, National)
Christian Hanselmann swam for three years with the Brigham Young Cougars, and is currently pursuing a Master's in Sports Psychology. He also served two years as a missionary in Brazil and is fluent in Portuguese.