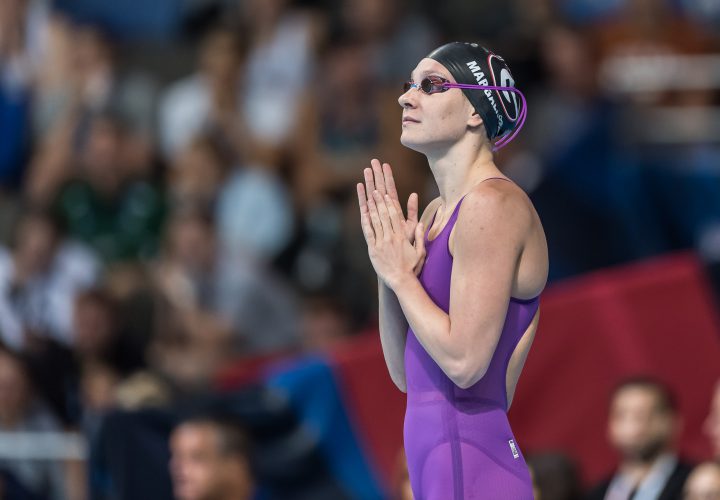 Photo Courtesy: Peter H. Bick

Editorial Coverage Sponsored By FINIS
By Abby Bergman, Swimming World College Intern
Melanie Margalis qualified for the 2016 Olympic Games in the 200m IM and as a part of the 4x200m freestyle relay at the USA Olympic Swimming Trials in Omaha, Nebraska last month. The upcoming Games marks a first Olympic appearance for the Clearwater, Florida native, who graduated from the University of Georgia in 2014.
Below are a few facts to help you get to know Margalis a little bit better…
1. She has her degree in fashion merchandising.
According to her USA Swimming bio, Margalis studied fashion merchandising at Georgia. After graduating, Margalis took part in an internship with UGA Head Coach Jack Bauerle's wife, dealing with fashion accessories. In her years as a Bulldog, Margalis scored big points for her team in 2013 and 2014, finaling in the 200 IM and 400 IM, as well as the 200 breaststroke (2014). She helped the Dawgs secure the 2013 and 2014 NCAA Championship team titles.
2. She is sponsored by Dolfin Swimwear.
Margalis signed with the company in 2014, marking the beginning of her career as a professional athlete. In 2014, Margalis had some short course feats to her name, but her list of accomplishments have skyrocketed in the last two years. Margalis is now a 2015 Duel in the Pool champion (200 breast), a 2015 World Championships finalist (200 IM) and a freshly-minted Olympian.
3. Purple is her favorite color.
From tech suits to goggle straps, purple is Margalis' signature color. Fortunately for her, Dolfin can appease her fashionista need to don bright colors in meets and in practice. It's the little things, like purple Titanium racing suits, that spice up the monotony of swimming.
4. She loves pizza.
According to Margalis' Dolfin Swimwear bio, she loves to eat pizza. It's her favorite post-meet splurge. And with her typical meet lineups involving the 200 IM, 400 IM, 200 breast and 200 free, we'd agree that Melanie earns her pizza.
5. Aquatic talent runs in the Margalis family.
Sister, Stephanie, swam at the University of South Carolina and older brother, Robert, preceded Melanie swimming for the University of Georgia. Robert was a longtime member of the US National Team. He came close to making the Olympic team in 2008 with a third place finish in the 400 IM. Robert won medals for Team USA in the 400 IM at 2003, 2006, and 2007 Pan-Ams and at 2008 Short Course World Championships. Versatility runs in the Margalis bloodline.
6. She did not have Olympic dreams as a kid!
"If I'm being honest, it was never a childhood dream of mine to become an Olympian. Maybe I've said it because I think it's what people want to hear but the Olympics were never something that was on my mind for myself.  My swimming dream was to get a scholarship to swim in college," Margalis wrote in a blog entry from April 2016. Over the past two years, Melanie made a huge mental shift and began seeing the Olympics in her future.
Best of luck in Rio, Melanie!