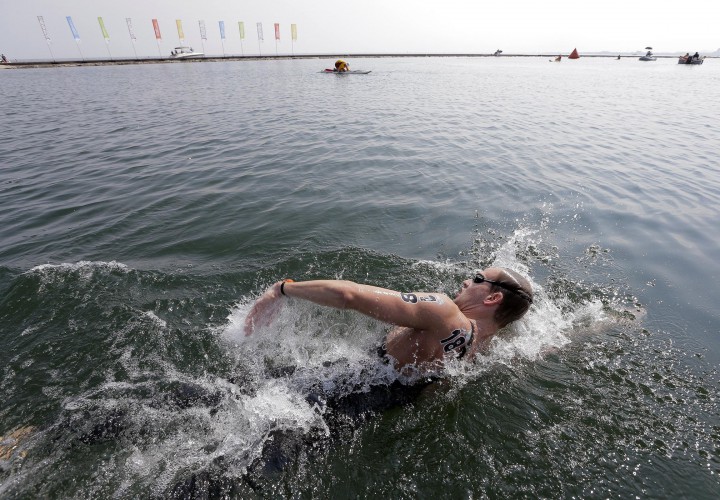 Photo Courtesy: Erich Schlegel/USA Today Sports Images
By Kelly Lennon, Swimming World College Intern
Recently my dad convinced my to participate in my first open water swim (five days post wisdom teeth extraction, at that) and let me tell you, it was an experience. I swam the 2 mile event at the Wildfish Race in Salem, MA and was entirely unprepared for what happened. The course was 2 laps around a rectangular shape in the ocean. The following is a transcript of my thoughts for the duration of the swim….
Okay so..do I just….swim?
The man said 30 seconds, but there's no block to dive off of so what do I do???
10 SECONDS. OKAY I CAN DO THIS.
AND I'M STARTING.
Everyone is sprinting– this is just like the 1650 and I kind of hate it already.
Well, if it's like the 1650 everyone will separate themselves out eventually so I'll just wait.
Rounding the first bouy and I'm still alive so things are going as well as they can be.
I should probably chill because I still have about 1.8 miles to go.
This man in the kayak is FAR too close to me. Please kayak away, sir.
STAY OUTSIDE THE BOUYS TURN TURN TURN.
Well, if I feel like I'm going to pass away during the mile I wonder how the rest of this will go.
No, I'm good. I'm doing okay. I'm not worried.
COLD SPOT.
Maybe these people with wetsuits are onto something.
I probably should have worn a wetsuit.
It's kind of cold.
No. Wetsuits are for the WEAK.
Or the intelligent. Whichever.
I've been on the heels of this woman in a wetsuit for this entire race.
I NEED to go around this woman.
Okay, swim to the right and just pass her.
Oh fun, she swam to the right too.
Maybe the left?
And she's going left!
Ma'am, I'm sorry I touched your foot but you don't need to kick that aggressively.
IT WAS AN ACCIDENT.
Now I'm definitely going to pass you.
Okay, one mile down, one to go and I feel okay at best.
The water is way too shallow and way too warm. I need to swim faster.
Need to be careful of the seaweed on this first part.
SEAWEED IN THE FACE. SEAWEED IN THE FACE.
PLAY IT COOL, PEOPLE ON THE BEACH CAN SEE YOU.
I think I've taken more strokes with my head up than down at this point.
Out of seaweed, out of warm water, almost home free.
THEY MOVED THAT BOUY FURTHER??
There's no way that bouy was that far the first time around…nope nope nope.
If I get disqualified for accidentally going inside the bouys, I am not going to be pumped.
The good news is the water is so cold, I can't tell how much pain I'm in.
Yet I STILL haven't passed this woman.
I think I'm gonna kick now, like a lot.
My coaches are going to be so proud when they find out I know how to use my legs.
HA. PASSED HER. LET'S GO.
Okay, simmer down, this is a casual race.
I think I'll just sprint the last straightaway probably.
Did I really just think that?
DOING IT ANYWAYS.
I started sprinting way too early, but it's too late to stop now.
So what point is it socially acceptable to stand up and walk to the beach…
Now I know what people mean by "finding land legs"….HELP.
*slight jog across finish* DONE.