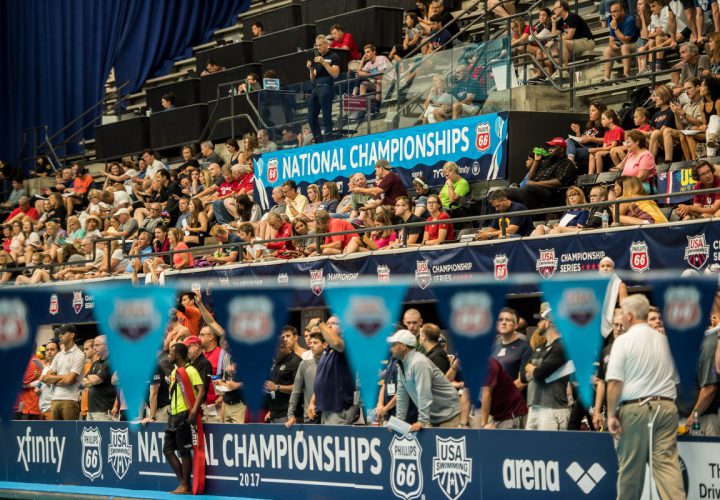 Photo Courtesy: Peter H. Bick
By Katie Lafferty, Swimming World College Intern.
The level of excellence in the athletes that are the face of USA swimming never seems to fall short of amazing. To be able to witness the incredible achievements of these swimmers in person is an experience unlike any other.
Seeing Olympic champions swim their signature event can give a person enough adrenaline rush to last for days. On the other hand, seeing a rookie make their first national championship final or make their first international team brings out emotions in you that you didn't even know existed. Before you head out to your first national level swim meet, there are some things you may want to keep in mind.
1. National and junior national team members will be everywhere. They are just normal people and desire respect just like you.
While standing in line for a hot dog or walking to the fan zone, you are likely to encounter a national team member. It is important to remember that these athletes are just like anyone else.
These athletes deserve to be respected as they roam the hallways looking for friends and family members. Before stopping them to take a picture, look around and see if they are already being swarmed by others. If they are, maybe a picture isn't a great idea. If the athlete is welcoming the attention, go for it.
2. It doesn't matter how old you are, get in line for that autograph and photo.
Whether you are five-years-old or 50 years old, if you want to get a picture with the athlete who is doing an autograph session, then go for it. These athletes are scheduled to be at the autograph station for the fans. They want to interact with the fans and the biggest supporters of the sport. Also, what better way to commemorate your first national level competition than an autograph and a photograph.
3. Be prepared for it to be loud.
If you have been to a swim meet before, you know it will be loud. However, add in that these are the best swimmers in the country, and world, and the volume increases. If you're a lucky fan, you might even be given noise sticks to bang around during the meet to help cheer on your favorite athletes. Not only are the fans loud, but you have the swimmers and coaches cheering and whistling as well.
4. Watching the meet in person is 100 times better than watching on TV.
Watching an American record be broken or seeing someone chase the world record is such an adrenaline rush. To be in the stands and cheer on these athletes as they are racing towards personal bests times is something indescribable. To see the reaction on an athletes face, in real time, as they touch the wall and look at the scoreboard is something that can only truly be captured completely in person. Being able to appreciate the greatness in front of you is much easier to do when you're watching in person and not on a tape delay on the TV.
5. It will be the best day of you life.
Whether you're a swim nerd or just witnessing your first swim meet, seeing the best swimmers in the country compete live will be the best day of your life. To be apart of the electric atmosphere is something hard to forget. Attending a swim meet makes you apart of the history that is made every time these swimmers step up on the blocks. So sit back and enjoy what the history that is being made right in front of your eyes.
All commentaries are the opinion of the author and do not necessarily reflect the views of Swimming World Magazine nor its staff.