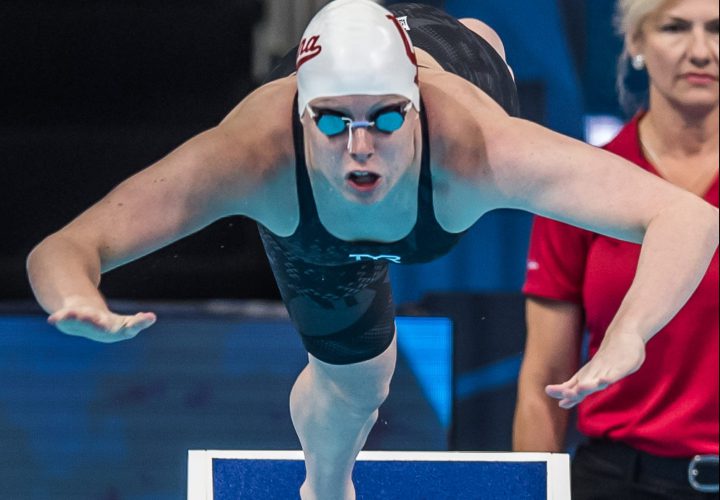 Photo Courtesy: Peter H. Bick

Editorial Coverage Sponsored By FINIS
By Sarah Lloyd, Swimming World College Intern
Indiana Hoosier rising sophomore, NCAA champion, American record holder, and first-time Olympian, Lilly King swam into the hearts of Americans everywhere when she won both the 100 and 200 breaststroke events at the Olympic Trials in Omaha a few weeks ago.
Here are a few things you need to know about the new Breaststroke Queen before Rio:
1. She won her first two events at her first Olympic Trials.
That's right. Lilly King hadn't been to an Olympic Trials before this year and she's currently sitting at 2-0 on the victory counter. Not a bad start for the teenager.
2. She doesn't like to be super serious behind the blocks.
King doesn't feel the need to pump up the intimidation factor when she's behind the blocks– her swimming says it all. She has mentioned in several interviews, both during the NCAA Championship meet and at Olympic Trials, that she'd rather smile and look around than be totally locked in before a race. "I'd much rather ask someone what's for dinner," she said. She's definitely taking the adage "have fun, swim fast" to heart.
3. She's a go-to for movie quotes.
According to classmate and fellow breaststroker Laura Morley, King can quote a lot of movies. If ever she needed to consider a career change, Netflix would be a viable option, it seems.
4. She's one of nine Indiana Hoosiers headed to Rio for swimming or diving.
She joins Hoosiers from Egypt, Canada, Slovenia, and the United States, which makes Indiana one of the top American universities in that respect. We expect to see lots of hugs and smiles between Lilly and her teammates on the deck at Rio.
5. Carbonation for the sake of caffeine doesn't bother her.
The pre-race rush is important for King, but she does it a bit differently from most swimmers. While other athletes drink coffee for the caffeine kick before a race, King drinks a Coke. The reason? She doesn't like coffee but likes the caffeine. The carbonation doesn't seem to bother her either.