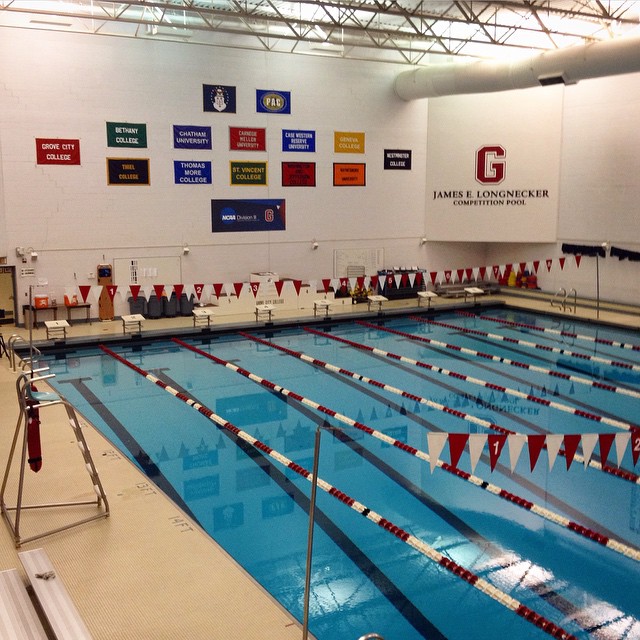 By James Bossert, Swimming World College Intern
The psych sheet for the Longnecker Invitational which is held in conjunction with the PAC and AMCC Championships is posted. Although every event at conference championships meets are exciting and important, here are five (OK six) events that are going to get the fans on their feet and could decide the final results of the championship.
1. Men's 1650 Free
Nicholas Smith of Westminster sits in the top seed after winning the conference and invitational title last year, beating two-time defending champion Dave Bossert of Grove City. With Bossert graduated, the title is Smith's to defend as he has already swam faster this year (16:39.25) than his winning time from last year (16:43.99). He will be pushed by Matt Crum of St. Vincent, who again has been faster this year than last year. Depending on who else swims this event, these two distance specialist will push each other the entire race. It may be a long race, but definitely not one to miss.
2. Women's Medley Relays
Grove City swept the medley relays at last year's championship, but a new year brings new challenges. Westminster is the top qualifier in both the 200 and 400 medley relays with Grove City close behind in both. St. Vincent will be one to watch in the shorter medley relay, hoping to play spoiler with their talented sprint core. The relays will be a key factor in the team's race for the women, especially these medley relays where three teams could pick up the big victory points.
3. Men's 100 Back
This event is loaded with talent. Seniors Dan Simon of Penn State- Behrend and senior Steven Brooks of Westminster occupy the top two spots both having already swum under the NCAA Division III invite time of 50.16 from last year. Both Simon and Brooks competed at NCAAs in this event last year and are expected to duel closely this weekend. The top 10 swimmers entered are already faster than what it took to qualify for the top eight at last year's championships. Look for this event to be very fast and very even across the board.
4. Women's 200 Fly
The top two finishers in this race last year were seniors. This opens up the door for a new champion. That champion could be any one of the top eight swimmers in the psych sheets. Grove City sophomore Amanda Hutzelmann is the top seed by one one-hundredth over Westminster freshman Megan Douds (2:10.29 to 2:10.30). Another Westminster freshman, Lindsay Homan, only a second behind those two at 2:11.51. It doesn't drop off very much from there as the next five swimmers are seeded within 2.66 seconds of one another. There is a lot of room for swimmers to move around and move up. This event will definitely have an exciting finish to it.
5. Men's 50 Free
Another completely stacked event for the men, simply based on the amount of talent entered into this event. Brooks and Simon, with Brooks already under the 21 second barrier this year, are headliners again. But with the "splash and dash" anything can happen. Look for Zach Ligus of St. Vincent, Max Hague, Daniel Bogan and Sam Angelo of Westminster, Grove City's Caleb McKusick and Jordan Dehli to all be competitive. This race is fast and all about doing the little things right. All of these guys are hungry to be known as the fastest man in the pool.
This year's meet will have all the excitement of last year's meet and more. For a full schedule of events and schedule of the meet visit the official invitational website. These couple of races are only a few of the many important and exciting races that will take place this weekend. You won't want to miss this one!