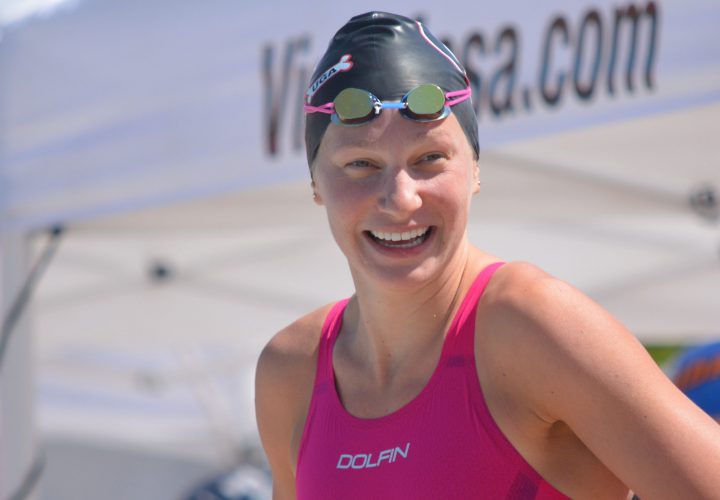 Photo Courtesy: Maddie Kyler
By Landon Bennett, Swimming World College Intern.
In a sport as relentless as swimming, sometimes we get lost in the fray of the seemingly nonstop practices, grueling meets, and exhausting daily life. With a routine as trying as a swimmer's, important pieces of a healthy lifestyle fall through the cracks without much warning. Even if you're on top of your sleep schedule, school work, and diet, sometimes you can have practices that don't go as well as you know they should. Occasionally, you can attribute this to an off day, a goof.
Consistent lack of performance in the pool, whether at practice or in meets, can often be attributed to a swimmer's failure to check up on their mental health. Negativity is an easy mental state to slip into and is dangerously easy to ignore. As all coaches love to remind swimmers, swimming is 10% physical and 90% mental, but it's much easier to observe and check physical than mental strength.
For many swimmers, a poor mental state explains the majority of their issues in the pool. Overcoming poor mentality, anxiety, or stress are not simple feats, but they are manageable if approached the right way. Here are three keys to staying on top of the mental game in swimming.
1. Positive Performance Tracking
Practice logging has gained traction in the past few years, and for good reason. Logging allows swimmers to consistently remind themselves of their successes and track their work towards goals. It only requires five to ten minutes of a swimmer's day, and once worked into a daily routine it seems to use no time at all.
A good model for logging is to find two to five questions to reflect upon and write down responses to those questions each day. Below is a list of common questions that could be used:
What did I do well at practice today?

What did not go well at practice today?

What could I work on to keep what didn't go well from happening again?

What was my workout?
While only a brief list, the questions above not only allow swimmers to look back on what they need to improve upon, but also reminds them of the things they've done well. Posing positive questions is crucial to effective logging. If a swimmer only notes about what goes wrong during a practice, logging can cause even more problems instead of improving mental health.
By looking back on the successes of a practice, positive logging allows a swimmer to recognize their successes. It may seem trivial at first, but the more a swimmer reinforces their strengths, the more confidence they build. Improvements are still discussed and tackled, but aren't approached punitively in this system. Before a big meet or a trying week of practice, swimmers can look back at their log and see all of the great things they've done in the pool , reminding them what they know they can do well.
2. Visualization
Visualization doesn't have to be just for race preparation. Although it is a great tool for pre-race rituals, it can also be used to help improve mood or get the body in the right groove. Positive visualization is more a tool than a process.
Instead of conventional visualization, in which a swimmer imagines what they want their race to look like, positive visualization is about using existing memories and applying them to challenging moments. The utility of positive visualization comes from the feelings it evokes.
For instance, a swimmer can think back to a race or practice where they felt strong, smooth, and quick. Muscle memory is a great tool; recalling these memories can trigger muscles and "trick" the body into feeling like it felt in the memory. The memories used do not have to be long: even a vivid memory of a single lap is enough to get a swimmer's mind and body focused on what feels good.
3. Shifting Concentration
Recognizing mental weakness takes great strength. In a sport that never stops, taking time to reflect requires concerted effort and the will to admit that you need help.
Weaknesses aren't always crippling, either. There will be many times each day, even when not in the pool, when negative thoughts or doubts creep into the psyche. When these thoughts come creeping in, learning to shift your concentration away from negativity and into a positive space can turn things around.
Shifting concentration is probably the toughest technique at which to become effective because it doesn't fit into a routine. To effectively shift concentration away from negative thoughts, you have to constantly check on yourself to make sure you're in the right space.
A swimmer can shift concentration away from negative thoughts in many ways, but there are two easy methods that work well:
Affirming their positive qualities to themselves, fighting the negativity and focusing on the good

Checking out, acknowledging a weakness and choosing not to appraise it, as it won't facilitate success or growth.
Positive practices lead to happier, more confident swimmers. While tools like the ones above may seem gimmicky or silly, buying into them shows real results. Keeping doubts and negativity out of a swimmer's head allows them to enter the pool uninhibited. Set a date to start using these tools for yourself, whether it's setting aside five minutes a day to log, or using visualization to get you psyched up before you hop into the pool.
All commentaries are the opinion of the author and do not necessarily reflect the views of Swimming World Magazine nor its staff.