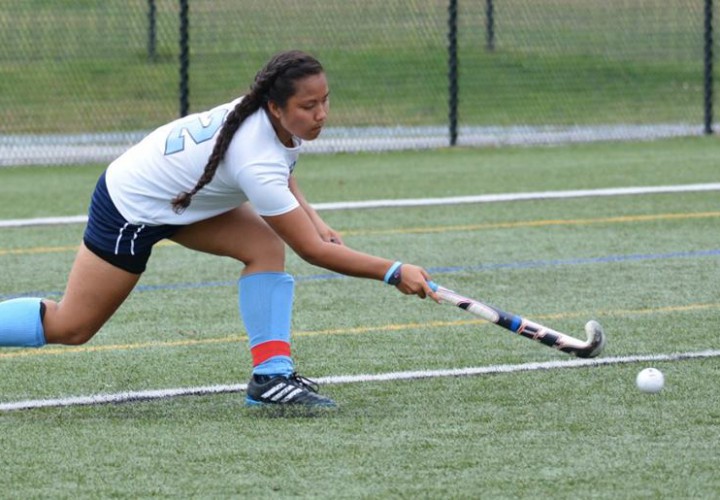 Photo Courtesy: Doug Keller
By Cathleen Pruden, Swimming World College Intern
Some land sports are more popular than others. It seems as though most swimmers gave soccer a try at some point in their childhood. However, I've met very few swimmers who say, "Yeah, I almost played field hockey instead."
Bent over a wooden stick following a 5-ounce ball up and down a grass field is a fairly different athletic experience than following a black line back and forth through cold water. After being previously inspired by my volleyball counterparts, I started to reflect on what I have learned from my field hockey friends.
Recently, my school's field hockey team has inspired me in a number of ways. Other sports could also probably teach us these lessons, but in the past week, field hockey has set the example for me.
1. Your title does not define you.
How often have you looked at a heat sheet of a circle-seeded heat and counted yourself out too soon? Swimming from lane eight, have you found yourself still swimming alongside the middle lanes at the 150 of a 200 and thought you should slow down, sure you must have just taken it out too fast? Race. Lane eight does not define you.
This past weekend, the Mount Holyoke College field hockey team entered the conference tournament semifinal game as the number five seed. The squad brought the number one seed to a thrilling double overtime finale. In the ninetieth minute of play (Katie Ledecky could probably swim five miles in that time!), the team's star defender scored the first goal of her collegiate career– the winning shot to send the underdogs to the conference championship.
Few would have expected the winning goal to come from one of the conference's best defenders. But, her title did not define her. She rose to the occasion. She did what needed to be done.
When a coach gives a distance set, the sprinters will often pipe up, "but I don't swim distance" and then shut down and not give the set their 100 percent. "Sprinter" does not define you. There is still something to be gained from this set. Think about your technique or even just accept the challenge and have fun with the training opportunity.
2. Act like you've been there before.
Despite entering the tournament with a lower seed than in the past few years, this team has been there before. They had the confidence. They knew what it took. After their semifinal win, they brought the number two seed through a double overtime and won the conference championship in a shootout.
They acted like they had been there before and did not allow a higher seeded opponent to intimidate them. These athletes still knew how to play field hockey. We should all act like we have been there before. Confidence is a key component of success.
USA Swimming features so many levels of meets that swimmers are constantly stepping up to the next one– from States to Sectionals to Futures to Juniors to Nationals to Olympic Trials. College freshmen step into an entirely new world as well. Even summer league swimmers enter uncharted territory at All Star meets or a City Championship.
Too often a meet is wasted as a swimmer is so overwhelmed by the new experience, or feels like they do not belong at the next level of competition.
Do not be intimidated. Somebody will always be more experienced than you are. Ask questions, familiarize yourself with the surroundings, but remember that this is just another swim meet. The pool is still 25 yards or 50 meters long. The officials are still observing for the same infractions. Your coaches and teammates still support you. You still know how to race.
3. Be like the goalie.
We can't all stand in the goal with a small ball flying through legs, bouncing off sticks, and deflecting towards our face.
As the conference championship wore on, the goalie was unrelenting. I would imagine no player ever wants to lose control of the ball, but anywhere else on the field, a loss of control is not the end of the world. But, if the goalie lets the ball slide past, the game can end or a collegiate career can come to a close. At the very least, the momentum can change. The goalie handled the apparent pressure with grace.
In the middle of a set, we swimmers often tell ourselves that we will be unrelenting. We will take every single prescribed underwater kick. We will keep our head down. But, it is hard. If we take that extra breathe, we will not totally fail. We just won't get any better. What if we were like the goalie? Making failure simply not an option? That seems to be where success lies.
Even more, the goalie is vocal. She supports and directs her teammates and works from afar to keep the ball from coming towards her.
Swimming is a different kind of team sport. Helping improve our teammate's early vertical forearm will unlikely help us achieve our own goals. Yet, using the vocal energy of a goalie can raise the intensity of the practice or improve the morale in a meet and, in turn, help our own performances. It's likely a different kind of encouragement, but the little "last one fast one," and "this is where we get better" commentary makes a difference.
There are lessons to be learned from our fellow competitors in other athletic arenas. These lessons are worth keeping in mind as we continue to grind through the thick of the swimming season, with fewer opportunities to step away and see other student-athletes compete.