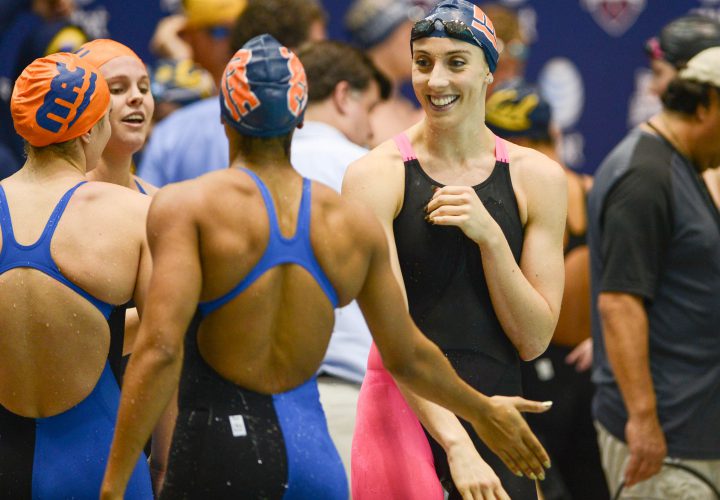 Photo Courtesy: Tia Patron/Tennessee Athletics
Speedo Sectional Series is proudly sponsored by Speedo. Visit SpeedoUsa.com for more information on our sponsor.
Speedo Sectionals kicked off tonight at Greensboro Aquatic Center in Greensboro, North Carolina with the distance session.
The meet began with a close race between Bayley Frierson of Georgia's Chattahoochee and Sinclair Larson of SwimMAC Carolina in the women's 1000-yard freestyle, with Frierson coming out just on top with a 9:58.25. Larson was just behind in 9:59.79, dropping 20 seconds from her seed time to place second for SwimMAC and displace Asheville's Abigail Kriegler. Larson and Frierson were the only women under 10:00.00, as Kriegler finished third in 10:05.91.
Another big time drop came from 16-year-old Thomas Bretzmann of North Carolina Aquatic Club in the men's 1000, overtaking first-seed John Frith of New South Swimming for first place in a time of 9:11.85. Frith was runner-up, stopping the clock in 9:14.77. Lucas Johnson grabbed the third-place spot for SwimMAC, with a 9:16.63. SwimMAC athletes placed third, fourth, and fifth in the event, showcasing the team's depth.
For the women's 800 freestyle relay, SwimMAC Carolina's A-team dominated the rest of the field by six seconds, with Julia Menkhaus, Heidi Lowe, Sophie Lindner, and Caroline Hauder combining for a time of 7:17.67. Chattahoochee Gold Swim Club put together a second-place relay finish in a time of 7:23.62, with Emma Cole blasting a 1:47.63 as anchor. This swim bodes well for her individual 200 tomorrow. Kentucky's Cardinal Aquatic Club touched the wall third in 7:24.63. SwimMAC's B-squad placed fourth.
Results for the men's 800 freestyle relay were unavailable.