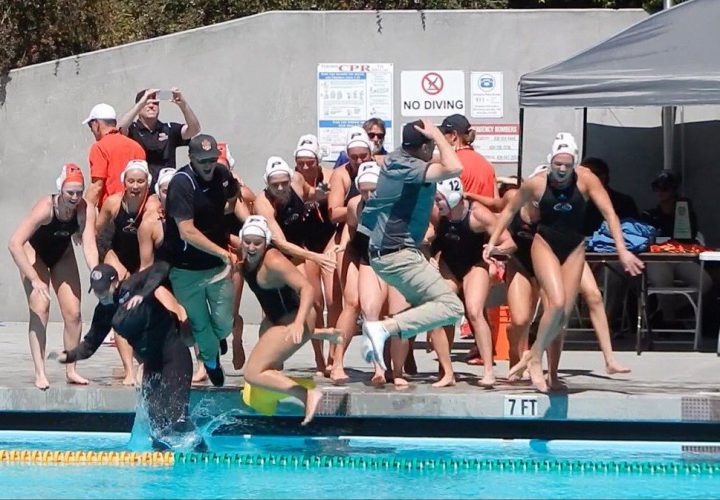 Pacific celebrates the 2017 GCC Title. Will the Tigers repeat in 2018? Photo Courtesy: Pacific Athletics
By Michael Randazzo, Swimming World Contributor
Editor's Note: Swimming World continues its coverage of the 2018 NCAA Women's Varsity Water Polo season. Look for interviews, conference predictions and the best coverage of the sport in America and beyond.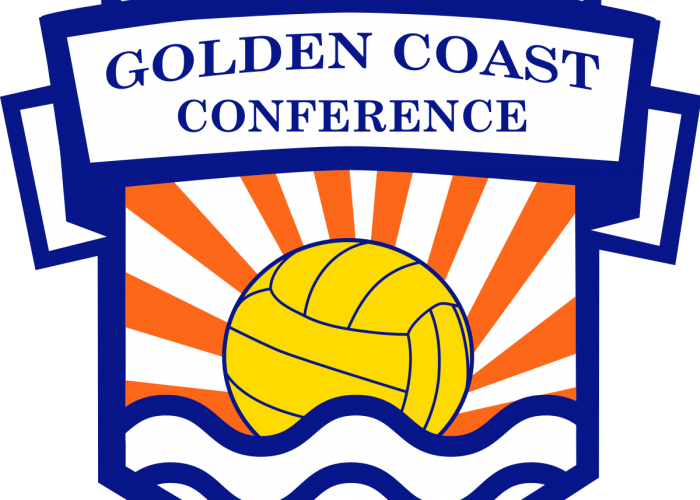 Last fall, the Golden Coast Conference awarded its first-ever automatic qualifier for NCAA men's tournament play to the University of Pacific. This spring, the Tiger women are a prohibitive favorite to achieve a sweep of GCC titles—and a second straight trip to play for the national championship.
In the 2017 GCC Championship match, Pacific figured out a way to end San Diego State's conference dominance, tagging the Aztecs with an 11-7 loss and ending their 17-match unbeaten streak in GCC play. With the win—avenging a one-goal loss to San Diego State in the 2016 GCC finals—the Tigers earned their first-ever NCAA berth.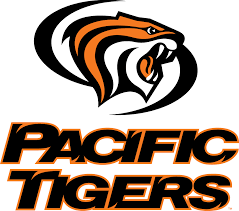 Don't be surprised to see Pacific Head Coach James Graham's team back in NCAAs again in 2018.
With a combination of youth and experience, Graham—who last year was named 2017 GCC Coach of the Year—has a formula for success that should result in his women's team following in the wake of his men's squad, which qualified for the 2017 NCAA Men's Tournament. Sophomore Kyra Christmas (60 goals, 42 assists to lead Tigers in both categories) was named MVP of last year's GCC tournament. Another super sophomore is Mariana Duarte (45 goals). Completing the trio of returning top goal-scorers for the Tigers is Karolina Hlavata (41 goals)—one of five seniors on the Pacific roster—giving Graham ample offense to augment the net play of senior goalie Alexis Hollinrake, who in 2017 started 29 games in the Tiger cage.
Key Match-up: San Diego State, Friday, April 13, Stockton, CA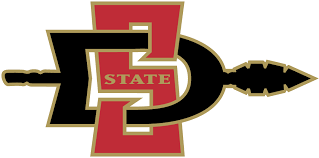 Carin Crawford has been at San Diego State for 19 seasons, and has achieved unparalleled success with the Aztecs, including a 26-0 regular season record in four years of Golden Coast Conference play. What has bedeviled her are a handful of losses in the GCC title match, where the Aztecs have captured just one NCAA berth in four attempts.
For Crawford's team to make it back to the national championship, they will have to replace significant offensive production lost to graduation. Caroline Israel (team-leading 67 goals), Ioli Beneko (48 goals) and Alyssa Diacono (43 goals)—who accounted for 158 of 263 goals the Aztecs scored in 2017—are all gone. Looking to pick up the scoring slack are junior Hannah Carrillo (30 goals, 31 assists) and senior Makena Magr (16 goals)—plus any of the 10 freshmen new to the San Diego State roster.
Complicating Crawford's rebuild is the loss of Kate McDonnell to graduation; Maura Cantoni (11 starts in 2017) will look to step in for the most successful goalie in GCC regular season play.
Key Match-up: Hawai'i, Sunday, March 11, San Diego, CA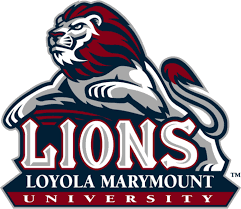 Just three years removed from a trip to the national championship tournament, Loyola Marymount University has hopes of at least returning to the GCC Championship Final for the first time since 2015. To achieve this, head coach Kyle Witt will need strong offensive production from junior Hana Vilanova (48 goals) to offset the loss of Caitlin Schafer (team-leading 67 goals), who graduated in 2017.
Junior goalie Sky Flores, who got the majority of starts last season in the Lions goal, is another key to a successful 2018 campaign. With 14 upper classmen—including seven seniors, Witt's squad has the depth and experience to compete; one interesting addition to the LMU roster is Abbey Grosse. The Perth, Australia native transferred from UC Santa Barbara.
Key Match-up: Pacific, Friday, March 23, Los Angeles, CA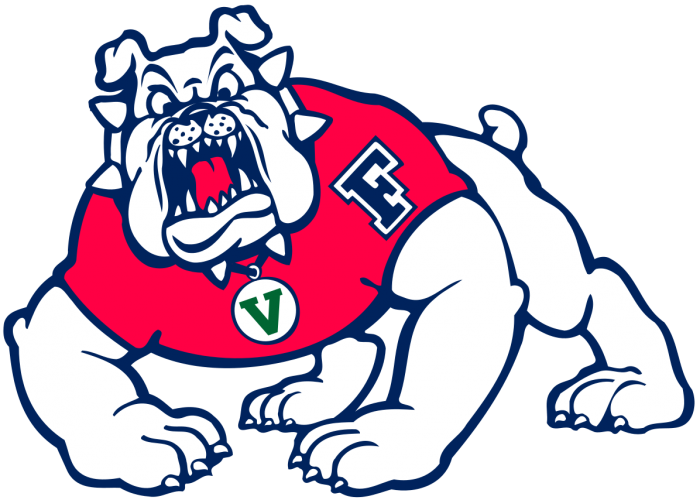 No matter how their season plays out, the Fresno State University Bulldogs will be the inspirational story of the 2018 GCC season. A new team competing in its first season of NCAA varsity polo, Olympian Natalie Benson—formerly head coach at Marist College—leads a collection of freshmen, sophomores, juniors and three seniors on the program's inaugural season which has already achieved its first milestone: a 10-9 win over California State University, Northridge last weekend.
Freshman Callie Woodruff is already off to a fast start with 12 goals in seven games; Benson's biggest challenge may be picking a starting goalie from sophomore Madelynn Garcia or junior Mackenzie Richards.
Key Match-up: Loyola Marymount, Saturday, March 3, Fresno, CA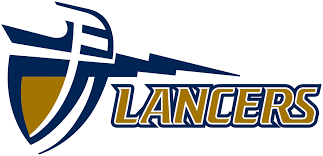 After a successful 2017 season—17-14, including 3-4 in conference play— California Baptist University lost three of its top four goal scorers as well as starting goalie. Paizlee Dreyer (55 goals, 33 assists), Valerie Spezzaferri (46) and Jessica Castellano (35 goals) all graduated.
Left to pick up the offensive pieces for Jonathan Miller's squad are junior Lizette Perez (50 goals) and senior Annie Eubanks (27 goals). Starting goalie Lina Medeiros also graduated; sophomore Grace Ramirez looks to get the starting nod for the Lancers.
Key Match-up: Redlands, Saturday, March 10, Riverside, CA
Santa Clara University returns its top two scorers; the challenge for Bronco Head Coach Keith Wilbur is to find replacement for the other four field starters lost to graduation from a squad that finished 9-20 last season. Junior Hannah Buck (team high 43 goals and 67 kickouts drawn) in 2017 will combine with fellow junior Annie Eldredge (33 goals) for a one-two scoring kick.
With no seniors and only three other juniors, much of the Bronco starting line-up will be drawn from 17 underclassmen, including nine freshmen. One of those underclassmen—likely sophomore Lydia Dadd—will replace the now departed Francesca Puccinelli in goal.
Key Match-up: Cal Baptist, Friday, February 23, Santa Clara, CA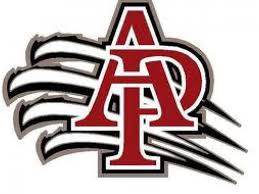 After a relatively successful 2017 season (14-15, 3-4 GCC), Azusa Pacific University goes into this season with strength in goal. Senior Erica Marquez racked up 255 saves last season—tops in the conference—and a .539 save percentage for head coach Julie Snodgrass' squad. Senior Britt Harris (35 goals, 21 assists in 2017) and junior Annalise Batcheller (18 goals, 19 assists) will look to offset the loss of leading scorer Megan Myers (43 goals) to graduation.
Key Match-up: Fresno State, Friday, March 16, Fresno, CA
Coming off a 7-19 campaign in 2017—and 0-7 in the GCC—the Concordia University–Irvine Eagles have nowhere to soar but up.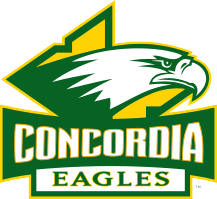 The positives are that this summer, their athletics program was awarded DII status by the NCAA. Still, there are many growing pains ahead for a program that has been around since 2008 but last year played its first season of NCAA varsity play. The first order of business was to snap a nine-match losing streak from last season; by beating Whitter 9-7 last week, head coach Dreason Barry's squad has already gotten off to a good start.
Seniors Corbin Bricks, Emily Lawless, Katharine Leese and Sierra Venegas—along with goalie Ariana Olmos—will provide a core of leadership to a Concordia program hoping to escape the bottom rung of the GCC.
Key Match-up: Azusa Pacific, Saturday, April 21, Azusa, CA