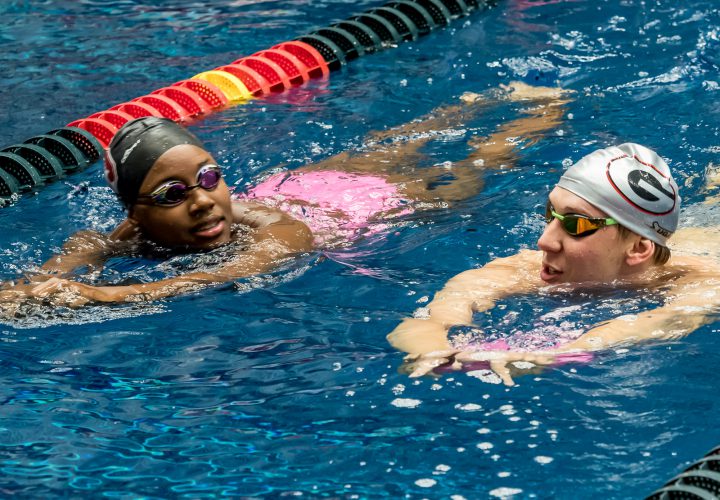 Photo Courtesy: Peter H. Bick
Editorial content for the 2018 TYR Pro Swim Series Indianapolis is sponsored by SwimOutlet.com. Visit SwimOutlet.com for more information on our sponsor. For full Swimming World coverage, check out our event coverage page.
During the Friday night finals session at the TYR Pro Swim Series in Indianapolis, Katie Ledecky won her third victory of the weekend with the third-fastest time of the world in the women's 200 free, while Georgia Bulldogs Melanie Margalis and Chase Kalisz won their respective 400 IMs and Simone Manuel and Nathan Adrian were 50 free champions.
Read below for an event-by-event recap of the session.
Women's 400 IM
Melanie Margalis trailed Ella Eastin for most of the women's 400 IM at the TYR Pro Swim Series in Indianapolis, but she took over the lead on the first 50 meters of freestyle. Margalis, representing St. Petersburg, pulled away to touch in 4:36.81, her best time by seven tenths of a second.
Eastin took second in 4:38.43, which was officially her first time ever under 4:39. She posted a 4:36.96 to finish second in the event at last year's U.S. Nationals but was disqualified. Eastin's Stanford teammate Katie Ledecky took third in 4:38.88.
Athens Bulldog's Hali Flickinger touched fourth in 4:40.36 after leading much of the race's first half. Just behind was Penn State's Ally McHugh in 4:40.51, followed by Vietnam's Vien Nguyen (4:43.32) and Stanford teammates Allie Szekely (4:43.82) and Brooke Forde (4:44.10).
Leah Smith, last year's U.S. National champion, won the B-final in 4:43.10, followed by Texas A&M's Bethany Galat in 4:43.88.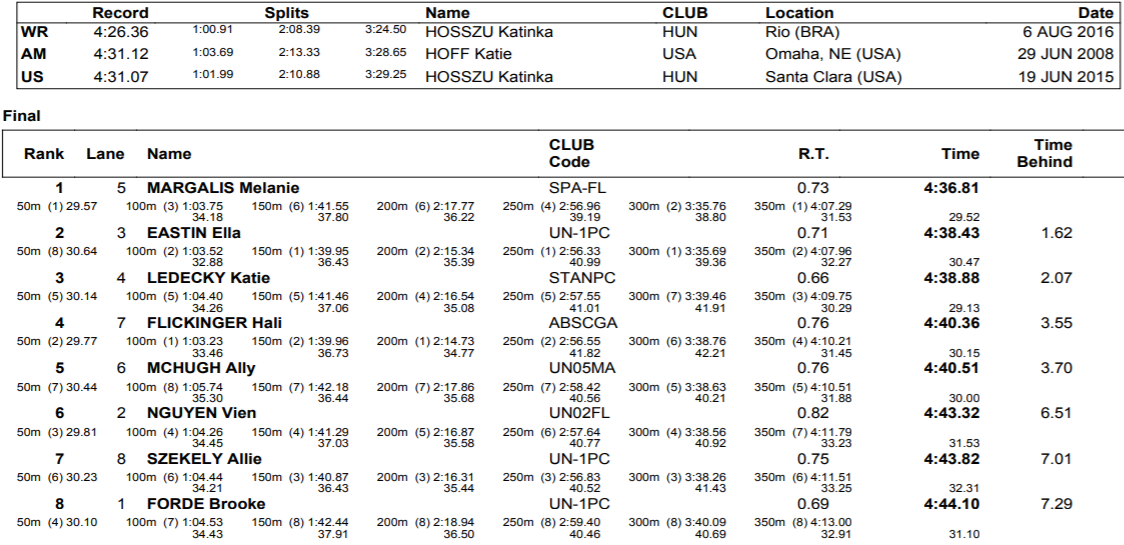 Men's 400 IM
Athens Bulldog's Chase Kalisz never had any competition in the men's 400 IM final. He pulled ahead from the start and pulled in with a time of 4:10.55. That's slower than Kalisz's top-ranked time in the world this year (4:08.92) but quicker than the No. 2-ranked swimmer, Japan's Kosuke Hagino (4:10.69).
Dynamo's Jay Litherland, who trains with Kalisz at Georgia and has been a finalist in the event at both the 2016 Olympics and 2017 World Championships, took second in 4:17.09. Third went to Louisville's Daniel Sos in 4:18.12.
Cal's Sean Grieshop took fourth in 4:21.05, and Dynamo's Gunnar Bentz was fifth in 4:21.34 after taking the win in the 100 fly Thursday night. Also in the final were Georgia's Clayton Forde (4:24.47), Club Wolverine's Charlie Swanson (4:24.49) and Indiana's Spencer Lehman (4:29.05).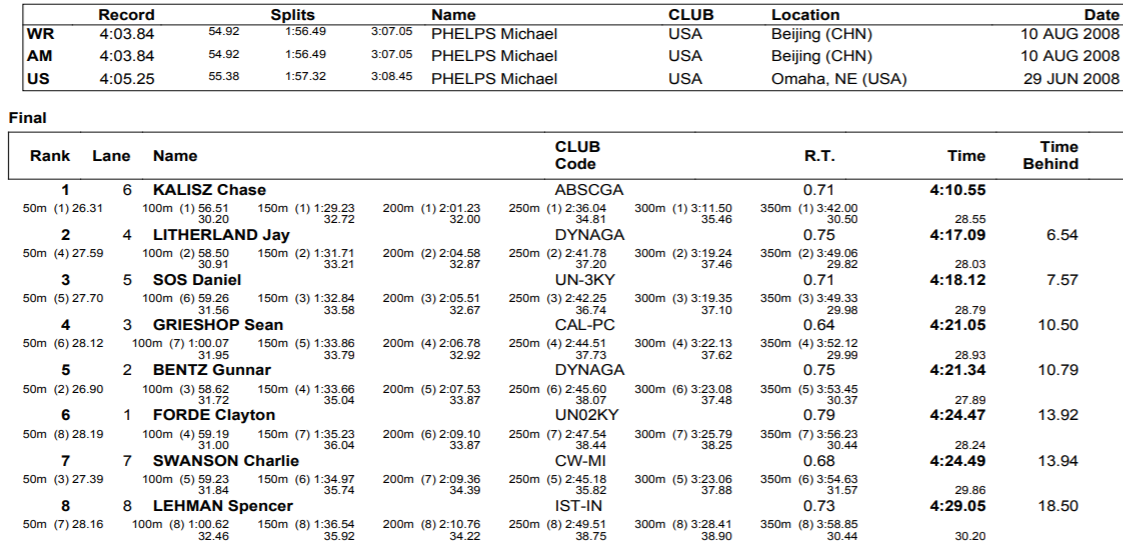 Women's 50 Free
Simone Manuel earned her first win as a professional swimmer, topping the Indy 50 free in 24.59. That gave the former Stanford standout the 10th-fastest time in the world this year and the top time among Americans.
Mission Viejo's Margo Geer took second in 24.72, her lifetime best and good for No. 15 in the world rankings. Geer finished just four hundredths ahead of HPC-Ontario's Taylor Ruck, who took third in 24.76.
isville's Mallory Comerford swam a quick time of 25.09 to take fourth, ahead of Ruck's teammate Kayla Sanchez (25.33) and Comerford's training partner Kelsi Dahlia (25.36). The Athens Bulldog duo of Olivia Smoliga (25.56) and Veronica Burchill (25.78) took seventh and eighth, respectively.

Men's 50 Free
Cal's Nathan Adrian held off a challenge from Indiana's Ali Khalafalla to take his second victory of the weekend, touching in 21.97 to win the 50 free. Adrian moved into a three-way tie for 12th in the world and improved upon his own season-best time of 22.08 from March.
Khalafalla touched second in 22.14, and well back in third was Wolfpack Elite's Justin Ress in 22.51.
Israel's Aaron Greenberg edged out Ress' teammate Ryan Held for fourth, 22.63 to 22.64. Others in the final included Indiana's Blake Pieroni (22.80), Mason Manta Rays' Adam Chaney (23.14) and Club Wolverine's Gus Borges (23.43).

Women's 200 Back
HPC-Ontario's Taylor Ruck picked up a dominant win in the 200 back, her second win of the weekend after winning the 100 free. Minutes after finishing third in the 50 free, Ruck swam a time of 2:08.11. She has swum as quick as 2:06.36 this year, and she finished second behind fellow Canadian Kylie Masse at the Commonwealth Games.
Kentucky's Asia Seidt grabbed second in 2:10.00, and Stanford's Erin Voss came in third at 2:11.05. Fourth went to Texas A&M's Lisa Bratton (2:11.41), and Athens Bulldog's Olivia Smoliga, also fresh out of the 50 free final, was fifth (2:11.77).
Kentucky's Ali Galyer (2:12.45), Indiana's Kennedy Goss (2:12.90) and Stanford's Allie Szekely (2:14.40) were the other finalists.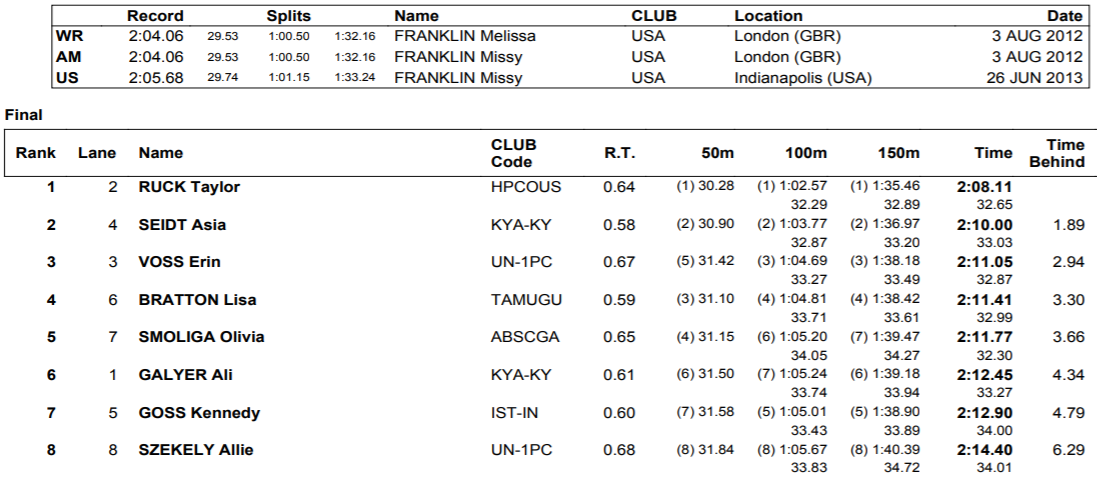 Men's 200 Back
Cal's Jacob Pebley got a bit of an early challenge from Louisville's Grigory Tarasevich and Tucson Ford's Matt Grevers in the 200 back final, but he ended up pulling well ahead of the field to win easily. Pebley touched in 1:57.03, short of his world No. 4-ranked time of 1:55.85 from March.
Tarasevich finished second in 1:59.39, and Mason Manta Rays' Carson Foster took third in 2:00.60. Foster, 16 years old and a sophomore in high school, swam in a lane next to Grevers, now 33 years old.
Making a rare 200 back appearance, Grevers ended up fourth in 2:01.89, ahead of Louisville's Nicolas Albiero (2:02.25), Alex Boratto (2:02.66), Indiana's Jacob Steele (2:04.58) and David Fridlander (2:09.23).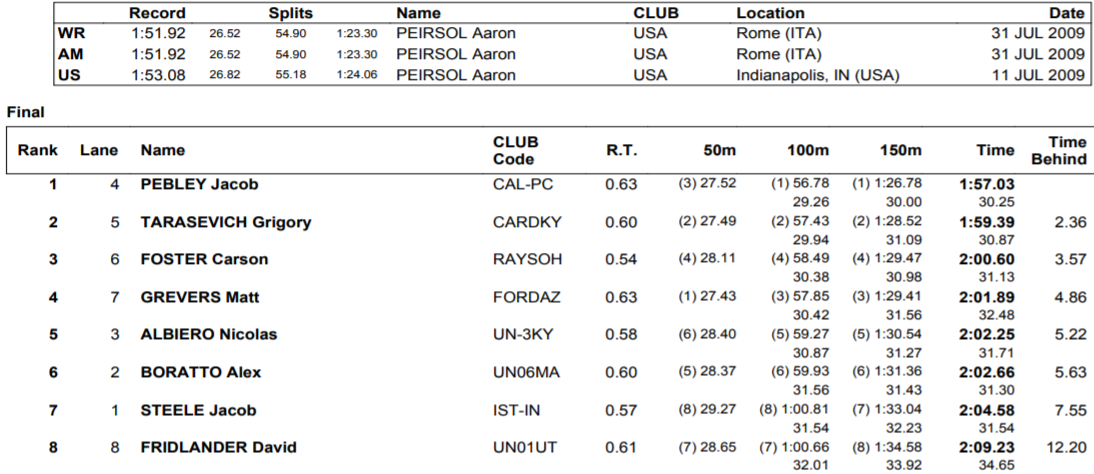 Women's 200 Free
Katie Ledecky put up a monster race in the 200 free, jumping ahead after the first 50 and eventually winning by more than 2.5 seconds. Her final time was 1:55.42, just behind a pair of 1:54s from Taylor Ruck and Ariarne Titmus at last month's Commonwealth Games.
Ledecky's Stanford teammate Simone Manuel, fresh off a 50 free victory less than an hour earlier, placed second in 1:58.06. Louisville's Mallory Comerford closed strong to finish third in 1:58.71.
The field was so strong that all eight swimmers broke 2:00, a rarity for an in-season event. Katie Drabot, also of Stanford, took fourth in 1:58.86, followed by Tucson Ford's Leah Smith (1:59.18), Club Wolverine's Gabby Deloof (1:59.51), HPC-Ontario's Rebecca Smith (1:59.68) and Pitchfork's Allison Schmitt (1:59.91). Smith's teammate Kayla Sanchez also broke 2:00 with a 1:59.37 in the B-final.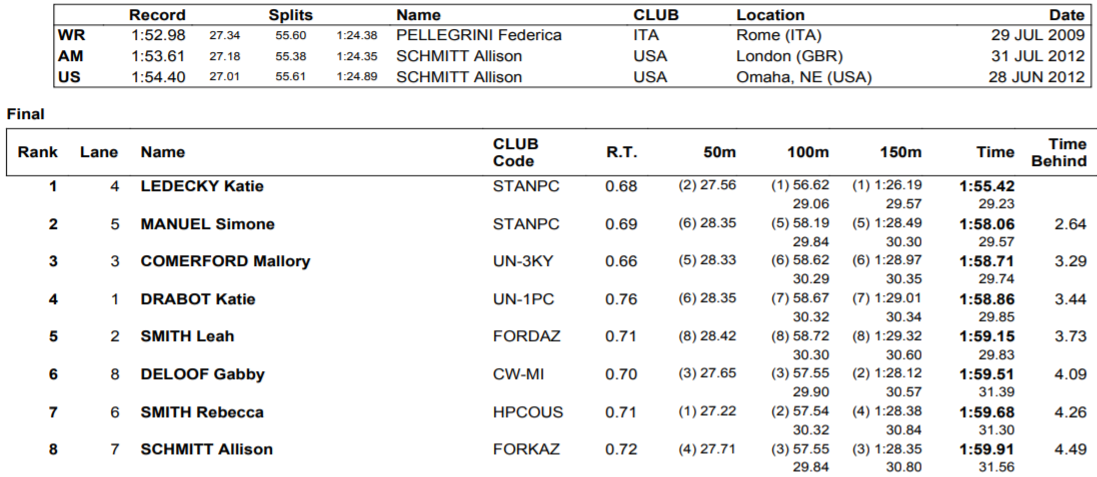 Men's 200 Free
Indiana's Blake Pieroni, competing for the first time since wrapping up his collegiate career at Indiana, posted a near-wire-to-wire win in the final event of the evening. Pieroni held off late charges from Club Wolverine's Felix Aubock and his Indiana training partner Zane Grothe.
Pieroni touched in 1:48.19, ahead of Aubock (1:48.45) and Grothe (1:48.52). Marwan El Kamash, another Indiana-trained freestyler, placed fourth in 1:49.33.
Virginia Tech's Norbert Szabo (1:50.35), Dynamo's Jay Litherland (1:51.30), Wolfpack Elite's Ryan Held (1:51.34) and Dynamo's Gunnar Bentz (1:52.80) were also a part of the final.