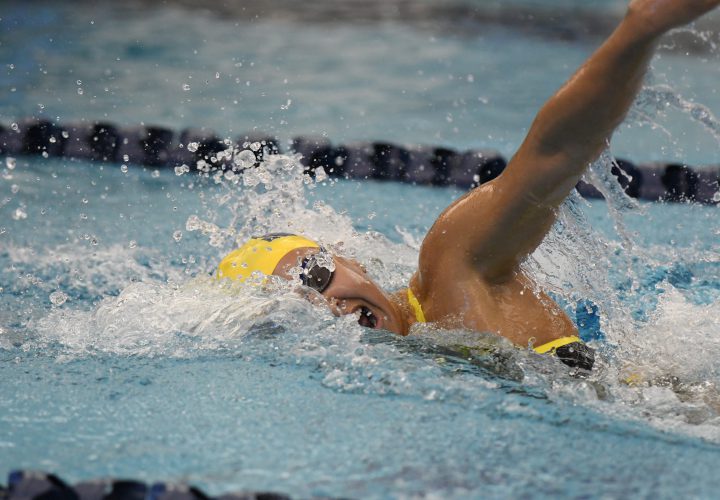 Photo Courtesy: Lon Horwedel
The fourth and final night of the 2017 Big Ten Women's Swimming & Diving Championships saw the crowning of Michigan as the champions for a second year in a row. The 2017 championship win marks the 16th time that Michigan has taken home the team title.
Highlights for the evening include Lilly King downing a slew of records in the 200 breast, along with fellow Hoosier Gia Dalesandro completing a four-peat of the 200 fly.
2017 Big Ten Women's Swimming & Diving Championships, Day 4 Finals – Results
Events:
1650 Free Final
200 Back Final
100 Free Final
200 Breast Final
200 Fly Final
Platform Diving Final
400 Free Relay Final
1650 Free Final:
Gillian Ryan of Michigan jumped to an early lead in the timed final of the women's 1650 free, holding off a steady charge from Wisconsin's Cierra Runge. Ryan touched first in a new pool and B1G Championship meet record of 15:44.93, downing the previous pool (15:46.94 – Flavia Rigamonti, SMU) and B1G meet (15:49.98 – Lindsey Clary, OSU) records.
Wisconsin's Danielle Valley earned the bronze medal with a time of 15:53.16, while Clary finished fourth with a 15:58.29.
Northwestern's Valerie Gruest Slowing (16:01.44), Ohio State's Molly Kowal (16:02.03), Indiana's Cassandra Jernberg (16:04.33), and Michigan's Bi Yirong (16:07.31) took fifth through eighth respectively.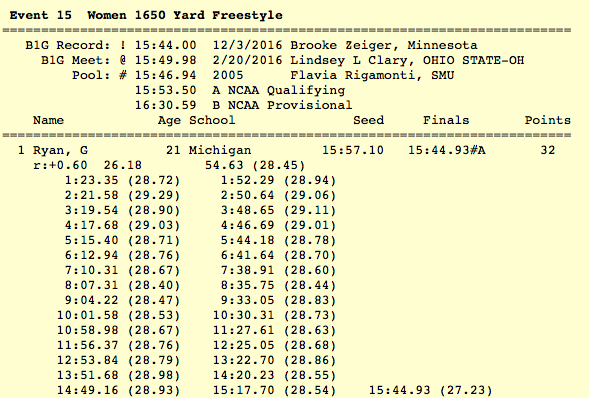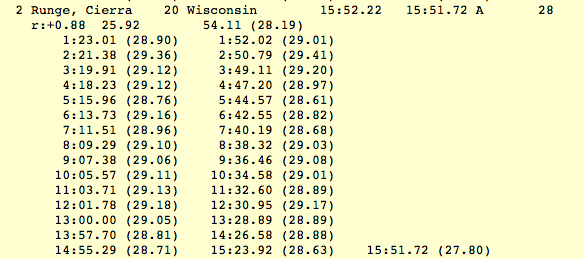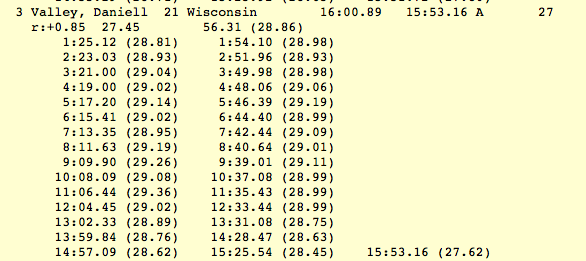 200 Back Final:
Kennedy Goss of Indiana maintained her spot atop the leaderboard in the final of the 200 back with a record-breaking time of 1:50.95. Her time downed the previous B1G Championship meet record of 1:51.32 and the pool record of 1:49.92, both set in 2010 by Kate Fesenko of Indiana.
Michigan picked up second and fourth place finishes from Clara Smiddy and Gabrielle Deloof. The teammates posted times of 1:51.39 and 1:52.86 respectively, while Elizabeth Nelson of Wisconsin touched third with a time of 1:52.51.
Vera Koprivova of Rutgers turned in a final time of 1:53.94 for fifth, followed by the Minnesota duo of Tevyn Waddell (1:54.40) and Chantal Nack (1:55.15).
Nebraska's Erin Oeltjen was eighth with a time of 1:56.31.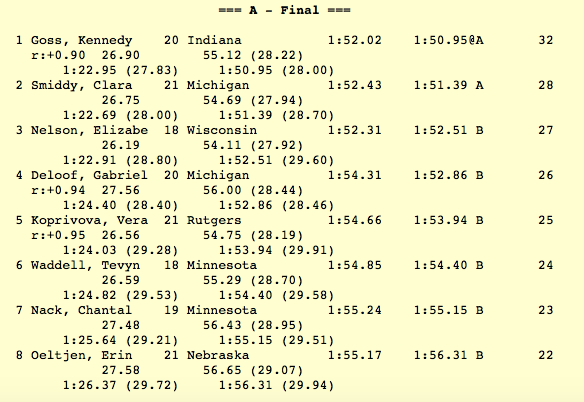 100 Free Final:
Ohio State's Li Zhesi and Michigan's Siobhan Haughey held a tight race throughout the duration of the 100 free final. Li pulled ahead slightly at the 50-yard mark, holding off Haughey for a first place finish of 47.50. Her time lowered Ivy Martin's 2015 B1G Championship meet record of 47.58 and tied the pool record of 47.50 set in 2005 by Kara Lynn Joyce.
Haughey settled for second and a time of 47.70, making her the only other swimmer to post a sub-48 second swim.
Minnesota's Zoe Avestruz picked up third with a time of 48.37, while Wisconsin's Chase Kinney posted a 48.52 for fourth.
Annika Winsnes of Northwestern finished fifth with a time of 48.82, followed by a tie for sixth between Wisconsin's Emmy Sehmann and Michigan's Catherine Deloof. The two posted matching times of 48.89.
Wisconsin's Marissa Berg rounded out the top eight with a time of 49.07.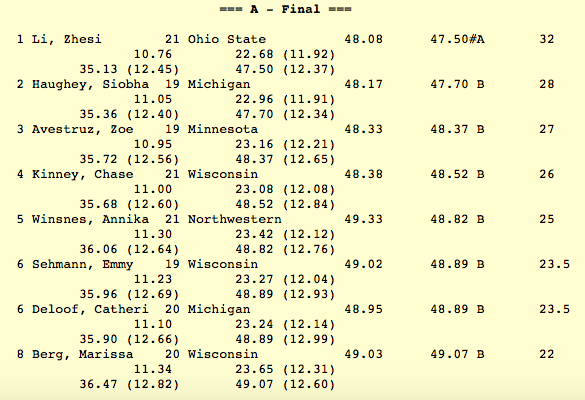 200 Breast Final:
Lilly King of Indiana added a third individual win in the women's 200 breast, battling Minnesota's Kierra Smith throughout. The two Olympians both posted final times beneath the previous B1G, B1G Championship meet, and pool records. King's final time of 2:04.03 re-wrote all three records and flirted with her American and NCAA record of 2:03.59. Her time is also the second fastest All-Time.
The previous B1G record was set by King in late 2016 at a 2:05.64, while the B1G Championship meet record was a 2:05.98 from 2013. The pool record was a 2:06.81 set in prelims by Smith.
Smith settled for second and a time of 2:04.37, while Wisconsin's Maria Carlson finished third with a time of 2:08.15.
Lindsey Horejsi of Minnesota was fourth with a 2:08.89, followed by Michigan's Emily Kopas' 2:09.09.
Ohio State's Taylor Vargo (2:09.36), Iowa's Emma Sougstad (2:11.09), and Indiana's Laura Morley (2:11.72) completed the top eight.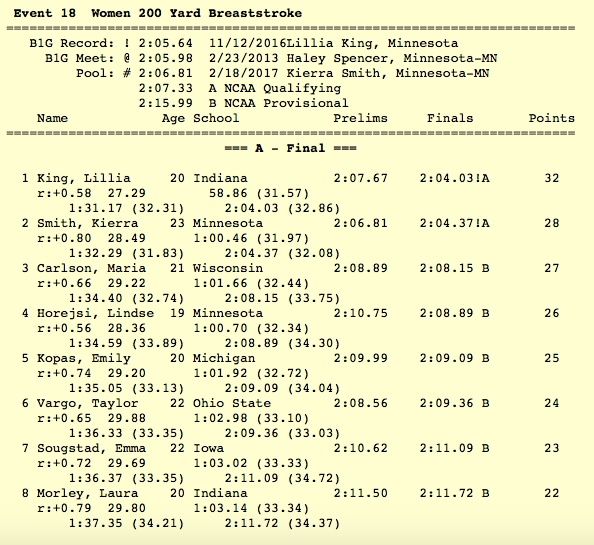 200 Fly Final:
Indiana's senior Gia Dalesandro completed a four-year sweep of the 200 fly with a new B1G and B1G Championship meet record of 1:53.67. The previous B1G and B1G Championship meet record was set by Dalesandro in 2014 at a 1:53.95.
The Michigan duo of Vanessa Krause and Astrid Swensen picked up the second and third place spots with final times of 1:55.74 and 1:56.02 respectively.
Meg Bailey of Ohio State finished fourth overall with a 1:56.73, followed by Minnesota's Danielle Nack's 1:57.02.
Penn State's Katelyn Sowinski (1:57.08), Purdue's Taite Kitchel (1:57.69), and Indiana's Bailey Pressey (1:58.54) were sixth through eighth.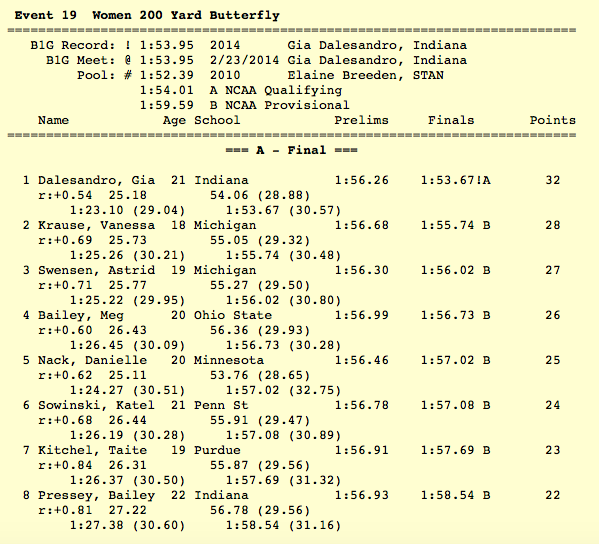 Platform Diving Final:
Jessica Parratto of Indiana topped the competition in the platform diving final with a combined 378.60 points. Northwestern's Olivia Rosandahl and Minnesota's Zhou Yu rounded out the podium with scores of 368.05 and 362.25 respectively.
Purdue's Emily Meaney picked up fourth with a score of 359.30, while Minnesota's Lexi Tenenbaum finished fifth with 338.60 points.
Ohio State's Lara Tarvit (298.30), Iowa's Calli Head (292.20), and Rutgers' Addi Walkowiak (260.45) were sixth through eighth.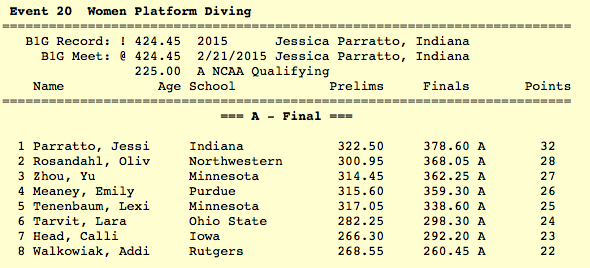 400 Free Relay Final:
It was a battle to the finish in the 400 free final as Wisconsin and Michigan dueled to the finish. A strong anchor leg from Cierra Runge pushed Wisconsin past Michigan and to a first place finish. Wisconsin's Chase Kinney (48.55), Emmy Sehmann (48.36), Marissa Berg (48.70), and Runge (47.72) combined for a time of 3:13.33.
Michigan's relay team of Catherine Deloof (49.24), Siobhette Haughey (47.53), Rebecca Postal (49.04), and Gabrielle Deloof (47.78) finished second with a 3:15.91.
Danielle Nack (49.27), Zoe Avestruz (47.83), Chantal Nack (49.48), and Tevyn Waddell (49.33) of Minnesota took third with a final time of 3:15.91.
Ohio State picked up a fourth place finish of 3:16.99, while Indiana posted a fifth place finish of 3:17.69.
Purdue (3:17.90), Northwestern (3:18.25), and Penn State (3:18.35) completed the top eight.