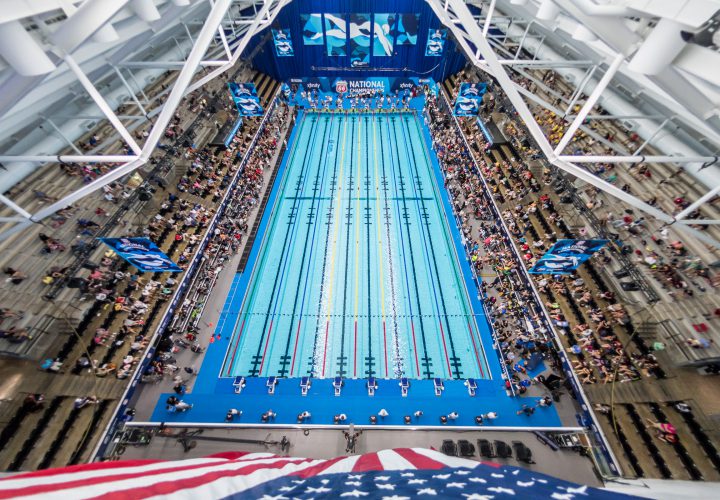 Photo Courtesy: Peter H. Bick
Editorial content for the 2017 USA Swimming Nationals is sponsored by TritonWear. Visit TritonWear.com for more information on our sponsor. For full Swimming World coverage, check event coverage page.
Heat sheets for the third morning of action from the 2017 Phillips 66 USA Swimming National Championships have been posted with a total of eight prelim events. Elizabeth Beisel will be making her first and only appearance of the Nationals with the 400 IM first Thursday morning. Bethany Galat will look to continue her momentum after she clinched a Budapest spot with a second place finish in the 200 breast Wednesday night. Madisyn Cox, Ella Eastin and Brooke Forde will all be looking for their first World Championship team as well.
Chase Kalisz has the top seed in the 400 IM as he will look to put up a solid swim in that event for his third straight Worlds team. Jay Litherland, Gunnar Bentz and Josh Prenot will also be looking to get on the team as they have not qualified yet.
The women's 100 fly seems to be wide open behind Kelsi Worrell as Hellen Moffitt, Kendyl Stewart and Sarah Gibson all have a chance to make some waves in that event and pick up the spot for Hungary.
Tom Shields will have his last chance to make the team in the 100 fly as he enters prelims as the top seed. Seth Stubblefied, Jack Conger and Caeleb Dressel are all within striking distance of Shields going into the race.
The 50 breast and 50 back will close out the morning as Lilly King, Cody Miller, Kathleen Baker and Ryan Murphy will be showing off their raw sprint speed in the heats.
2017 Phillips 66 USA Swimming Nationals: Day 3 Prelims Heat Sheets – Results