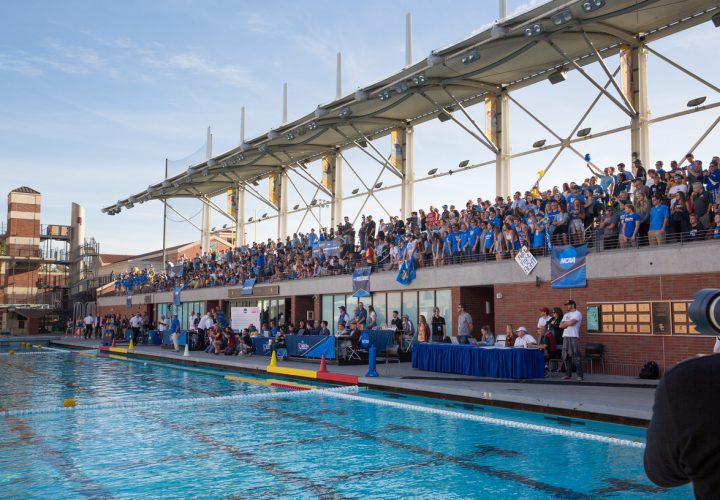 USC's Uytengsu Aquatics Center bathed in Bruin blue. Photo Courtesy: Catharyn Haynes/KLC fotos
By Michael Randazzo, Swimming World Contributor
BROOKLYN—Because the whole of metro LA seems to be sustained by the motion picture industry, I wasn't surprised that the cab I caught after the 2017 NCAA water polo title match was driven by an actor. Joe Spellman is a Hofstra University grad who got into comedy at Manhattan's Upright Citizens Brigade, where he met his wife (also a comedienne). Joe was very upright in getting me to the airport, and downright upbeat about making it in LA. Of course, he was driving an Uber car to supplement his acting gigs.
Upon reflection, after a weekend at USC's Uytengsu Aquatics Center covering what is the country's most prestigious polo tournament, I believe the sport's future in this country is at least as bright as Joe Spellman's career prospects. Based on the optics of this year's championship, the sport is as healthy and vibrant as it's been in the five years I've covered it. In fact, my first-ever NCAA tournament in 2012 was also at Uytengsu, so I can gauge the success of this year's tournament compared to when I last attended (concluding also, as it happens, in a match between rivals Southern Cal and UCLA, though that time the Trojans won).
It may be obvious to anyone from California, but the facility at USC is fantastic; the 2014 renovations make it one of the premier aquatics facilities in the country. USC's investment in water sports is impressive, and the success of its men's and women's programs is an indication of just how appealing water polo in America can be.
The atmosphere there this weekend made the spectacle entirely compelling. After attending the 2017 NCAA Women's Tournament at the IU Natatorium in Indianapolis—which, despite some fantastic matches, was an entirely sterile environment—it's become clear to me that loud, committed polo fans must be part of the mix. When Cal played USC on Saturday night, which was the best match of the tournament, Cal and USC fans alike were hilarious in their pointed heckling. My favorite: "Who's got the Cutino now?!" whenever 2017 MPSF Player of the Year Luca Cupido—who's the favorite for this year's Peter J. Cutino Award as the nation's best player—or McQuin Baron, the 2016 winner, touched the ball.
Unwittingly, Cupido was pivotal in both the Golden Bears' semifinal loss to USC and the Trojan's finals loss to UCLA. In the third period of Saturday night's game, he was the unlucky recipient of a punch from USC's Lachlan Edwards, which occasioned the bizarre spectacle of Trojan Head Coach Jovan Vavic strolling around the pool deck to speak with Bob Corb, NCAA Coordinator of Officials. In what other NCAA sport can a coach hold up a tournament semifinal for five minutes to leisurely protest a call?
Edwards' ejection from the Cal game carried a heavy price for him and his team: exclusion from his final match as a senior, which just happened to be for the national championship. In comments after Sunday's final, Vavic pointed to Edwards' absence as one of the prime reasons his team lost.
As I understand it, coaches typically don't put the success, or failure, of their team on a single player, so Vavic was clearly taking issue with the previous game's call on his All-American center. Having that call overturned, Vavic's stated reason for Saturday night's protest stroll, was paramount—he recognized the consequences of his player's action. But it begs the question: how does a senior leader on a team driving for a championship lose his composure at such a critical moment.
But, hey, I've already written about that elsewhere. What I REALLY appreciate about LA—other than, as Woody Allen memorably reminded us in Annie Hall, right turns on red—are the donut shops. My visit in 2012 had been memorable because I discovered Spudnut Donuts (3001 South Figueroa Street), a fantastic shop next to the USC campus. As someone who knows his way around a donut, I can attest that these babies are momentous.
I had an amazing apple fritter that was bigger than my hand, which, while savoring, I spoke with Diego, who's only been manning the register at Spudnuts the last six months—my interviewing habit is pretty ingrained. Diego couldn't explain what it is about great donuts and LA. He's working two jobs and is happy to be there, but is more drawn to the money than the donuts. Let's hope he learns to appreciate Spudnut the way I do.
But my 2017 Eureka moment came at Sam's Donuts, (4325 South Vermont Street), a no-frills hang-out that opens at 5:00 a.m. and doesn't close until 10 (at night). Norman Nop is the owner, and his creations are good, hearty fare; the buttermilk donut was simple, delicious and—at 90¢—ridiculously cheap by New York standards, where $4 dollars per donut is the norm. Appropriately, this was the very donut he chose to leave as an offering in the morning at a small shrine in the baking area.
If cheap but good eats are the sustenance of any deadline-driven endeavor, space is another necessity. Life as an itinerant journalist often requires working under duress in someone else's comfort zone, so finding the ideal combination of space, Wi-Fi and provisions is hit and miss.
I struck it rich at Southern Cal,where I found an excellent locale to work: the Annenberg School for Communication and Journalism. Not only did they have a GREAT little café (no donut reviews at this location, though they had them), there was ample space to spread out. And it's accessible to non-students!
Much as I was honored to be part of covering NCAAs, it was impressive to be in the hub of this great journalism school and doing my small part to contribute to the vast information flow that, along with quality donuts, makes our country truly great.