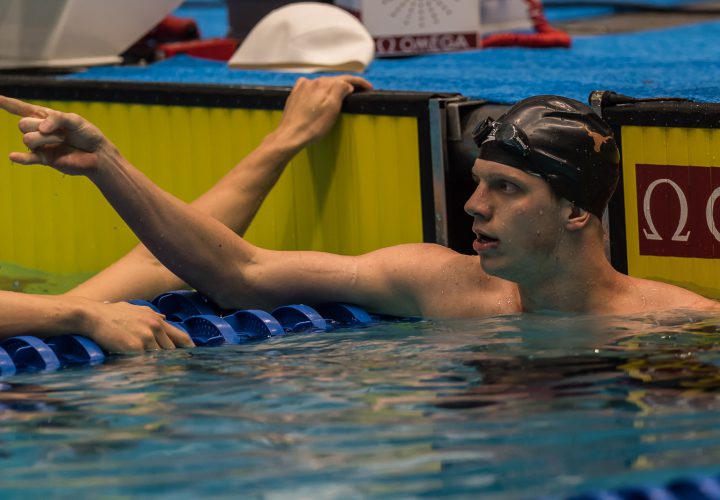 NCAA DI editorial coverage is proudly sponsored by Adidas. Visit adidasswimming.com for more information on our sponsor. For all the latest coverage, check out our event coverage page.
CLICK HERE FOR LIVE RESULTS
The final session of the 2017 NCAA Men's Division I Swimming and Diving Championships is already here and it looks to be all Texas at this point for its third straight NCAA title in men's swimming. The Longhorns have a huge lead of over 100 points over second place California. Florida is in third and NC State and Indiana will be battling for fourth.
The fastest heat of the 1650 will kick off the final session where any number of guys in the field could steal the win. The top seed is Michigan's Felix Auboeck at 14:29.25. 500 champ Clark Smith of Texas is seeded right behind him and could put on a good performance after his American Record in the 500 on Thursday. Northwestern Olympian Jordan Wilimovsky, NC State's Anton Ipsen and South Carolina's Akram Mahmoud could also vie for the title in the 66-lapper.
California's Ryan Murphy will be going for his fourth 200 back title tonight to be the third to do so. USC's John Naber (1974-1977) and Ohio State's Yoshi Oyakawa (1952-1955) are the only ones to win four 200 back NCAA titles.
The 100 free will also be a tight race with Florida junior Caeleb Dressel chasing his 40.46 American Record after he broke the 100 fly American Record last night. Dressel is closely followed by NC State's Ryan Held and Missouri's Michael Chadwick.
Texas seniors Will Licon and Jack Conger are the top seeds in the 200 breast and 200 fly going into tonight to capture their third straight NCAA team title. The Longhorns are also the top seed in the 400 free relay ahead of Florida and Southern California.
2017 NCAA Men's Division I Championships: Day 4 Finals Heat Sheets – Results