Photo Courtesy: Caroline Kosciusko
Editorial content for the 2017 Arena Pro Swim Series Indy is sponsored by Arena. Visit ArenaUSA.com for more information on our sponsor. For full Swimming World coverage, check out our event coverage page.
The second day of prelims at the arena Pro Swim Series meet in Indianapolis featured action for women and men in the 200 free, 200 back, 50 free and 400 IM. Among the highlights, Italian Olympic gold medalist Federica Pellegrini posted a quick time of 1:57.80 to top the field in the women's 200 free.
Three other Olympic medalists finished atop prelims in their respective signature events: Hillary Caldwell in the women's 200 back and Ye Shiwen and Daiya Seto in their respective 400 IM races.
Read below for full coverage of the morning session.
Women's 200 Free
Italy's Federica Pellegrini dominated the final heat en route to the top qualifying time for the final. The 2008 Olympic gold medalist and world record-holder in the event, Pellegrini finished in 1:57.80 to top the field by more than a second and a half.
St. Petersburg's Melanie Margalis finished as the second seed in the event with her time of 1:59.49, and China's Zhu Menghui was third in 1:59.56. Louisville's Mallory Comerford, the winner of the 100 free on night one, qualified fourth in 1:59.60, and Canada's Kayla Sanchez joined the sub-2:00 party with her fifth-seeded time of 1:59.63.
Athens Bulldog's Hali Flickinger grabbed the sixth seed with her time of 2:00.02, just ahead of Japan's Aya Takano (2:00.06). Andi Murez got into the final as well with an eighth-seeded 2:00.81.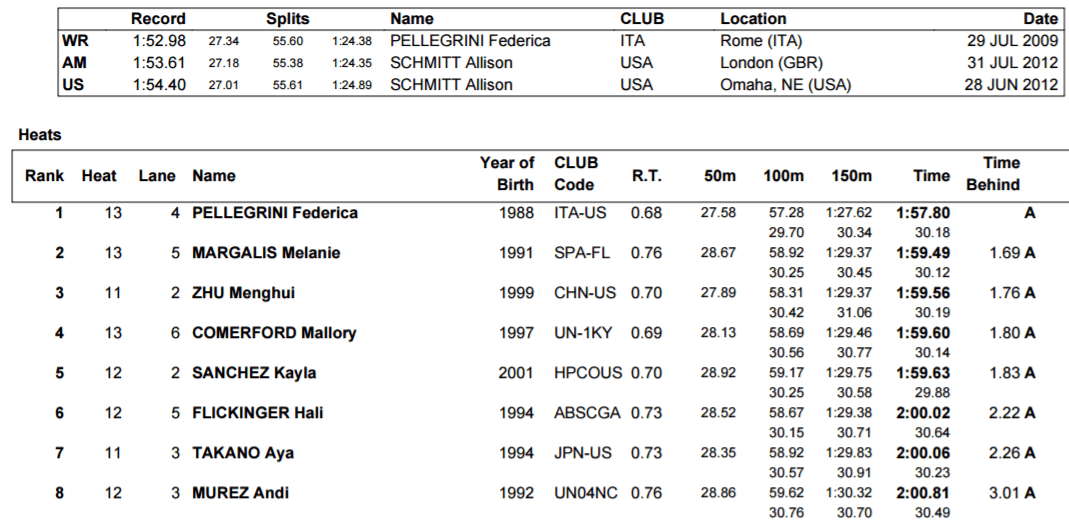 Men's 200 Free
Great Britain finished 1-2 in the 200 free prelims, but it's the third Brit to qualify for the final that might be most dangerous in the final. Stephen Milne led the way in 1:48.51, three one-hundredths ahead of countryman Duncan Scott (1:48.54), and Japan's Reo Sakata joined those two under the 1:49-barrier.
Badger's Zane Grothe was the top American into the final with his 1:49.02, three one-hundredths ahead of Italy's Filippo Magnini (1:49.05). Meanwhile, Great Britain's James Guy qualified sixth in 1:49.33 after turning off the gas and cruising into the wall. The 2015 World Champion in the event, Guy figures to have a big drop ahead of him in the final.
Coming off his record-breaking performance at the Indiana High School State Championships and his verbal commitment to Texas, Carmel's Drew Kibler qualified seventh in 1:49.67 and will join Grothe as Americans in the final. A fourth British swimmer, Nicholas Grainger, qualified eighth in 1:50.08.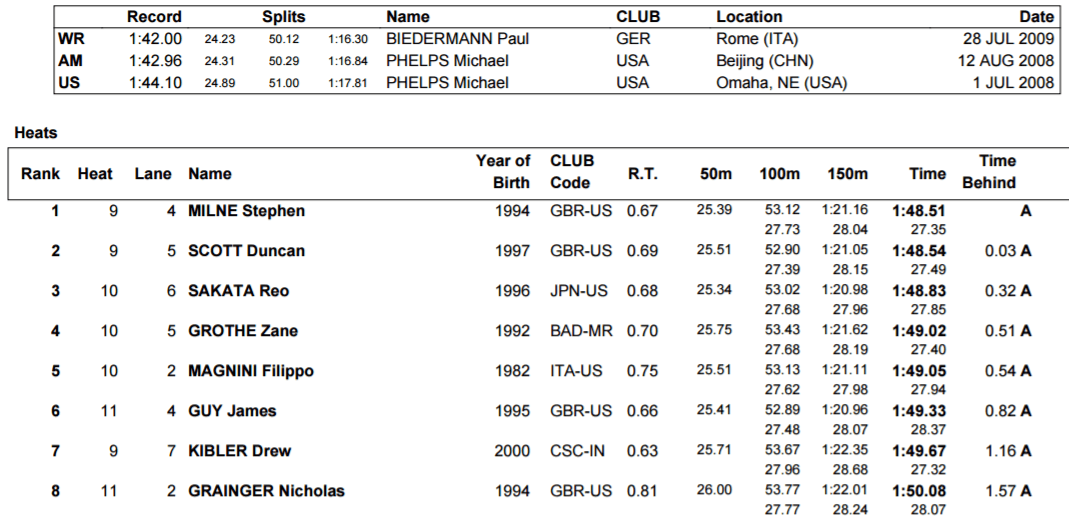 Women's 200 Back
Canada's Hillary Caldwell finished more than a second ahead of the field in the women's 200 back with her time of 2:09.44. That improved upon her season-best of 2:09.76 from the arena Pro Swim Series meet in Austin that had ranked fourth in the world. Great Britain's Jessica Fullalove qualified second in 2:10.55, and Canada's Dominique Bouchard was third in 2:10.69.
China's Yaxin Liu (2:11.82) and Great Britain's Kathleen Dawson (2:13.20) finished fourth and fifth, respectively, while Athens Bulldog's Hali Flickinger got into her second final of the day with a 2:13.23 for the sixth seed.
Earning the outside lanes for the final were Waves Bloomington's Grace Ariola (2:13.59) and Gator Swim Club's Georgia-Mae Hohmann (2:13.65).
Men's 200 Back
Cal's Jacob Pebley easily topped the preliminary field in the 200 back as his time of 1:58.30 came in more than a second-and-a-half ahead of the rest of the field. Pebley was a finalist in the event at the Olympic Games in Rio and the silver medalist at the Short Course World Championships in December, and he currently ranks No. 1 in the world with his 1:55.95 from the Austin meet in January.
Great Britain's Luke Greenbank qualified second in 2:00.01, just missing getting under 2:00, and China's Xu Jiayu finished third in 2:00.02. Xu was the silver medalist in the 100 back in Rio.
Two previous Olympic medalists in the event will be in the final tonight with New York Athletic Club's Arkady Vyatchanin (bronze in 2008) qualifying fourth in 2:01.05 and SwimMAC's Ryosuke Irie (silver in 2012) taking fifth in 2:01.22.
Also making the final were Fast's Omar Pinzon (2:02.12), Swim Fort Lauderdale's Nikita Tretyakov (2:02.34) and Missouri State's Paul Le (2:02.75).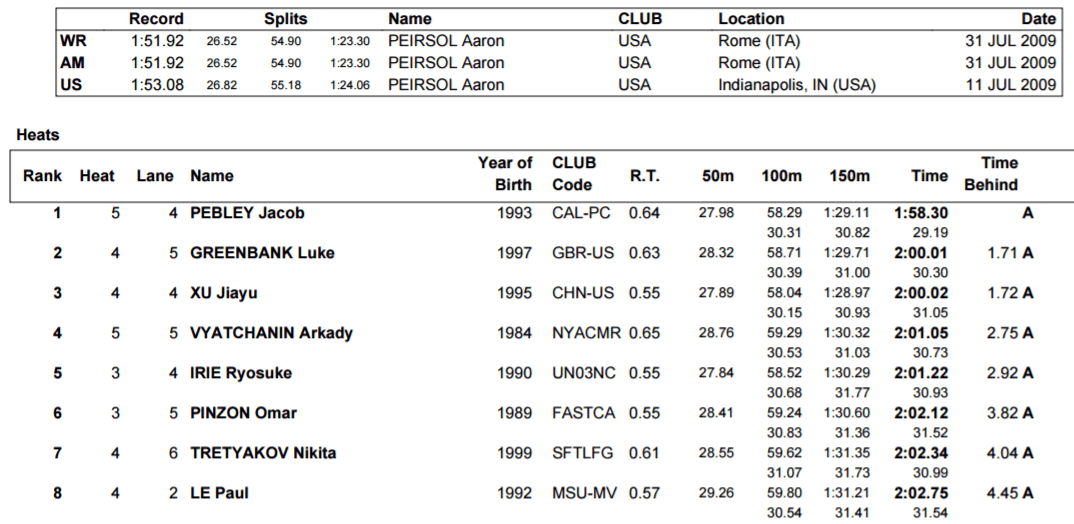 Women's 50 Free
Canada's Michelle Williams easily topped the prelims of the 50 free with her time of 25.09. Louisville teammates Mallory Comerford (25.30) and Kelsi Worrell (25.36) qualified second and third, respectively, and China's Zhu Menghui took fourth in 25.46. Comerford and Zhu will be in adjacent lanes one night after Comerford touched out Zhu by two one-hundredths to win the 100 free.
Canada's Sandrine Mainville qualified fifth for the final in 25.54, just ahead of SwimMAC's Madison Kennedy and her time of 25.58. Also getting in were Club Wolverine's Ali DeLoof (25.72) and Mako's Anya Goeders (25.94).

Men's 50 Free
Brazil's Bruno Fratus took the top seed into the 50 free final with his time of 22.36, but he figures to get a big push in the final from Cal's Nathan Adrian, who won his heat in 22.49. Adrian won the 100 free on night one in 48.66, the No. 2 time in the world this year.
Cullen Jones, now representing Wolfpack Elite, qualified third with his time of 22.53, and Trojan's Vladimir Morozov finished fourth in 22.60 to set up a heavyweight battle at night.
Brazil's Marcelo Cherighini finished fifth in 22.67, and New York Athletic Club's Josh Schneider (22.68), Dynamo's Matias Koski (22.74) and Race Pace Club's Michael Andrew (22.79) rounded out a tight top eight.

Women's 400 IM
China's Ye Shiwen, the gold medalist in the 400 IM at the 2012 Olympic Games and former world record-holder in the event, easily posted the top seed in the 400 IM with her time of 4:41.81. That was almost three seconds ahead of Great Britain's Abbie Wood, who took second in 4:44.58.
Three more British swimmers will join Wood in the final tonight: Hannah Miley (third, 4:45.72), Rosie Rudin (fifth, 4:49.42) and Emily Large (seventh, 4:53.86).
Island's Sarah Darcel finished fourth in 4:47.07, while Vien Nguyen (4:50.50) and Upper Arlington's Katie Trace (4:54.67) finished sixth and eighth, respectively.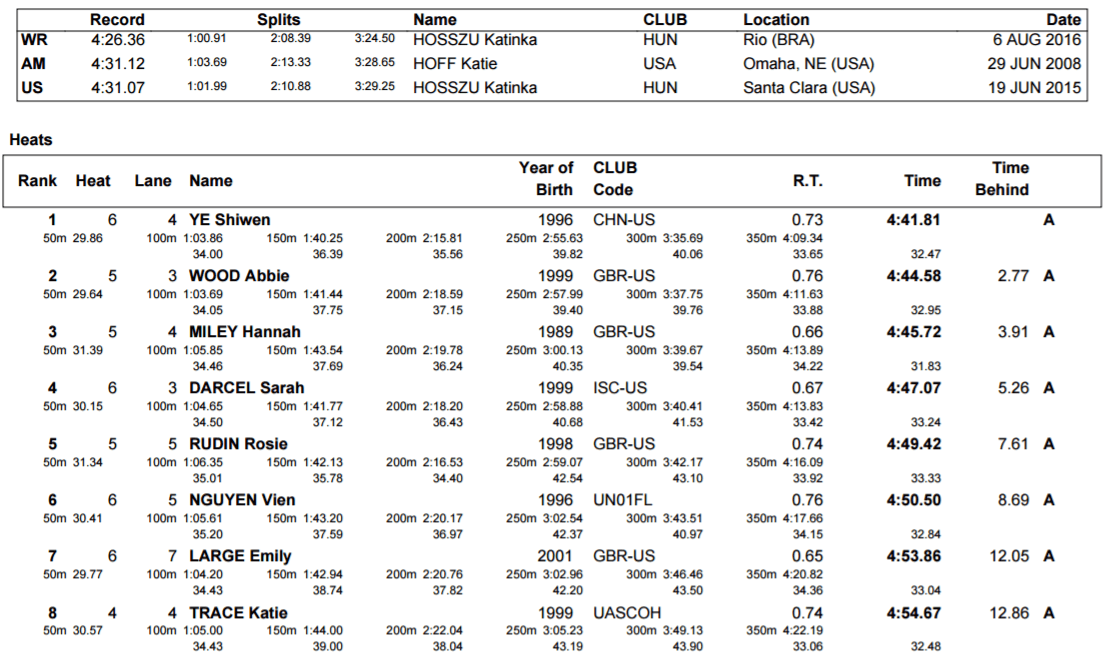 Men's 400 IM
Japan's Daiya Seto cruised to the top seed in the 400 IM with his  time of 4:16.65. He posted a time of 4:16.65, more than six seconds ahead of the rest of the field. Seto figures to drop quite a bit in the finals as he currently owns the No. 1-ranked time in the world in the event at 4:11.37.
Great Britain's Max Litchfield took second in 4:22.87, just seven one-hundredths ahead of Cal's Josh Prenot (4:22.94). Not far back was Plymouth Whitemarsh's Andrew Abruzzo in 4:23.20.
The rest of the A-final will consist of Island's Josh Zakala (4:27.71), Great Britain's Joe Litchfield (4:28.82), Northridge Area's Spencer Lehman (4:29.00) and Matthew Jerden (4:32.59).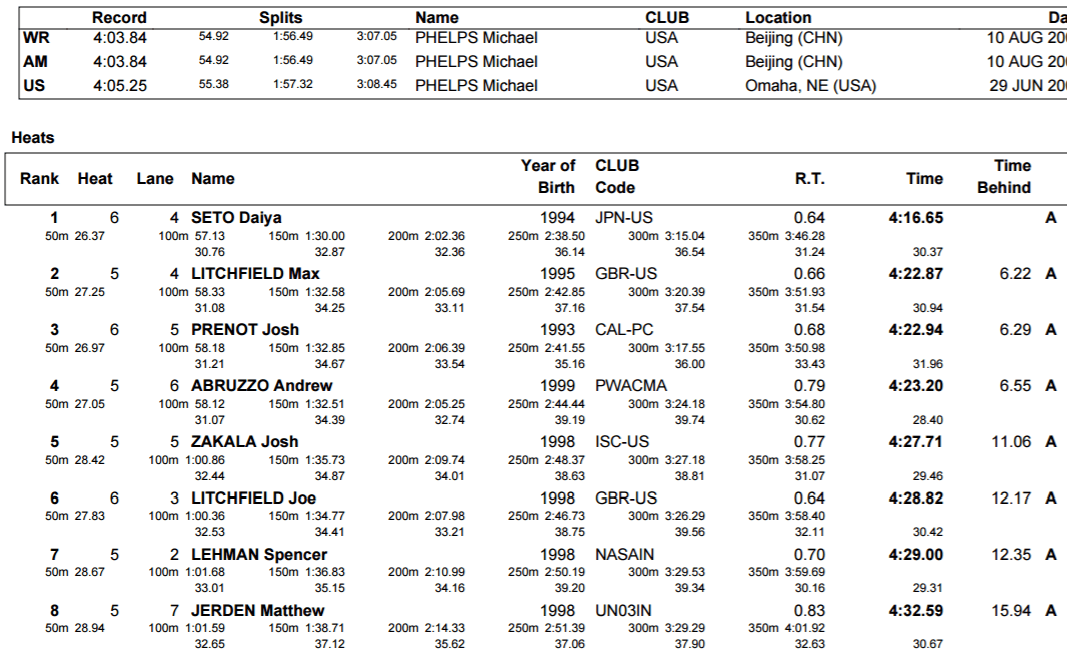 Men's 50 Breast Time Trial
Great Britain's Adam Peaty time-trialed the 50 breast at the end of the session and put up a time of 26.86. That time ranks No. 1 in the world this year and has only been beaten by seven men ever: Peaty, Cameron van der Burgh, Damir Dugonjic, Christian Sprenger, Felipe Franca, Kevin Cordes and Hendrik Feldwehr.
Cordes finished second in the time trial in 27.65, and third went to Vladimir Morozov in 28.78.