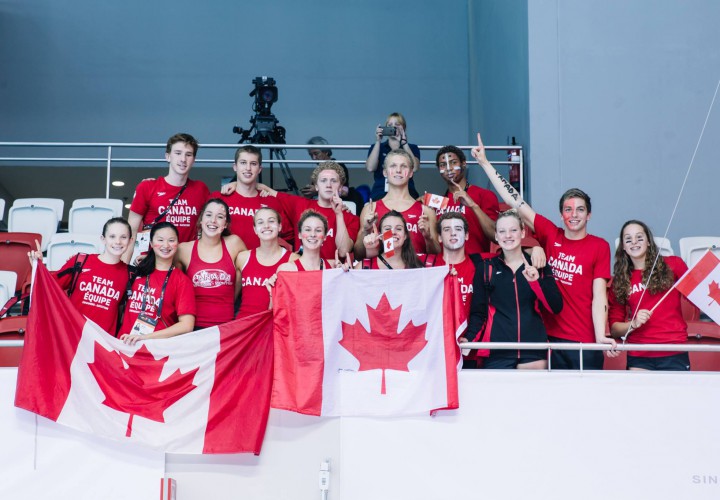 Photo Courtesy: Singapore Swimming Federation
The first day of prelims at the 2016 Canadian Trials is complete.
The top 10 Canadian swimmers will advance to the A finals.  Up to four non-Canadian swimmers can swim in the B finals.
Olympic Trials:
Josh Prenot of the U.S., put up the top time in the men's 400-meter IM with a 4:18.92.  That's well off his eighth-ranked season best of 4:15.07 from the Austin stop of the Arena Pro Swim Series.
Tristan Cote was the top Canadian qualifier with a 4:20.15, while Robert Hill qualified third in 4:21.48.
Luke Reilly (4:23.18), Jeremy Tremblay (4:24.61), Jonathan Brown (4:25.46), Montana Champagne (4:25.57), Colin Eriks (4:25.73), Josh Zakala (4:25.74) and Philip Kay (4:25.97) also made up most of the top 10 that will swim in the finale of the men's 400-meter IM.
Canada's Brittany MacLean threw down a top time of 4:07.82 in the women's 400-meter free.  That swim moved her up to 15th in the world rankings.
USA's Elizabeth Beisel raced her way to second with a 4:09.07, while Kennedy Goss qualified third in 4:12.70, while Danica Ludlow posted a 4:13.95 for the fourth seed.
Olivia Anderson (4:14.56), Tabitha Baumann (4:15.30), Sophia Saroukian (4:15.89), Taylor Ruck (4:16.78), Alyson Ackman (4:17.28) and Mackenzie Padington (4:18.99) comprised the rest of the top 10 finishers this morning.
Richard Funk earned the top seed in the men's 100-meter breast with a 1:00.66, while Jason Block qualified second in 1:00.87.
Ashton Baumann (1:01.08), Josh Prenot (1:01.15), Konrad Bald (1:01.72), James Dergousoff (1:01.82), Alexander Peach (1:01.96), Nick Kostiuk (1:02.39), Chuck Katis (1:02.56) and Eli Wall (1:02.57) closed out the rest of the top 10 swimmers this morning.
Penny Oleksiak uncorked a blistering 57.38 in the women's 100-meter fly to move up to fifth in the world rankings.  The teenager only trails Sarah Sjostrom (55.68), Chen Xinyi (56.82), Lu Ying (57.17) and Emma McKeon (57.24) in the event this year.   That's almost a Canadian record, just behind Katerine Savard's 57.27 from the 2014 Canadian Nationals.
Noemie Thomas moved into the top 10 in the world with a second-seeded 57.60 this morning, while Savard posted a 57.72 for third.
Audrey Lacroix (59.34), Rebecca Smith (59.74), Margaret MacNeil (1:00.13), Mabel Zavaros (1:00.31), Samantha Corea (1:00.47), Georgia Kidd (1:00.76) and Jacomie Strydom (1:01.06) finished fourth through 10th in prelims.
Jeremy Bagshaw clocked the top time in the men's 200-meter free with a 1:48.47, while Jan Switkowski posted a second-seeded time of 1:48.57.
Pawel Werner (1:49.06), Tom Kremer (1:49.07), Michael Klueh (1:49.15), Matthew Hutchins (1:49.20), Yuri Kisil (1:49.45), Kyle Whitaker (1:49.51), Michael Wynalda (1:49.57) and Ryan Murphy (1:49.70) made up the rest of a US-heavy top 10.  To reiterate, the top 10 Canadians will advance to the finals, while the top four non-Canadians along with six other Canadians will be invited to the B final.
Paralympic Trials:
Aurelie Rivard led the way in qualifying with a 28.46 in the S10 division in the women's 50-meter free.  That's not far off Sophie Pascoe's world record of 27.78 set in Canada in 2013.
Samantha Ryan qualified second in the S10 division with a 31.33, while Katarina Roxon posted a 31.50 in the S9 division.  Morgan Bird was the top S8 swimmer with a 31.97 to make the top 10 into finals.
Nathan Stein turned in a 24.38 for the men's 50 free in the S10 division.  That's a bit more than a second off Andre Brasil's world record of 23.16.  James Leroux, swimming in the S9 division, qualified second in 25.41.  That's close to Matthew Cowdrey's world record of 25.13.
Alexander Elliot qualified third with a 26.03 in the S10 division, while Nicolas-Guy Turbide turned in a 26.32 in the S13 division.  Gordie Michie posted the top S14 swim with a 26.67.
Kirstie Kaskos cranked out a 2:29.57 in the women's 200-meter free in the S14 division for the top time this morning.  Every swimmer in the event was in the S14 division.  Angela Marinas (2:29.87) and Justine Morriers (2:31.12) qualified second and third.
Gordie Michie put up a 2:03.81 in the men's 200-meter free S14 division, while Maxime Rousselle qualified second in the same division with a 2:06.15.  Dalton Boon, also in the S14 division, qualified third in 2:09.05.  Danial Murphy paced the S5 division with a 3:01.27, while Riley McLean clocked a 4:24.12 in the S4 division.
Aurelie Rivard claimed another top seed, this time with a 4:42.11 in the women's 400-meter free in the S10 division.  She has some more time to drop to challenge Elodie Lorandi's world record of 4:32.79 from 2013.
Samantha Ryan qualified second in 5:07.53 in the S10 division with Katarina Roxon clocking a 5:15.98 in the S9 division.  Sabrina Duchesne had the top S8 swim with a 5:27.01, while Tess Routliffe clocked a 5:59.52 in the S7 division. Jessica Tinney posted an 8:10.01 in the S6 division.
Benoit Huot turned in a 4:17.62 in the men's 400-meter free S10 division.  Isaac Bouckley qualified second in 4:19.35 in the S10 division with Devin Gottell posting a 4:30.46 out of the S13 division.
Patrick Waters had the top S9 swim with a 4:47.85, while Zach Zona led the S8 with a 4:48.80.  Matthew Cabrajas turned in a 6:03.66 as the top S11 swimmers, while Christian Danial hit the wall in 6:08.75 to lead the S6 division.   Alexander Sharpe clocked the top S7 with a 6:33.45.