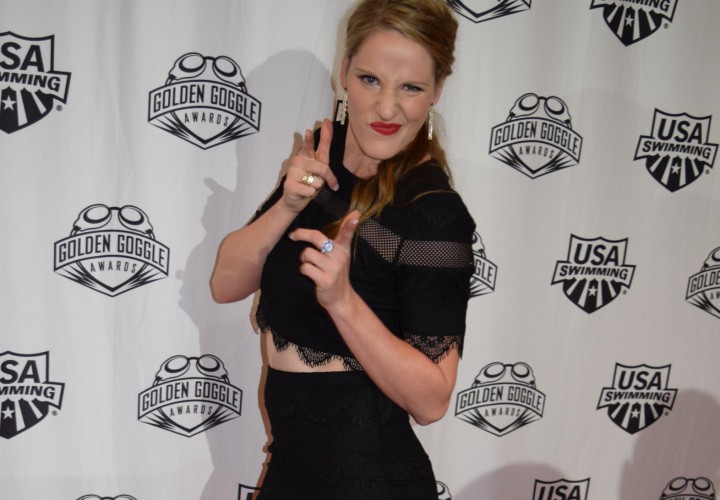 Photo Courtesy: Annie Grevers
The 2015 Golden Goggle Awards were held on Sunday, November 22 at the J.W. Marriott in Los Angeles, California. Swimming World was on hand to grab some photos of your favorite swim stars, looking downright dapper and uber glamorous as they strutted down the red carpet.
Highlights of the night included (but were not limited to):
Anders Holm: former University of Wisconsin swimmer now known for his role in Comedy Central's "Workaholics" proudly took to the stage as emcee in nothing but a Speedo brief. He also did an uncanny Rowdy Gaines impression, commentating his own morning routine– "Did you see how deep he brushed, Dan?! His molars didn't stand a chance! NOBODY brushes that deep anymore…."
Andra Day: Soul/R&B singer who is "about to blow up" as Holm put it, put on a goosebump-rousing concert during the award intermission.
Allison Schmitt: You know who she is– six-time Olympic medalist with a personality more sparkly than any of her Olympic hardware. After winning the Perseverance Award, Schmitty boldly spoke out about addressing depression in the sports world, calling it a "mental injury." Allison struggled with depression in the years following a fairytale Olympic Games and recently had a cousin "lose her battle with depression." Her words brought tears down hundreds of cheeks and brought the audience to its feet.
Michael Phelps: The G.O.A.T. won Male Athlete of the Year honors and took to the stage in a way we're not accustomed to seeing. He cozied in for a stay behind the lectern and immediately thanked those who had supported him through "a year with a lot of ups and a lot of downs." Then he humbly spoke of his future, and the high aspirations he has for himself and his fellow swimmers. It was a blatant display of an emerging leader, a man about to become a father and a husband, willing to learn from his mistakes and carry a team with his actions and with his words.
Now, join your favorite swimmers on the 2015 Golden Goggles red carpet…