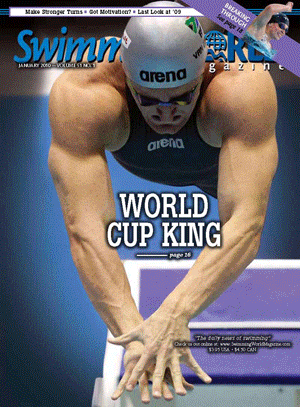 PHOENIX, Arizona, December 25. MERRY Christmas to all of our readers! Here's a look back at the images that graced the cover of Swimming World Magazine in 2010.
To the right, we have created a slideshow for each Cover of 2010, as credited below:
JANUARY 2010
Courtesy of: Tobias Schwarz, Reuters
Pictured: South Africa's Cameron van der Burgh was the top male star of the five-stop World Cup circuit that started in South Africa in mid-October and ended a month-and-a-half later in Singapore, with stops in between in Russia, Sweden and Germany. Van der Burgh and the USA's Jessica Hardy earned $100,000 (U.S.) as the male and female swimmers of the circuit.
FEBRUARY 2010
Courtesy of: Shaun Best, Reuters
Pictured: Olympic gold medalist Rebecca Soni of Trojan Swim Club bettered two world records at the Duel in the Pool, Dec. 18-19, in Manchester, England. The 22-year old clocked 1:02.70 in the 100 meter breast (short course) and 2:14.57 in the 200 breast to help the United States beat Europe, 185-78. Earlier in the month, she swept the SCY breaststroke events at the U.S. senior nationals.
MARCH 2010
Courtesy of: Peter H. Bick
Pictured: Julia Smit is the top returning point scorer at this year's women's NCAA Division I Swimming and Diving Championships, March 18-20, at Purdue. The Stanford senior won both individual medley races in 2009 and took third in the 100 free. She also swam on four point-scoring relays. The Cardinal is ranked No. 2 in Swimming World's pre-season poll, right behind Georgia and ahead of Texas.
APRIL 2010
Courtesy of: Peter H. Bick
Pictured: It can be argued that Aaron Peirsol is the finest backstroker in history: the current world record holder at both 100 and 200 meters is a seven-time Olympic medalist and 10-time world champion who has continuously rewritten the record book throughout his career. Come 2012, he could have a chance to make history by becoming the first man ever to win gold in the same event (100 back) in three consecutive Olympiads.
MAY 2010
Courtesy of: Jim Signon, UT Athletics Photography
Pictured: In recognition of the Texas men's NCAA Division I swimming and diving championship, the UT Tower—a campus landmark—was bathed in burnt orange lighting from top to bottom with the number "1" lit on all four sides of the building. The Longhorns captured their 10th title under Coach Eddie Reese. Meanwhile, Florida won the women's NCAAs—its second-ever national title…and first for Coach Gregg Troy.
JUNE 2010
Courtesy of: Yan Newenhouse
Pictured: Schroeder YMCA's (Wis.) Mitchell Friedemann was the top men's winner at the YMCA Short Course Nationals, April 7-10, in Fort Lauderdale, Fla. He claimed four individual titles, capturing the 50 and 100 yard freestyle along with the 100 back and 100 fly. The 18-year-old's winning time in the 50 free (20.33) broke a seven-year-old YMCA national record.
JULY 2010
Courtesy of: Peter H. Bick
Pictured: Nick Thoman, 24, who has been working under the watch of David Marsh at SwimMAC Carolina since late 2009, has established himself as one of the premier backstrokers in the world, his status rising from world-ranked performer to a contender for international acclaim.
AUGUST 2010
Courtesy of: Julie Thorson
Pictured: Senior Vladimir Morozov of Torrance High School in Southern California was named Swimming World's Male High School Swimmer of the Year. During the 2009-10 season, Morozov set national prep records in the 50 and 100 yard freestyles. In the 100, he became the first high schooler to break the 43-secondbarrier with his 42.87.
SEPTEMBER 2010
Courtesy of: Carondelet High School
Pictured: Twelve years after Carondelet High School's Natalie Coughlin was named Swimming World's Female High School Swimmer of the Year, the Concord, Calif., school continues to receive recognition—this time for capturing the magazine's Girls' National High School Championships, edging The Bolles School (Fla.) by 3-1/2 points.
OCTOBER 2010
Courtesy of: Peter H. Bick
Pictured: Based on his performances this summer, Ryan Lochte has unseated Michael Phelps as the No. 1 men's swimmer in the world. After three victories at the U.S. Nationals—including a win over Phelps in the 200 IM that was Phelps' first loss in the event at nationals since 2001—Lochte dominated the Pan Pacs with six gold medals.
NOVEMBER 2010
Courtesy of: Elliot Karlan
Pictured: Bob Placak founded the RCP Tiburon Mile in 1999 and Sprint Classic this year. Pictured with Placak (center) are Tiburon sprinters (from left to right, top row to bottom row) Will Copeland, Ben Wildman-Tobriner, Nathan Adrian, Garrett Weber-Gale, Josh Daniels, Nick Brunelli, Matt Target, Fred Bousquet, Josh Schneider and Matt Grevers.
DECEMBER 2010
Courtesy of: Peter H. Bick
Pictured: Ryan Lochte captured his first regional and world Male Swimmer of the Year honors, ending a record four-year streak by Michael Phelps. In an incredible year, Lochte won four individual events at the Pan Pacific Championships last summer, with all four winning times ranking No. 1 in the world.