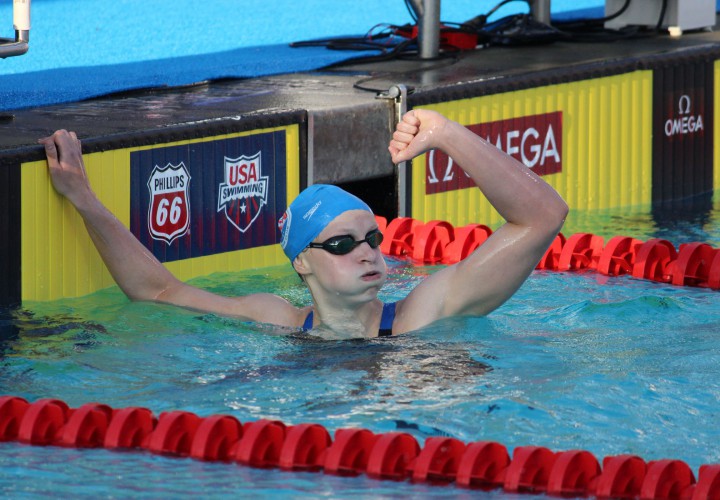 Photo Courtesy: Griffin Scott

Editorial Coverage Sponsored By FINIS
By Emma Merrill, Swimming World College Intern
Katie Ledecky is the most dominate freestyle swimmer in the world right now, male or female. Her fame began when she shocked the swimming world with an obliteration of the field in the 800m freestyle back in the 2012 London Olympics.
And while the 2016 Summer Olympics in Rio are a year away, it's never too early to get excited for fast swimming. Looking ahead to Rio, here are 16 reasons why she is going to blow the competition out of the water…
1. Records, Records, and More Records
Ledecky is the current world record holder in the 400m, 800m, and 1500m free. She also has the American records for all three events as well as the 500y and 1650y freestyle.
2. She's Been There…And She'll Be Back
She was the youngest member of the Olympic Team in 2012. The experience she has gained since diving in the water in London will be a huge help to her going in to Rio next summer.
3. Defending Champ
Ledecky won the 800m free in the 2012 Olympics at the age of 15. At the very least, look for her to defend her title next summer.
4. A Tie With Phelps
This spring, Ledecky tied Michael Phelps's time in the 400m freestyle at the Arena Pro Series in Arizona this past April. Although they obviously weren't in the same heat, Ledecky's time of 4:02.67 left her female competition in the dust and tied the most decorated Olympian of all time. Later that day, Phelps challenged her to a race, which Ledecky accepted with pleasure. Phelps backed down…even he was a little scared to take Ledecky on in one of her best events.
5. The Rocky Balboa of Swimming?
Even for a distance swimmer, Ledecky is an incredibly hard worker. She averages 8,000 yards/meters per 2.5-hour practice and typically makes 8-9 workouts a week according to USA Swimming.
6. Numbers (It's Not Even Close)
Swimming is all about the number on the clock at the end of the race. In Ledecky's best events, she is lightyears ahead of her competition. According to Yahoo Sports, Ledecky's best times from 2014-2015 are 27 seconds better than the next fastest female in the 1500m, 8 seconds in the 800m, and 4.5 seconds in the 400m freestyle.
7. Common Sense 
Ledecky is an incredibly smart and responsible young woman. Just because she deferred Stanford, doesn't mean you're going to see Ledecky in the headlines for enjoying the "finer things" in life.
8. Good Enough To Swim With the Boys
Ledecky's times in the 1500m and 400m free are fast enough to qualify her for the 2016 Men's Olympic Trials. According Yahoo Sports, she is the only American female swimmer with that distinction. Besides her best times, Ledecky is well known for her ability to pace right on the heels of some of the fastest male swimmers in the country in practice.
9. She's Only 18
Ledecky's young enough that she'll be able to recover faster and have better stamina than other older competitors–even though we should expect to see her in an extremely strenuous distance event lineup.
10. She Can't Drive 
Ledecky presumably still doesn't have her license. But hey, less distractions right? All of the time Ledecky doesn't spend driving is hopefully being used for some R&R and strategizing how best to shock us next with more amazing swims.
11. Great Coaching
Ledecky's coach, Bruce Gemmell, has the experience needed to continue to develop her rare combination of distance stamina with explosive speed. He has significant experience working with the best coaches in swimming as well as making Olympic Trials twice himself. Gemmell has said himself that they have worked on making the 400m free a sprint event for Ledecky–an impressive feat for any coach.
12. She's Not a Jerk
Anyone who has met Ledecky or even seen her interviewed can tell that she has the personality to succeed over many years. A humble and genuinely nice teenager, Ledecky has an attitude towards the sport that leaves her poised to dominate for years to come.
13. Even Splitting
Ledecky has an uncanny ability to split her races evenly. At the Arena Pro Series in April, her splits for the middle 500m of her 800m free varied  from 30.83 to just 31.39. If you don't think that is impressive, how about her negative splitting the 1500m.
14. Breaking World Records UNTAPERED
Having broken her own world records in the 1500m and 800m free without rest, Ledecky makes breaking world records without taper seem like child's play. Just imagine what she will thrown down after a full taper for Rio.
15. She Lost Her First Race
According to the Washington Post, Ledecky lost her first ever career race. The 6-year-old Ledecky got 2nd place in the 25 freestyle at a summer swim meet for her team, the Palisade Porpoises. Who knows, perhaps the sting of that early defeat is what continues to propel her to stunning first place freestyle finishes at the international level?
16. "She's a Stud"
Yes, even Phelps knows she's the real deal. He was quoted in an interview from last summer's Pan-Pacific Championships calling Ledecky "a stud" and adding "watching her swim is remarkable…she works hard and it shows."