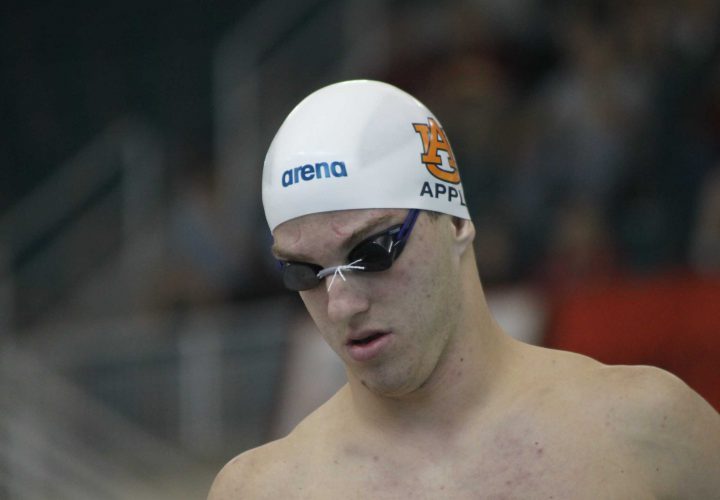 Photo Courtesy: Andy Ringgold / Aringo Photos
Editorial content for the 2017 USA Swimming Nationals is sponsored by TritonWear. Visit TritonWear.com for more information on our sponsor. For full Swimming World coverage, check event coverage page.
Most of the big names made the A-final of the 100 free on Tuesday morning of the 2017 Phillips 66 National Championships and World Championship Trials. Those names include 2012 Olympic gold medalist Nathan Adrian and SCY American Record holder Caeleb Dressel.
But what if I said neither of those are the top seed? Oh, certainly it's NC State up and comer Ryan Held? Nope. Olympian Blake Pieroni? Nope? Ryan Murphy? Try again.
Actually it's Auburn's Zach Apple.
Apple, 20, swam a 48.14 to become the third fastest performer of 2017 behind Great Britain's Duncan Scott (47.90) and Australia's Cameron McEvoy (47.91). Apple has a chance to make his first National team tonight as he leads a stacked field.
He was only 14th at NCAA's in March with a 42.59. Apple also swam an 18.93 in the 50 at NCAA's to tie Michael Chadwick for 4th. He was also 12th in the 200 free with a 1:33.36. Apple hails from Trenton, Ohio and had originally committed to Western Kentucky before they suspended their program in the spring of 2015.
Texas' Townley Haas (48.56), Dressel (48.56), Adrian (48.62), Pieroni (48.65), Held (48.66), Murphy (48.88) and Chadwick (49.02) will all swim in the A-final tonight.
Big names Cullen Jones (10th, 49.16), Matt Grevers (11th, 49.18) and Conor Dwyer (16th, 49.40) all missed the A-final.