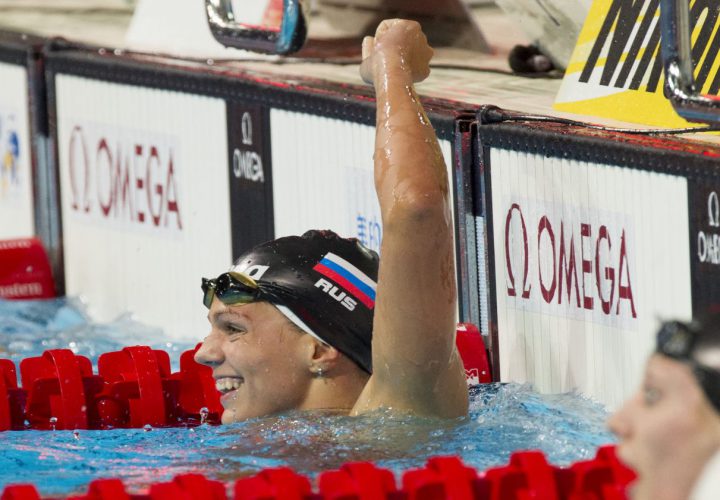 Photo Courtesy: Joao Marc Bosch
The usual suspects were at it again at the 2017 Mare Nostrum Barcelona round. After successful stops in Monaco, Sarah Sjostrom, Yulia Efimova and Katinka Hosszu all added more victories to their tally.
Efimova nearly posted a World Record in the 200 breast, swimming a dominant 2:19.83. She also claimed the 50 breast title. Sjostrom continued her sprint prowess by taking the 50 free and 100 fly while Hosszu won the 400 IM.
On the men's side, Australia's Mitch Larkin had solid backstroke performances while Taylor Dale of the United States stole the victory in the 50 distance.
Women's 1500 Free
Four swimmers competed in the women's 1500 free. Spain took the top spots in the event with Mireia Belmonte Garcia coming in at 16:17.36 and Jimena Perez Blanco taking second with a 16:26.13. Sandra Garcia Martinez was third in 17:17.45.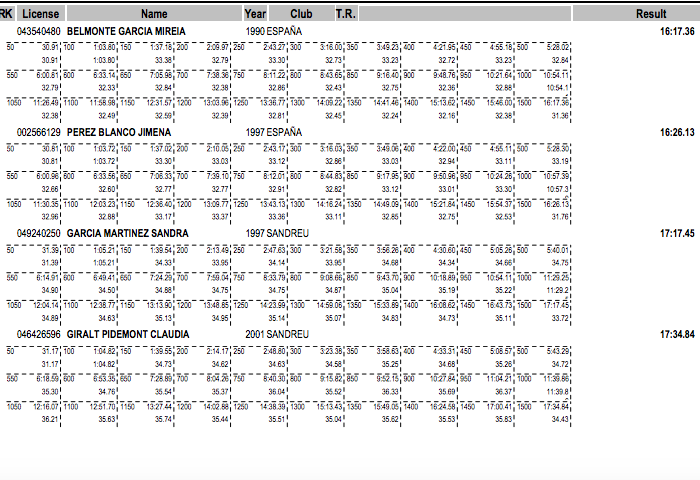 Men's 50 Back
Athens' Bulldog's Taylor Dale out-raced Rio silver medalist Mitch Larkin in the men's 50 back by roughly one tenth of second. Dale's 25.07 was enough to secure the victory over Larkin's 25.19. Australia's Zac Incerti was a distant third in 26.01. The time puts Dale sixteenth in the world this year, while this was Larkin's second-fastest swim of the year. He has already posted a 25.10 for the eighteenth time in the world this year.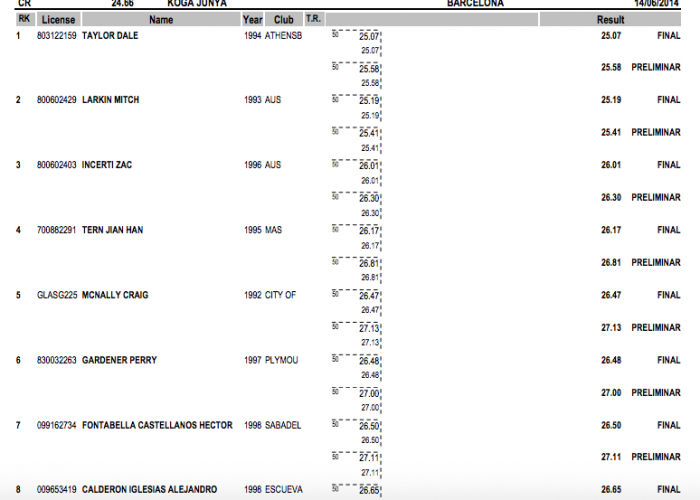 Women's 50 Breast
After posting a world-leading 29.88 at the Russian Championships, Yuliya Efimova won her second-straight Mare Nostrum title in the 50 breast. She raced to a 30.51 in Monaco, and swam even faster in Barcelona with a 30.32 to take the win over Jennie Johansson who finished in 30.41. This is just off Johansson's season best of 30.39 which has her fifth in the world rankings. Jenna Laukkanen took the third spot with a 31.43.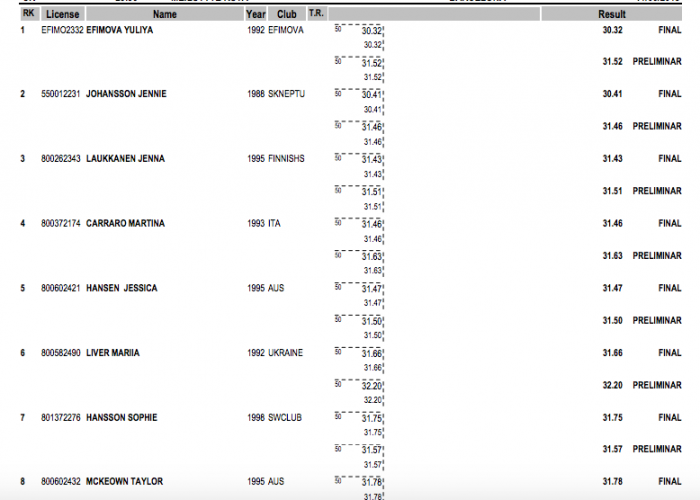 Men's 50 Fly
Ukraine's Andrii Govorov sprinted into the world rankings with a 23.17 in the 50 fly. His time puts him fourth in the world this year just ahead of Cesar Cielo. Riku Poytakivi took second in 23.48, which is good enough for ninth in the world. Yauhen Tsurkin was third in 23.81 followed by six-time Olympic medalist Laszlo Cseh in 23.83.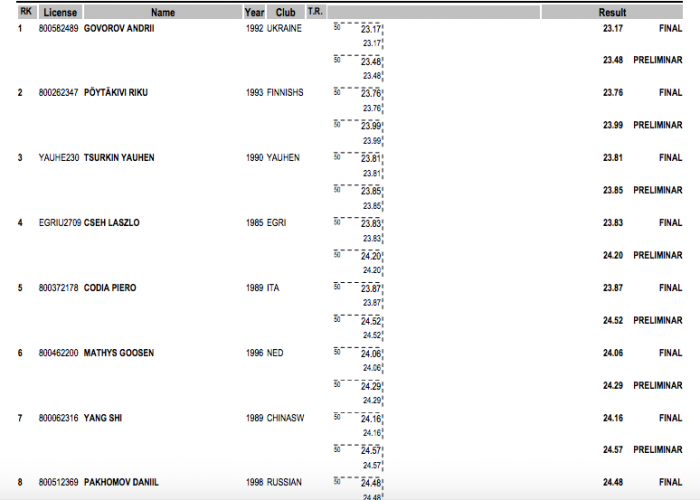 Women's 400 IM
Hungary's Katinka Hosszu won her second Mare Nostrum 400 IM with a world-leading 4:33.71. Now second with her 4:34.12 from the British Championships, Hannah Miley raced to a 4:36.70 for second in Barcelona. After winning the 1500, Belmonte Garcia was back in the pool to earn third with a 4:38.51. This was off her 4:35.01 set at the Spanish Championships which ranks third worldwide.
Hosszu's backstroke leg set her apart from the competition, giving her the lead she needed over Miley in the breaststroke. In the middle of the race, Hosszu split 1:09.18/1:19.38 to Miley's 1:12.13/1:18.7.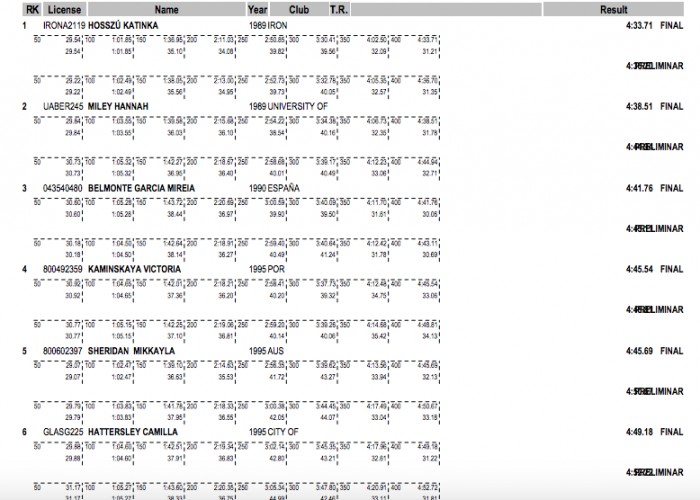 Men's 100 Free
Australia's James Magnussen led a small group of swimmers under the 49-second barrier in the 100 free as he finished in 48.68. He was followed by a close race for second between a trio of men. Brazil's Bruno Fratus took second in 48.82 followed by Hanser Garcia Hernandez in 48.83 and Cam McEvoy in 48.86.
Fratus blasted a 23.09 opening 50 but then fell to Magnussen who split 23.93/24.75 for the win. The Aussie was sixth at the 50 before claiming the title.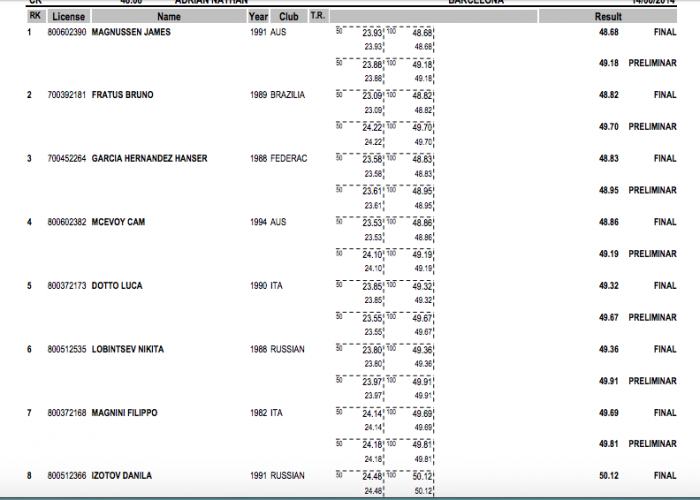 Women's 100 Back
After a successful stop in Monaco, Emily Seebohm dominated the field in the 100 back with a 58.99. Daria Ustinova of Russia took second in 1:00.41 while Canada's Taylor Ruck claimed the third spot in 1:00.86. Seebohm was just off her season best of 58.62 while the rest of the competitors were outside the world top 20 for 2017.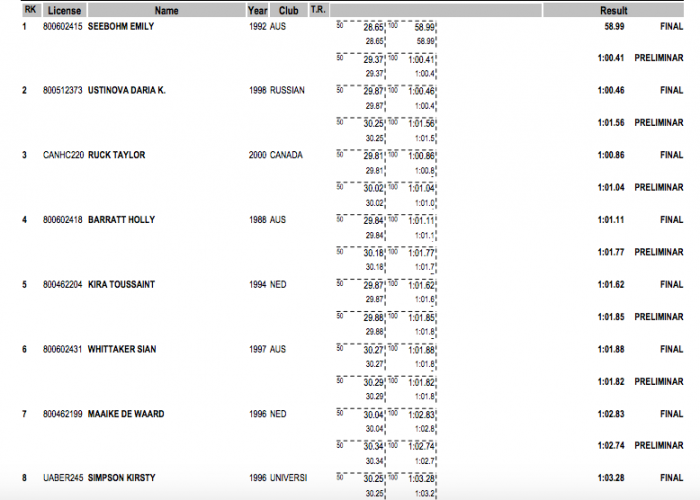 Men's 100 Breast
Russia's Anton Chupkov achieved a season best in the 100 breast posting a 59.39. The swim bumps him from thirteenth to fifth in the world rankings. Cameron Van Der Burgh took second in 1:00.02 while Italy's Nicolo Martinenghi was third in 1:00.20. The latter two swims were both just off the respective swimmer's season best; both have previous times this year that rank them in the top 10.

Women's 50 Free
Sarah Sjostrom set the Meet Record in this event with a 23.96. Still off her world-leading 23.93, she is still the only female swimmer in the world to consistently break the 24-second barrier multiple times this year. Ranomi Kromowidjojo improved on her 24.34 this season with a 24.29 for second place. Bronte Campbell and Cate Campbell claimed the third and fourth spots in 24.66 and 24.75.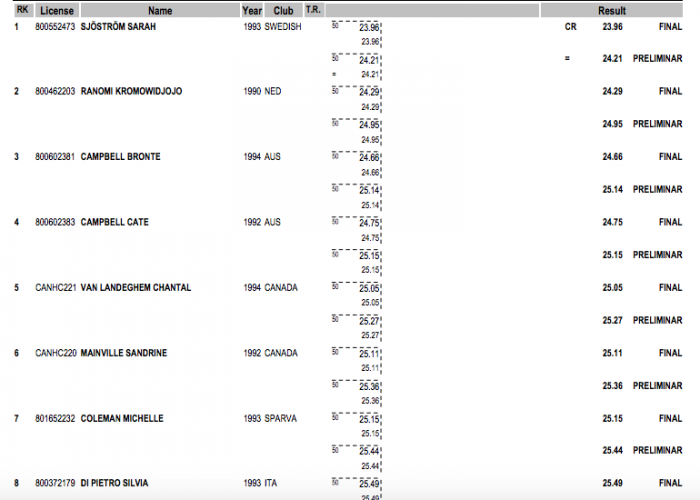 Men's 200 Back
Larkin swam a 1:57.48 to claim his first win of the day in the 200 back. While the time sits just outside the top 10 which he is already a part of, it was enough to win by 3 and a half seconds in Barcelona. Markus Thormeyer took a distant second in 2:00.94 while Bradley Woodward was third in 2:01.37.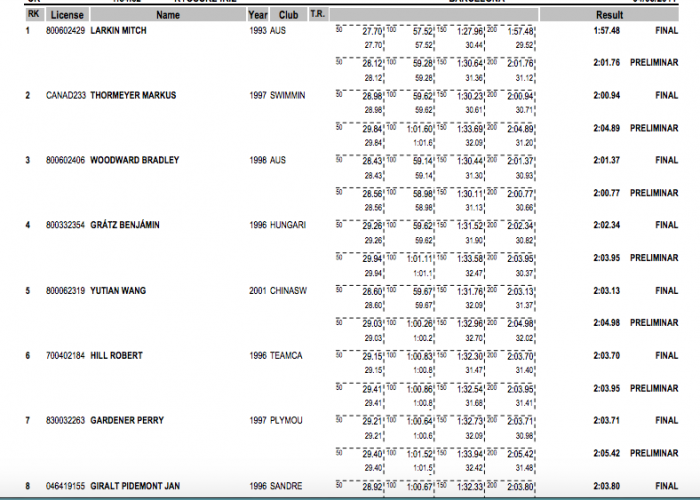 Women's 200 Breast
Efimova led one of the fastest 200 breaststroke fields so far this year as she blasted a 2:19.83 for the meet record and a dominant world-leading time. She now sits about three seconds ahead of the next fastest swimmer in this event this year and is under a second off the World Record. Taylor McKeown posted a quick 2:22.29 as well, which is the third-fastest swim of the year. Jessica Vall Montero swam a 2:23.34 for the sixth-best time.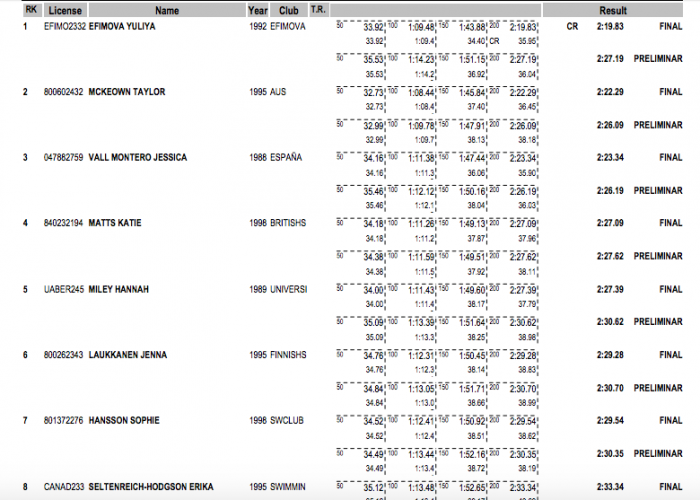 Men's 200 Fly
Lazlo Cseh claimed the 200 fly with a 1:56.69, just off his season best of 1:56.0. Daniil Pakhomov won a tight race for second over Giacomo Carini 1:58.16 to 1:58.58. Cseh is currently sixteenth in the overall rankings from his swim at the Budapest Open.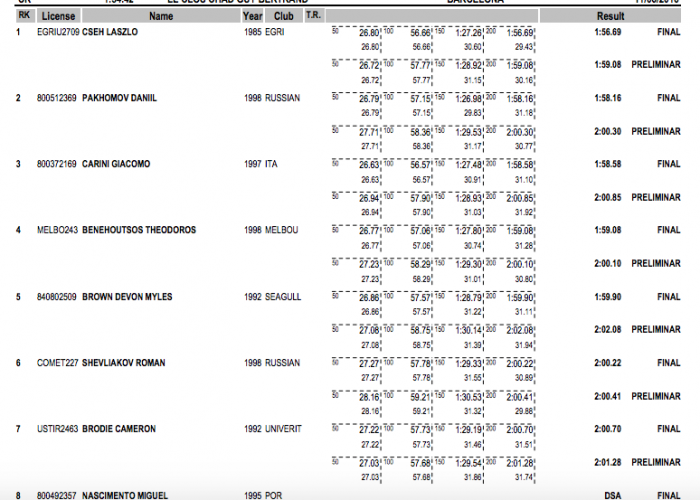 Women's 100 Fly
Similar to the women's 200 breast, the women's 100 fly final in Barcelona was one of the quickest so far this year. Sjostrom repeated her 56.2 performance from the first round of the Mare Nostrum circuit, but was seven one-hundredths off her previous time. It was still enough for a win though, as Svetlana Chimrova of Russia took second in 57.36. Canada's Penny Oleksiak posted a solid 57.65 for third, three-tenths off her fourth-ranked swim from the Canadian Championships. Chimrova's swim now puts her one one hundredth behind Oleksiak in the world rankings.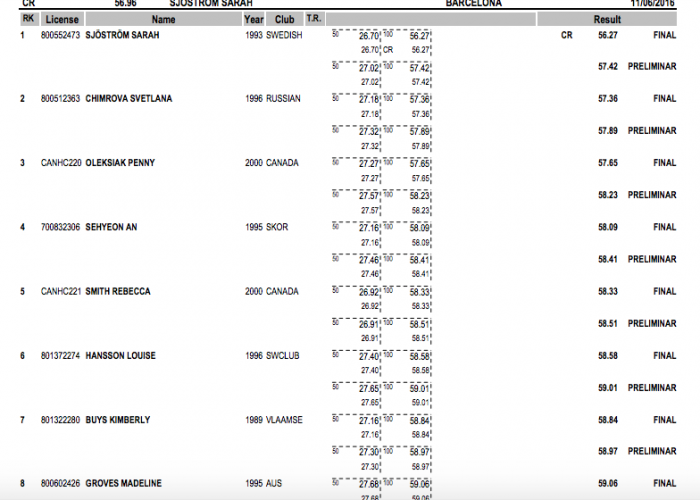 Men's 200 IM
Italy's Federico Turrini won the 200 IM in 2:01.62, followed by Russia's Kirill Prigoda in 2:01.70. Alexis Santos was third in 2:02.18.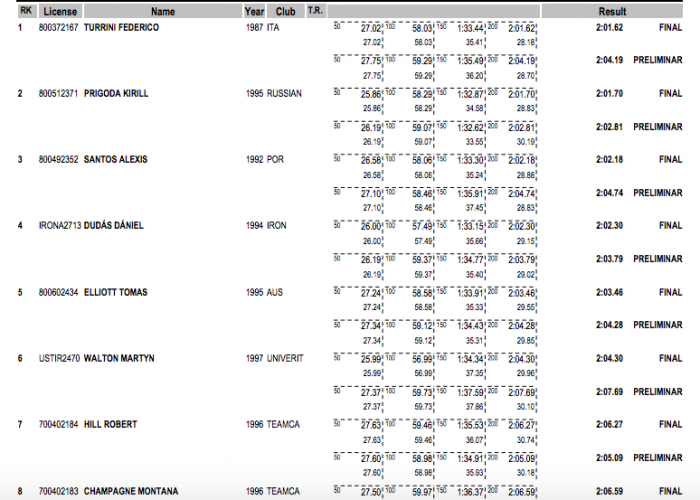 Women's 200 Free
Femke Heemskerk moved from seventh to sixth in the world rankings with her 1:56.28 win in the 200 free. In a star-studded heat, Veronika Popova took second in 1:57.29 while Emma McKeon (1:57.59) and Madison Wilson (1:57.68) claimed third and fourth. Taylor Ruck also placed fifth in 1:58.24 while Hosszu took the eighth spot in 1:59.44.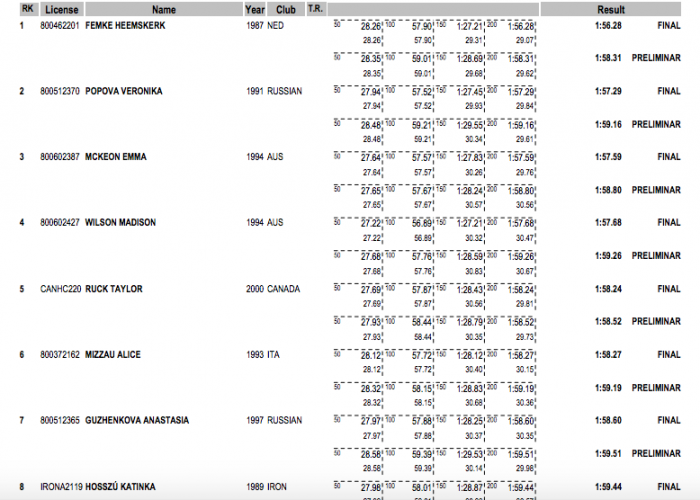 Men's 400 Free
Russia's Aleksandr Krasnykh was just off his top-10 time from Russian Championships but won the event with a 3:47.35. Henrik Christiansen was second in 3:48.46 while Welson Sim took third in 3:50.12.