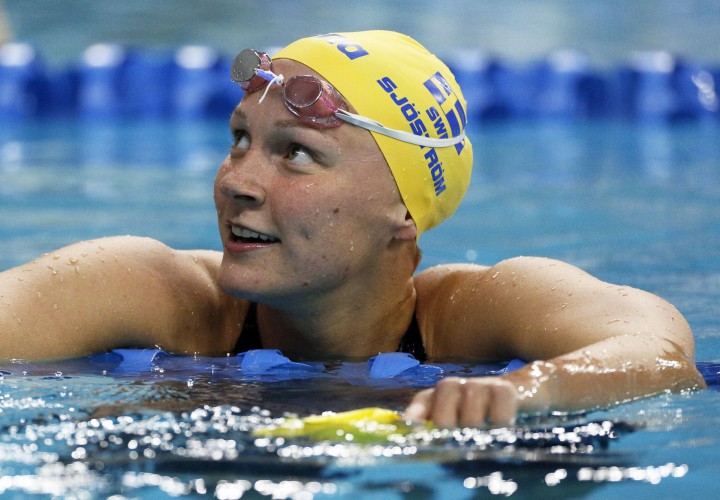 Photo Courtesy: Soobum Im-USA TODAY Sports
Sarah Sjostrom has been on fire so far in 2017 in the 50s and 100s of free and fly, and that trend continued on day one of the Mare Nostrum tour in Monaco, when she won the 100 fly and set herself up as the top seed in the 50 free and fly shoot-outs.
Read below for full coverage of each event on the first of two days in Monaco, including the quarter-finals of the 50-meter events. The top four from the eight-man semi-finals qualify for Sunday's finals.
Japan's Yasuhiro Koseki, currently ranked No. 2 in the world in the men's 200 breast and No. 4 all-time, got the win in his signature event with the only sub-2:10 performance of the day. He posted a 2:09.49 to beat out Russia's Kirill Pogoda, who took second in 2:10.19. Third went to Belarus' Ilya Shymanovich in 2:15.70.

Russia's Yulia Efimova easily took first in the women's 100 breast, clocking in at 1:06.45. More than a second and a half back in second was Sweden's Jennie Johansson, who came in at 1:08.05, and Australia's Taylor McKeown was third in 1:08.29.

Australia's James Magnussen came out on top of the men's 100 free. The 2011 and 2013 World Champion in the event touched in 49.11 to win the race by four tenths, while Russia's Nikita Lobintsev edged out Aussie Cameron McEvoy for second, 49.51 to 49.53.

Sweden's Michelle Coleman, currently ranked No. 2 in the world in the women's 200 free behind Katie Ledecky, got the win in that event in 1:57.38, pulling away from Australia's Madison Wilson on the last 50. Hungary's Katinka Hosszu took third in 1:58.53.

Hungary's Laszlo Cseh easily captured first in the 200 fly, the event in which he is the reigning World Champion, hitting the wall three seconds ahead of the rest of the field in 1:57.52. Australia's David Morgan (2:00.80) and Theodoros Benehoutsos (2:02.80) rounded out the top three.

Sjostrom unleashed another massive effort in the women's 100 fly. She held the fastest time in the world this year going into the race and actually improved her season-best, coming in at 56.20. Russia's Svetlana Chimrova took second in 57.78, moving into the world top-ten in the event, and Belgium's Kimberly Buys was third in 59.16.

Australia's Mitch Larkin came in first in the men's 100 back. The reigning World Champion in the event touched in 54.08 to beat out the field by almost a second. Belarus' Mikita Tsmyh took second in 55.02, and third went to Hungary's David Foldhazi (55.98).

Australia's Emily Seebohm is the reigning World Champion in the women's 200 back, and she squared off against two of her top rivals in that event, Hosszu and Ukraine's Daryna Zevina. Seebohm ended up getting the win in 2:08.98, just ahead of Hosszu (2:09.36) and Zevina (2:09.84)

Cseh won his second event of the day when he took the top spot in the men's 200 IM, touching in 2:02.07 to just edge out Hungarian countryman Benjamin Gratz (2:02.49) and Greece's Andreas Vazaios (2:02.56).

Macedonia's Welson Sim won the men's 400 free in 3:49.48, edging out Australian Olympic gold medalist Mack Horton.Horton touched second in 3:50.13, and China's Aiu Zhao was third in 3:51.18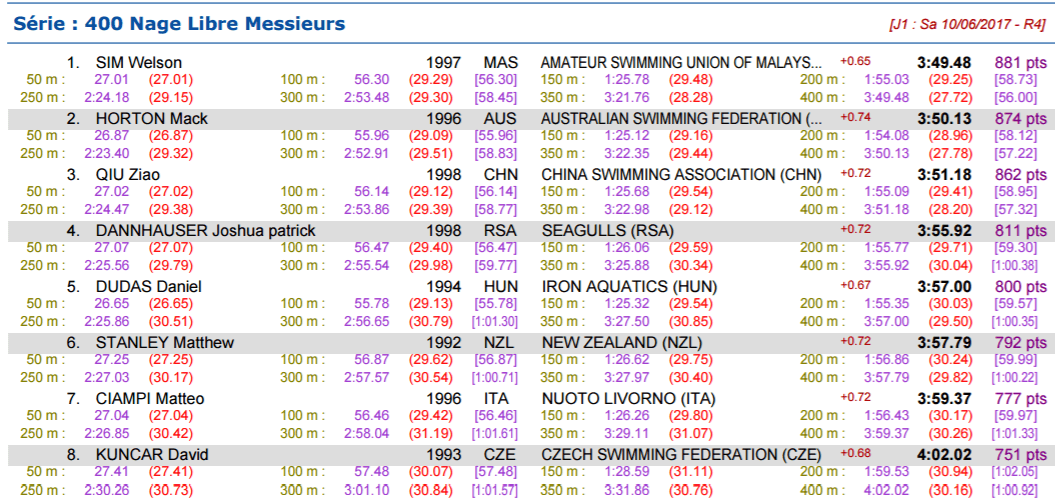 Hosszu took first in the men's 400 IM, touching in 4:34.12, tying her for the second-fastest time in the world this year. Canada's Mary-Sophie Harvey grabbed second in 4:38.73, about two seconds off her season best of 4:36.60, and Japan's Hiroko Makino was third in 4:41.30.

In the men's 50 fly quarter-final, Ukraine's Andrii Khloptsov claimed the top seed in 23.87, while Great Britain's Adam Barrett (23.97), Belarus' Yahor Dodaleu (23.99) and Finland's Riku Poytakivi (24.02) will join him in the semi-finals.

Sjostrom edged out Japan's Rikako Ikee for the No. 1 spot in the women's 50 fly, 25.70 to 25.83. The two currently hold the top two spots in the world rankings with times of 24.96 and 25.51, respectively. Buys (26.76) and Australia's Brittany Elmslie (27.14) also made the semis.

In the men's 50 back quarter-finals, Tsmyh (25.46) led Larkin (25.55), Belarus' Viktar Staselovich (25.90) and France's Benjamin Stasiulis (26.25) with two rounds to go.

Seebohm captured first in the women's 50 back quarter-finals in 27.92, ahead of Belarus' Aliaksandra Herasimenia (27.97), Russia's Anastasia Fesikova (28.01) and Australia's Holly Barratt (28.02).

Brazil's Felipe Lima finished comfortably first in the men's 50 breast quarter-finals, clocking 27.50. Koseki (27.50), South Africa's Cameron van der Burgh (27.54) and Prigoda (27.64) also made the top four.

Efimova led the way in the women's 50 breast in 30.82, followed by Japan's Satomi Suzuki (31.25), Finland's Jenna Laukkanen (31.34) and Johansson (31.36).
Brazil's Bruno Fratus posted a time of 22.06 to top the men's 50 free quarter-finals, while world No. 1 Ben Proud of Great Britain was second in 22.12. Finland's Ari Pekka Liukkonen took third in 22.25, and Magnussen was fourth in 22.28.

Sjostrom again posted the top time in the women's 50 free, her 24.35 well short of her world No. 1 time of 23.83. Sisters Bronte and Cate Campbell of Australia qualified behind Sjostrom with times of 24.76 and 24.82, respectively, while Elmslie was third in 25.45.