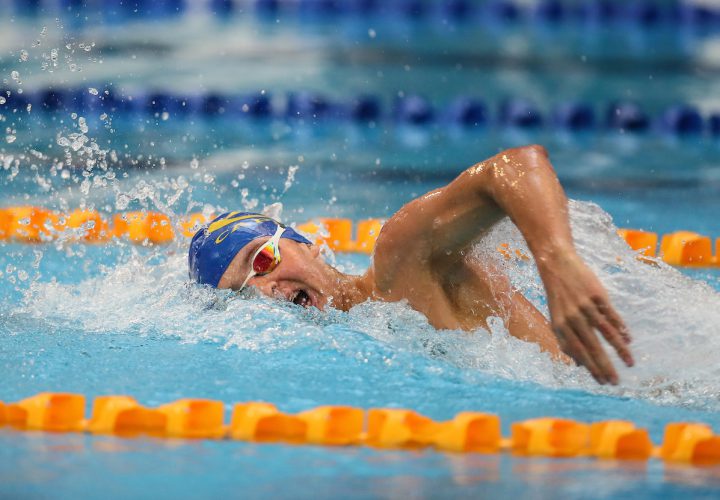 Lewis Clareburt.
Photo Courtesy: BW Media
By Dave Crampton.
The were some top performances at last week's New Zealand Aon National Age Group championships held in Auckland last week, with many younger swimmers upstaging older ones.
Two swimmers aged under 16 swam faster than everyone else in their top event. One 14-year-old came second overall in her top event.
Swimmers competed in their age groups in the morning. Age group finals were conducted in the evening for those under 16, and finals for those 16-18 were swam together. Medals were awarded to all age groups, with the 17/18 years combined.
This meant that if a 16-year-old and an 18-year-old were placed top two in the evening A final, both got gold medals. If a 15-year-old was the fastest overall in the mornings, they still swam with their age group in the evenings.
It also meant that if the third fastest 16-year-old didn't make a final against their older competitors, they had no opportunity to improve on their time, despite medalling.
Two 15-year-olds, Michael Pickett in the 50m freestyle, and Bre Crawford in the 50m butterfly, swam faster than the winner of the A final for those 16-18.
Ciara Smith, 17, New Zealand's dominant breaststroker, easily won her three breaststroke events, breaking her own NAG record in her first event, the 50m, clocking 32.21, slightly outside the Open record.
"It's all about the challenge and digging in that brought me home. It's nice to have a fast race to start off the week," she said.
Lewis Clareburt, 18, fresh from getting a 400m Individual Medley bronze medal in his first event at his first Commonwealth Games this month, had an astonishing meet, winning all eight of his events in solid times. He scratched the 400m medley to concentrate on the 200m freestyle, clocking 1:48.32, and shortly after clocked 50.32 for the 100m freestyle in a relay lead off. Both were NAG records.
Rather than take some time off after the games, Clareburt was eager to compete again.
"I wanted to see if I could back it up and see how fast I could go. You've done all your training – racing is just the fun part," he said.
Also in the same relay, Tyron Henry, 16, swam 51.29 for a NAG record in his lead-off. Both Clareburt and Henry lowered their records further in the 100m freestyle later in the week, coming first and second in the A final respectively, clocking 50.32 and 51.24, both for a national title.
However, missing was Pickett, 15, who is even faster than Henry. He swam 51.21 in the 100m freestyle in March, the fastest time in the world for a 15-year-old this year. But he was forced to scratch the meet after suffering a fracture in his first event, the 50m freestyle, where he clocked 23.15, just 0.01 second off his NAG record set last month, and the fastest time of all ages at the championships.
Crawford, 15, and Tyler Finau, 13, were both rising stars at these championships. Finau won nine titles and Crawford, seven.  Like Smith, Crawford won all breaststroke events.
Erika Fairweather, 14, won seven titles, setting up a good match at the New Zealand Short Course championships later in the year with Finau who will be 14. Both did not swim breaststroke events.
Fairweather holds five short course NAG records as 13-year-old, all but one set at last year's national short course championships, but while Fairweather did clock 57.47 for second fastest overall in the 50m freestyle and was third fastest overall in the 800m freestyle at 9:01.39, neither were able to break a NAG record at this year's champs.
However, breaststroker Crawford did, setting a NAG of 27.37 in the 50m butterfly, the fastest of all ages.
"It feels pretty good. I`ve been eyeing up that one for a while, it feels pretty good to get it," she said.
She was also second overall, behind Smith, in the 200m breaststroke, clocking 2:36.58, nearly 15 seconds clear of the next 15-year-old. She was third overall in the 50m breaststroke, clocking 33.19, just 0.10 seconds outside a NAG record, and fourth in the 50m freestyle.
"I always like to execute my race plan as best as I can and go to meets like New Zealand Opens and potentially beat them," she said. "You can always improve, there's no limit."
Taiko Torepe-Ormsby, 14, won five national titles, all in personal best times, and smashed the New Zealand 50m backstroke NAG record, set in 1996, by nearly half a second, clocking 27.11. It was a 1.2 second personal best time, and the fifth fastest of all ages at the championships. He was surprised when he looked at the clock.
"I thought, 'Oh my God'."
"I was hoping to get a big personal best – but I wasn't expecting to get the record," he said, "I'm just absolutely buzzed, it was a great race."
He also clocked 26.24 in the 50m butterfly, a big improvement of 1.2 seconds on his swim earlier that day, but just 0.05 off a NAG record.
"I just swam it and the time came up. I was gutted, gutted and happy at the same time," he said.
Pierce Collins, 13, won all three butterfly events – the longer events in NAG record time, 1:00.63 and 2:13.92 respectively.
"My aim before the meet was just to break those two records and get as close to 2:10 (in the 200m butterfly) as possible," he said.
He also won the 200m freestyle by 0.01 second, clocking 2:06.46.
"I don't know that race was so close. The good thing about swimming is that it gets your adrenaline going – it's a lot of fun."
The New Zealand Open championships will be held in July.