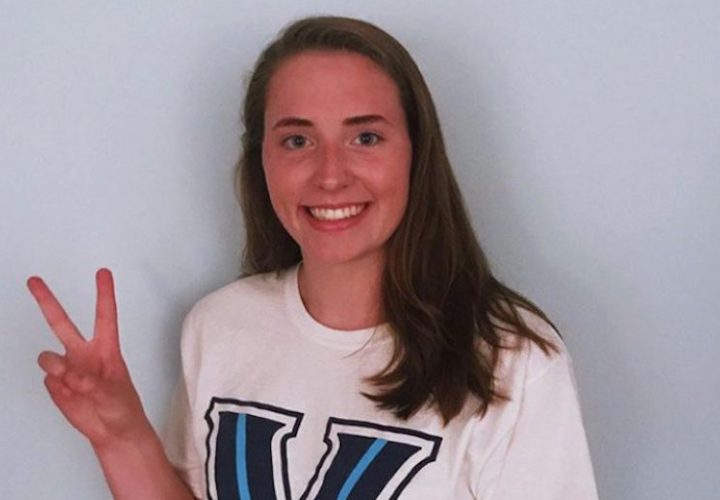 Photo Courtesy: Nicole Welch (Instagram)
Agon is the proud sponsor of all high school coverage (recruiting, results, state championships, etc.) on SwimmingWorld.com. For more information about Agon, visit their website AgonSwim.com.
To report a college commitment, email HS@swimmingworld.com. Join Swimming World's Watch List
NEW COMMIT: Villanova University has received a verbal commitment from YMCA of the North Shore's Nicole Welch. Welch will arrive with perfect timing, upon the graduation of the Wildcats' top distance swimmers. A USA Swimming Scholastic All-American, Welch is a senior at Beverly, Massachusetts' Beverly High School.
She wrote on Instagram, "So excited to announce my verbal commitment to Villanoca's Swim and Dive Team!! #Gocats #novanation"
At short course YMCA Nationals in April Welch set a distance freestyle trifecta of lifetime best times. Those best times now include:
1650 Free 16:50.13
1000 Free 9:59.54
500 Free 4:51.87
200 Free 1:51.91
100 Free 54.46
She went on to a successful long course YMCA Nationals as well, highlighted by a victory in the 800 free, a second place finish in the 400 free and a third place 1500 freestyle.
At last year's Big East Championship Villanova's Emily Mayo (16:28.54) and Caitlin Daday (16:47.00) took the top two spots in the 1650. Welch would have out touched Seton Hall's Jillian Calocino (16:51.76) for third. Mayo and Daday will both be gone by Welch's arrival. Mayo, Daday, and Mary Snyder went 1-2-3 in the 500 freestyle at last year's Conference meet. Welch would have been in the thick of that race, out touching Snyder with her lifetime best. From the start of her collegiate career, Welch should sit at the top of the conference for the four time defending Big East Champions.
Welch will dive in along with Grace Wielar next fall.