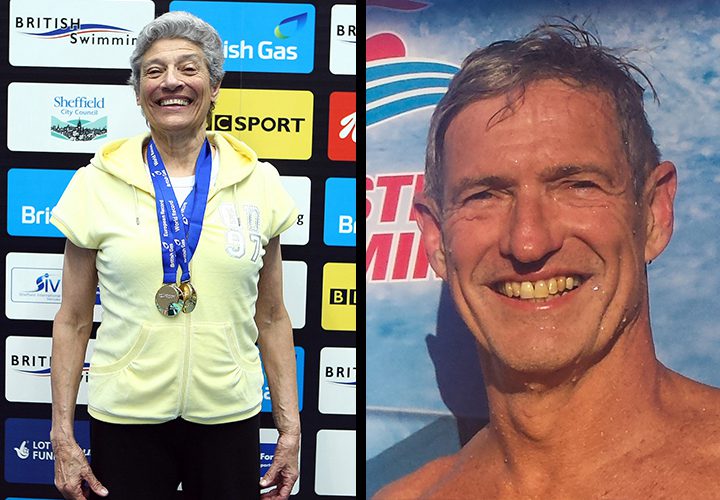 Photo Courtesy: The Swimming Times/Rick Colella
2016 Top 12 World Masters Swimmers of the Year
Swimming World Magazine has been recognizing the Top 12 World Masters Swimmers of the Year for the last 13 years. Running from April 4th through April 9th the staff at Swimming World will be shining a spotlight on the accomplishments of our Top 12 World Masters Swimmers of the Year, along with a special spotlight on the runners-up on the 10th.
Jane Asher, Great Britain (85-89)
Jane Asher, who turned 85 last year, returns to Swimming World's Top 12 World Masters Swimmers of the Year for the fourth time. She was first named to the list in 2004—the year the World Masters award was created—then later in 2006 and 2011.
Asher put together an outstanding swimming resumé this past season (Nov. 1, 2015 through Oct. 31, 2016), setting world records 18 times in 11 long course events and 16 times in 11 short course events.
But her records this past year weren't the highlight of Asher's season. Rather, it was the opportunity she had to swim with her good friend, Christine Goodair, and Asher's two sons, Jamie and Alistair, at the European Masters Swimming Championships in London last May. They finished 13th in the 200 mixed medley relay for the 240-279 age group, and Asher was elated: "What a treat for a mother of my age!"
Asher was born in Northern Rhodesia (now known as Zambia) and raised in South Africa. At the age of 22, she moved to Great Britain, where she became a teacher and a coach, teaching the basics of swimming.
Since 1986 when she first set Masters world records in the women's 55-59 age group, Asher has continued to set global standards in each age group an incredible 187 times (78 long course and 109 short course through Oct. 31, 2016)…in every stroke and distance except breaststroke. —T.B.
Rick Colella, USA (60-64, 65-69)
Rick Colella finished his international career at the 1976 Olympics in Montreal, where he won a bronze medal in the men's 200 breast, but swimming remained a key part of his exercise routine. Eventually, he found that running, canoeing and Nordic skiing were too hard on his knees and hips, so he stuck to the pool.
As for competing in meets regularly, that took a little bit longer. Colella swam at USMS Summer Nationals in Spokane, Wash., in 1977 before taking a 13-year hiatus from the racing pool. But it wasn't until 2008 that Colella fully ramped up his competitive career once again.
He found that Masters racing had its advantages, and that kept calling him back.
"The biggest difference is less pressure," he said. "Masters racing is more for fun. You can put pressure on yourself in any individual race, but when it's over, it's over. I still get nervous at meets and probably always will—that's just the nature of competition— but competing in Masters is simply much more fun."
He and a group of friends used to write their own workouts, but in 2009, they joined up with a new team called Lake Washington Masters. "We were forced to do some fast sprinting, which we typically avoided when training on our own. Now, after nearly 57 years, I'm finally learning how to sprint!"
Colella broke world records in two age groups this season. First, he set four short course standards in the 60-64 age group: 200 free (2:01.65), 50-100 breast (31.51, 1:09.92) and 200 fly (2:23.29). Then, after aging up to the 65-69 division, Colella broke five long course marks: 50-100-200 breast (33.30, 1:15.94, 2:41.54) and the 200-400 IM (2:25.22, 5:14.48).
Like any swimmer, he enjoys the feeling of improving his time and the extra boost a record provides, but that's not why he's still in the sport. "My motivation is what I call the 3 F's—fun, friendship and fitness," he said. —D.R.