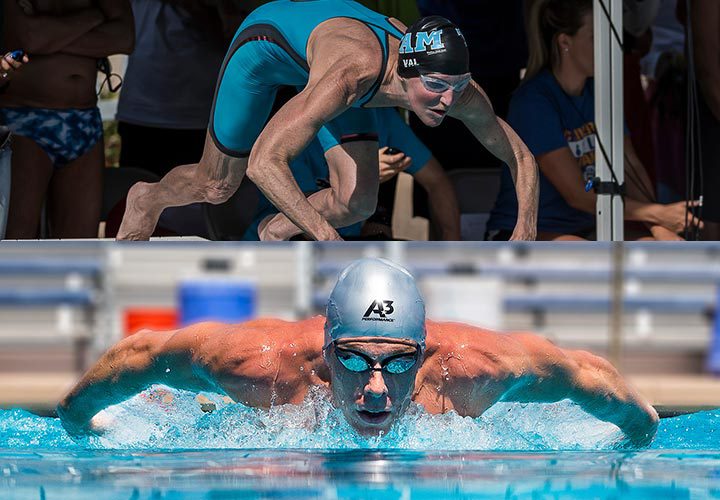 (Top-Bottom): Laura Val & Darian Townsend
2017 Top 12 World Masters Swimmers of the Year
Sponsored by TriSwim whose products remove chlorine, chlorine odor & salt water, and green tint.  Their salon quality products hydrate & moisturize the skin, heal itchy skin & hair, relieve dandruff, eliminate pool rash & relieve symptoms of eczema.
Swimming World Magazine has been recognizing the Top 12 World Masters Swimmers of the Year for the last 14 years. Running from April 2nd through April 7th the staff at Swimming World will be shining a spotlight on the accomplishments of our Top 12 World Masters Swimmers of the Year.
Laura Val, USA (65-69)
If there were such a thing as Masters swimming royalty, Laura Val would reign as queen. 2017 marks Val's 12th year as a World Masters Swimmer of the Year, and her times never underwhelm. Val manages a surgical team as a nurse by day, and by morning, she manages to swim an average of three miles or 5,000 yards.
This year, Val set nine world records in the short course pool (eight events) and six in long course (five events). Val always shoots to make Swimming World's Top 12, but it never gets easier for her… because she typically has her own lofty records to tackle.
"Getting older in an age group usually means I have to break records I have already set," Val said. "Obviously, it gets harder every year."
Val attributes her consistent success to her genuine love of the sport and her training group of "very committed, dedicated, focused swimmers," whom she mentions are "all considerably younger than me." Val says her daily goal is "to see how long I can keep from being ejected from the lane because I can't keep up."
Val retired from swimming in the early '70s at the age of 21 because she thought she was "old." It was the pre-Title IX era, and there wasn't a college swimming option for Val. So she stopped, but "it was never because I wanted to quit swimming," Val said. "I've never experienced burnout." And if you page through the Masters world record books, you'll see Val is not lying. Her longevity in the sport is awe-inspiring, and her competitive fire has not dwindled with age. Here's how fast Val was able to go at the vivacious age of 65:
In short course meters, Val crushed world marks in the 50-100- 400 freestyles (29.30, 1:06.39/1:05.27, 5:02.08), 50-100-200 back (34.09, 1:14.99, 2:43.74), 100 y (1:15.40) and 100 IM (1:16.67). In an Olympic-sized pool, Val took down world records in the 100- 400-800 free (1:05.00, 5:20.83, 10:49.60) and the 50-100 back (34.71/34.46, 1:15.66). Long live the queen.
Darian Townsend, USA (30-34)
For the third time in his career, Darian Townsend has been named one of Swimming World's Top 12 World Masters Swimmers of the Year, having also been recognized in 2014 and 2016.
This past season, Townsend set four short course Masters world records in the 100 y (52.44) and 100-200-400 IM (53.28, 1:56.96, 4:16.06).
A three-time Olympian for South Africa, Townsend has enjoyed a storied career in the sport—including being a member of the 4×100 freestyle relay that upset the USA for Olympic gold in 2004.
As a Masters swimmer, he claims that he's still passionate about achieving his swimming goals—"and it's this passion that keeps me swimming: I love being in the water, and I enjoy pushing myself. Swimming is something I have done all my life. It has become part of my daily routine, so keeping myself active and still competing feels normal to me."
While his workouts have changed some since his Olympic glory days, Townsend still pushes himself from week to week.
"I swim five days a week and do a gym workout twice. My training is a little shorter than I used to do, but I still manage around 3,500 yards a workout," he said. "I spend a good amount of time working on technique as well as doing some hard kick sets."