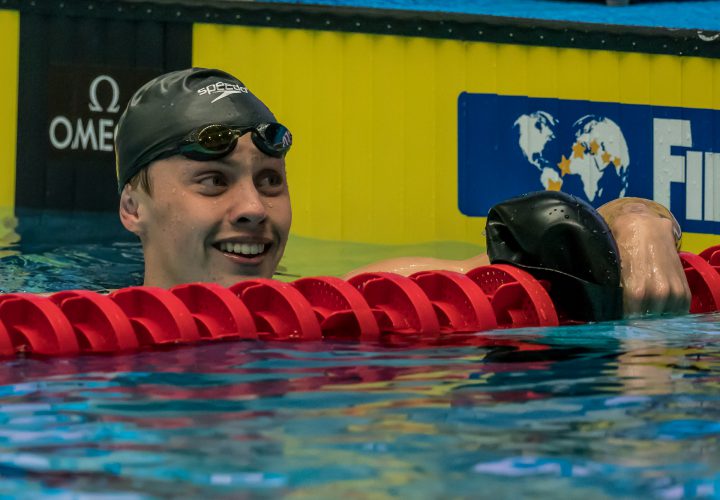 Photo Courtesy: Peter H. Bick
Agon is the proud sponsor of all high school coverage (recruiting, results, state championships, etc.) on SwimmingWorld.com. For more information about Agon, visit their website AgonSwim.com.
To report a college commitment, email HS@swimmingworld.com. Join Swimming World's Watch List
2017 World Juniors silver medalist in the 200 back, Carson Foster out of the Mason Manta Rays in Ohio sends a very early verbal commitment to the University of Texas to join the class of 2024. Foster is still only in his sophomore season but he will be joining his brother Jake Foster as a Longhorn in the fall of 2020.
Foster is one of the most versatile swimmers in the class of 2020 as he is capable of scoring in any event at the junior national level. Foster's best events are perhaps the backstroke events as he was a 47.15/1:41.66 in both backstroke events at the 2017 Winter Juniors. He also was the silver medalist in the 200 back at the World Junior Championships this past summer with a 1:57.87, which was the eighth fastest time by an American in 2017 and he was only 15.
He is also a solid IM'er as he has been 1:43.79/3:44.16 in the SCY IM's as well as 4:21.10 in the LCM 400 IM, an event he qualified for the National Junior Team in. Foster was a member of the national junior team in the 400 IM, 200 back and the 200 fly (1:58.47).
Foster was also a member of the silver medal winning 4×200 free relay team at the World Juniors this past summer where he split a 1:48.12 on the third leg. If Foster continues at this pace, he could be an asset on any of the five relays for the Longhorns.
He recently broke the Ohio State record in the 200 free at 1:34.19 two weeks ago, and also won the 500 at 4:20.21.
This has to be the earliest anyone has ever (seriously) committed in the sport of swimming, but the Longhorns have to be happy to receive early verbals from two of the fastest siblings in the country.
By the time Foster is on campus, he will be joining a team led by seniors Austin Katz, John Thomas Larson, Parker Neri, Sam Pomajevich and Chris Yeager, who have already qualified for the NCAA championships as freshmen. Foster's best times in the 200 IM and 200 free would have qualified for the NCAA Championships in 2018.