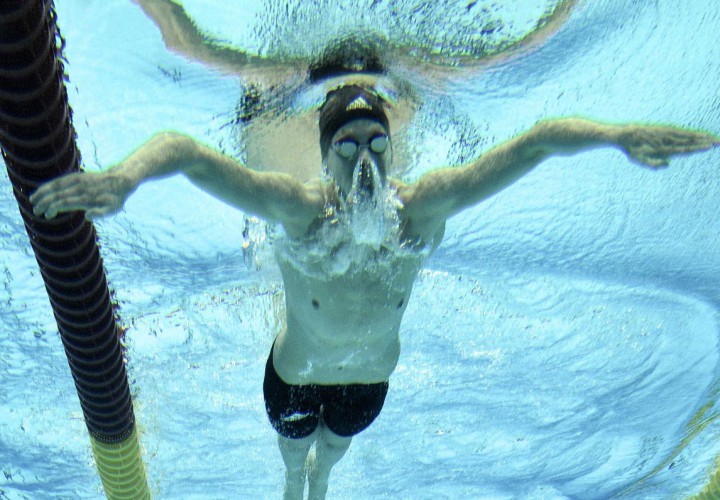 By Emily Sampl
BOULDER, Colorado, May 30. A couple of international meets with implications for later this summer – the North District Open/Grand Prix in Scotland and Arena Cup-Prague – highlight a relatively light weekend of swimming action across the world. Here are four events to keep an eye on this weekend.
1. Make A Splash Tour Concludes
USA Swimming Foundation's annual Make a Splash Tour will wrap up this weekend with appearances in Los Angeles and Long Beach by multiple Olympic gold medalists, including Janet Evans, Rowdy Gaines, Nathan Adrian, Jessica Hardy and others. The tour aims to educate children, parents and communities of the importance of water safety.
2. North District Open/Grand Prix Underway in Scotland
Scotland will finalize its roster for this summer's European Championships at the conclusion of the North District Open/Grand Prix meet this weekend. A couple of big name swimmers who have already punched their tickets to Glasgow are racing at the Aberdeen Aquatics Centre, including Hannah Miley, Ross Murdoch and Robbie Renwick. The meet marks the third of three stops on the Scottish Grand Prix circuit, which means cash prizes are up for grabs for the final series winner on both the women's and men's side. Swimmers will be battling for top spots on the podium and a chance at the largest paycheck.
3. Coimbra Invitational Begins Tomorrow in Portugal
The Coimbra Invitational starts tomorrow in Coimbra, Portugal, and several swimmers will have a chance to win multiple events. On the men's side, a few swimmers could walk away with individual event titles, including Mario Pereira, Luis Vaz, Rodrigo Rosa and Tomas Veloso. In the women's meet, Diana Duraes, Catia Martinheira and Joana Pinto have a couple of top three seed times.
4. Arena Cup-Prague Going on in Czech Republic
Swimmers from the Czech Republic will compete at the Arena Cup in Prague this weekend, highlighted by Czech national record-holder and Olympian Simona Baumrtova, as well as South African breaststroke ace Giulio Zorzi. Top junior swimmers from the Czech Republic will have an opportunity to throw their names in the hat for consideration to be named to their home country's European Junior Championships and Youth Olympic Games squads. Both meets will take place later this summer.