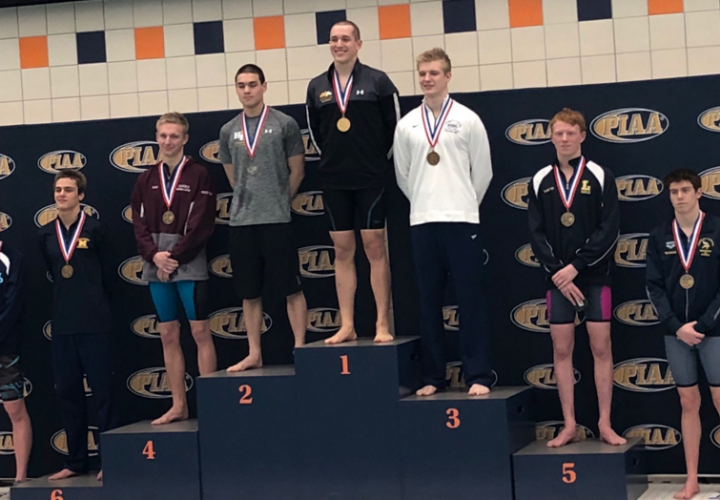 Photo Courtesy: Michael P. Smith Twitter (@MichaelPSmith2)
Agon is the proud sponsor of all high school coverage (recruiting, results, state championships, etc.) on SwimmingWorld.com. For more information about Agon, visit their website?AgonSwim.com.?National Records for High School Are Pending Application Verification.? Click Here to Learn More
At the 2018 Pennsylvania AA high school swimming and diving state championships the Villa Maria Academy girls put together a fairly decisive victory while the Lower Moreland boys scraped together every point they could to win by a narrow margin.
On the girls side, Villa Maria totaled 178 points for the victory. Dallas finished second with 139 points and Gwynedd Mercy finished third with 126 points.
The Lower Moreland boys had a total of 207 points, while runner up Cathedral Prep finished the meet with 193, and third place went to Clearfield with 159 points.
Girls
Villa Maria Academy led from the get go. Bella Agresti, Jasmine Chen, Julia Bradford, and Sydney Sherman stopped the clock in 1:46.10. Springfield Township Megan Leibfreid, Alison Currie, Maura Fluehr, and Paris Thompson closely followed, finishing in 1:46.37.
Bloomsburg's Hanna Everhart dipped under 1:50 with a 1:49.69 in the 200 freestyle. Karen Siddoway of Northgate was runner up, stopping the clock in 1:50.45. Nazareth Academy's Kayla Lichtner rounded out the podium with a 1:52.19. The same trio topped the 100 freestyle with times of 50.50, 50.88, and 51.37, respectively.
Shamokin sophomore Abigail Doss ran away with the 200 IM, clocking a 2:00.99. Two juniors were in a tight battle for second. Annie O'Dare of Gwynedd Mercy got to the wall in 2:03.26, just a tenth ahead of Northern York's Kate Luft in 2:03.38. Doss also dominated the 500 free, finishing in 4:51.70. In that event Villa Maria finished second, through fourth with Katitlyn Aggger (4:58.54), Katherine Fronczak (5:04.55), and Alexa Turco (5:07.05).
Emma Wilson of Grove City edged Heather Gardner of Mt. Pleasant 23.30 to 23.43 for the 50 freestyle victory. Schuylkill Valley's Marlee Rickert was third in 23.77.
Paige Mikesell, a senior at Clearfield, raced away from the field in the 100 butterfly, winning the event in 55.07. Touching second was sophomore Maddie Mcsorley from Nazareth Academy with her 56.70. Jersey Shore's Emma Butzler finished third (57.15).
Villa Maria's momentum continued to roll, as the squad of Kelly Fessler, Chen, Bradford, and Sherman won the 200 freestyle relay in 1:36.86, ahead of a 1:38.00 from Grove City.
Northern York's Kate Luft won the 100 backstroke in a quick 54.59. Rickert touched second (55.72) and Juaniata's Sydney Houtz completed the top three (57.94).
The 200 IM runner up, O'Dare was first to the wall in the 100 breaststroke, finishing in 1:02.14. James Buchanan senior Rachel Kimmel earned silver (1:03.04) and bronze went to Holy Redeemer's Margaret Walting (1:04.07).
The top five teams in the 400 freestyle relay all finished within one second of one another, with the top three coming to the wall within three tenths. A 51.96 anchor from Lindsey Grune powered Shady Side Academy to the victory, stopping the clock in 3:34.05. After leading by two seconds with 100 yards to go, Schuylkill Valley finished second (3:34.31), just holding off Wyoming Seminary (3:34.36).
Boys
Lower Moreland was a second and a half ahead of the competition in the first relay. Ben Aust, Chris Kelly, Tommy Lutter, and Connor Killion combined for a 1:34.08 to win the 200 medley. Runner up honors went to Cathedral Prep's Ethan Neff, John Paul Stark, Robbie Maholic, and Thomas Uht in 1:35.69.
Two boys were under 1:40 in the 200 freestyle: Bishop McDevitt's Josiah Lauver (1:39.24) and Clearfield's Luke Mikesell (1:39.91). Lower Moreland's Killion touched third (1:40.35). Mikesell won the 500 freestyle with a 4:28.28, just edging Marian Catholic's Danny Berlitz in 4:28.67.
Berlitz was dominant in the 200 IM. The junior posted a time of 1:49.97. Chasing him down was Clearfield's Chase Bietz with a 1:52.85 while third went to Lower Moreland's Kelly (1:54.21). Bietz won the 100 breaststroke with a 57.08 while Kelly was second with a time of 57.99.
North Schuylkill's Reggie Crawford tied the new state record in the 50 freestyle. The junior posted a time of 20.45. That time tied the 20.45 that Schuylkill Valley's Colin Gwiazdowski went in prelims. At night, Gwiazdowski touched second in a time of 20.50. Will Rastatter of Grove City finished third (20.95). Gwiazdowski found his way to the top of the podium in the 100 freestyle. Despite turning in second at the halfway point, the senior got to the wall in 45.44, a tenth ahead of Crawford in 45.54. Cathedral Prep's Alec Thomas was third (46.75).
Holy Redeemer's Adam Mahler cleared 50 seconds in the 100 butterfly, touching in 49.96. The junior was followed by freshman Ian Shahan of Belle Vernon in 50.70. Lower Moreland's Lutter clocked a 50.91 for third.
Cathedral Prep's Thomas, Stark, Maholic, and Uht were first to the wall in 1:25.69 in the 200 freestyle relay. Grove City's Will Rastatter, Ben McKnight, Charlie Nesbit, and Will Hannon were second with a 1:26.16.
Lauver won his second event of the meet, touching in 49.70 in the 100 backstroke. Belle Vernon's freshman Ian Shahan placed second (50.55) and Cathedral Prep's Neff (51.16) was third.
Lower Moreland's final relay victory sealed the team title. Kelly, Shipp, Lutter, and Killion got to the wall in 3:08.50.