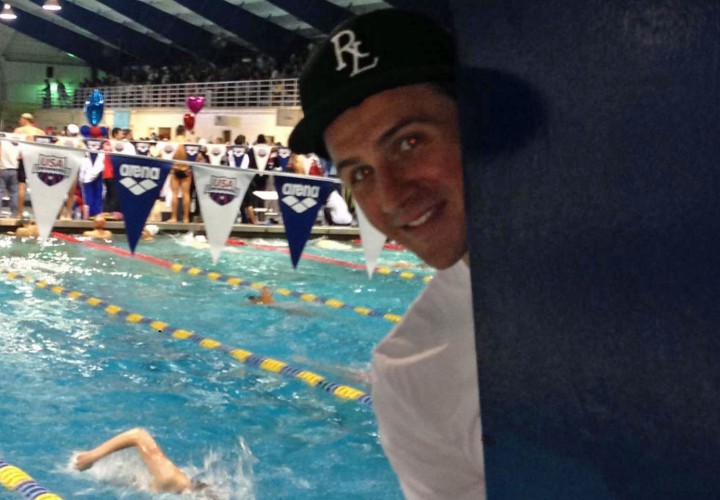 Special thanks to ArenaUSA for proudly sponsoring our coverage of the Arena Grand Prix circuit. For all of our coverage and more, please visit our event coverage page
ORLANDO, Florida, February 14. ONE of Ryan Lochte's first acts when he arrived at the YMCA International Aquatic Center in Orlando today was talk exclusively with Swimming World's Tiffany Elias to detail his harrowing journey from North Carolina to Florida.
Locthe also talks about recovering from his knee injury, which has taken up the bulk of his life since the encounter with an overzealous fan last November. It's created a bit of uncertainty for Lochte, who is racing for the first time since the world championships.
"I'm just going to go out there and race and see what my knee can handle," Lochte said.
He also said he wasn't supposed to race in Orlando, given that his knee isn't at 100 percent capacity, but the consummate racer said he "got tired of being at my house and watching everyone at swim meets. I want to get in that pool and I want to race. I don't care what the doctor said. Nobody knows my body better than I do."
No matter what happens, Lochte said he'll be ready to challenge for spots on the Pac Pacific and world championship teams this summer. He's confident that the six months until then is enough time to heal and "get back into my normal racing mode."
Lochte also teased new stroke techniques that he's been working on with Coach David Marsh at SwimMAC-Carolina that he'll debut in tomorrow's racing in the 200 back and 100 free.
Watch the full interview in the video player below.