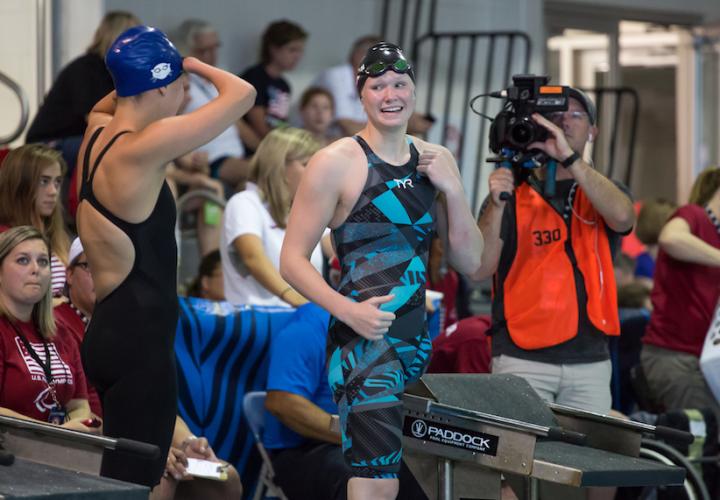 Hannah Aspden from the YMCA of the Triangle Area spoke with Swimming World after her events on the final night of the 2016 Paralympic Team Trials.
A member of the 2015 IPC World Championships silver medal winning 400 freestyle relay, Aspden has her sights set on making that relay again this summer.
Swimming next to the new S9 American record holder Michelle Konkoly, Aspden posted a 1:06.83 in tonight's 100 freestyle, a nearly half second improvement from her prelims time of 1:07.26.
The 16 year old swam the fourth best S9 100 backstroke in the world this morning with a 1:13.63. Tonight she was a touch faster in 1:13.08. One of her coaches, Tom Hazlett, hoped this morning's swim would be enough to put her on the 2016 Paralympic team.
Aspden spoke about how her swimming has been going after spending the past few months sick and about the tough competition for a relay spot.
Hazlett offered more insight into Aspden's recent progress. He also reflected on the experiences of his other two athletes Logan Wilson and Lucas McCrory, who also saw improvements from prelims to finals and used the meet as a learning experience.
Watch Aspden here:
Watch Hazlett here: