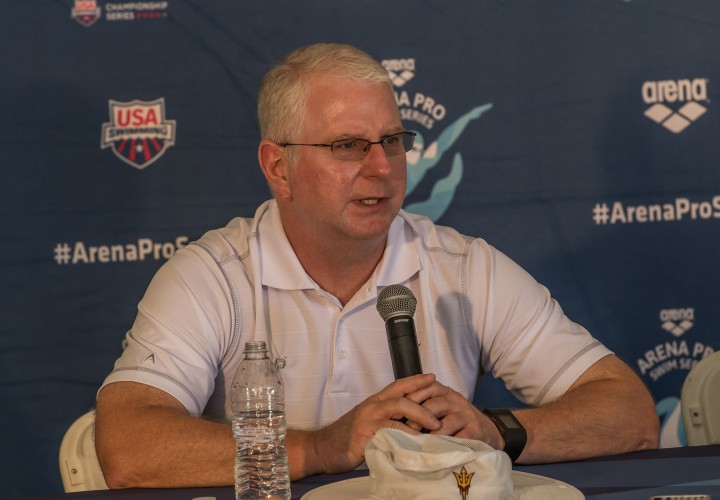 Photo Courtesy: Peter H. Bick
Arena Pro Swim Series editorial coverage is proudly sponsored by Arena USA. Visit ArenaUSA.com for more information on our sponsor. For all the latest coverage, check out our event coverage page.
Bob Bowman met with the media tonight and talked about his NBAC Southwest swimmers' performances this weekend in Mesa. The men's 200 IMs were a highlight. He spoke about preparation for Trials as his group heads to Colorado Springs for a six week training camp. He also entertained questions about the state of US swimming and his first season at Arizona State.
Original Race Report:
Men's 200 IM
Michael Phelps was first to the butterfly wall, further ahead after backstroke, and held on for the win. Phelps touched in 1:57.90, the third fastest time in the world this year. Training partners Chase Kalisz and David Nolan finished second and third in 1:59.05 and 2:00.89. Kalisz's time is the tenth fastest in the world this year.
Max Williamson finished fourth in 2:02.61. Andrew Seliskar touched fifth in 2:02.86.
Gunnar Bentz (2:03.01), Marko Blazevski (2:05.16), and Sean Grieshop (2:07.23) completed the A final.