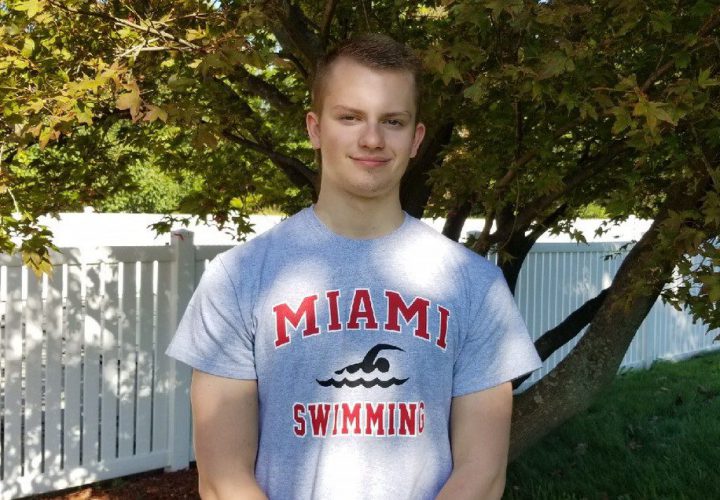 Photo Courtesy: Brandon Crist
Agon is the proud sponsor of all high school coverage (recruiting, results, state championships, etc.) on SwimmingWorld.com. For more information about Agon, visit their website AgonSwim.com.
To report a college commitment, email HS@swimmingworld.com. Join Swimming World's Watch List
NEW COMMIT: Brandon Crist of Victor Swim Club has verbally committed to Miami University. Crist is a freestyler. His best times are:
1650 Free 15:54.79
1000 Free 9:31.01
500 Free 4:33.76
200 Free 1:43.35
All of those freestyle marks were set last spring, as Crist swam well through the whole short course championship season, setting his 200 best time at the end of the February, before posting a mile best at the Niagara LSC's short course championships in mid-March, and following that up with 1000 and 500 bests at Sectionals at the end of the month.
Crist's new times would convert into scoring opportunities in the Mid-American Conference. At last year's Championships he would have been eighth in the mile with his new best, the RedHawks' top finisher. He'd be a 500 freestyle B finalist. Crist will have some more training company as he comes down in distance. In his first year in Ohio last year's fifth place finisher Iago Moussalem do Amaral (4:27.27) will be a junior and 16th place finisher Jake Precious (4:33.87) will be a senior.
Crist told Swimming World,
"I am beyond excited to announce my commitment to Miami University. I chose Miami because of the phenomenal coaching staff and the prestigious business program that is offered by the Farmer School of Business. I know that Miami will provide me with the opportunity to be successful in both the pool and the business world. Go RedHawks!"