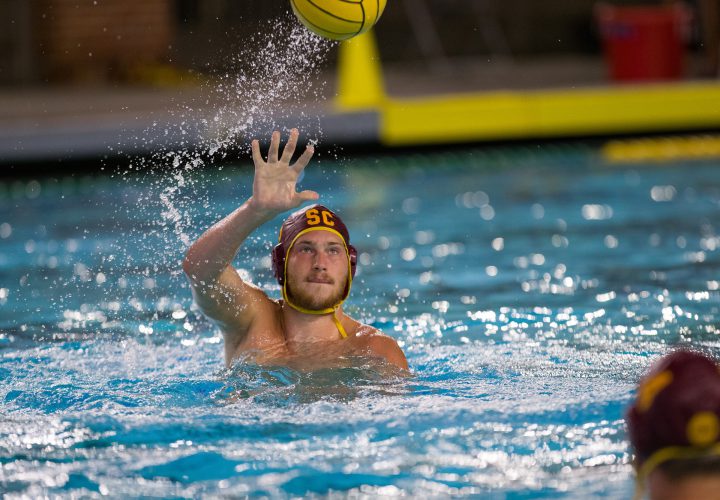 USC freshman Marko Vavic leads the Trojans with 47 goals. Photo Courtesy: Catharyn Hayne/KLC fotos
By Michael Randazzo, Swimming World Contributor
LOS ANGELES — Thursday night in its own pool, the University of Southern California men's water polo team had little difficulty subduing a game but overmatched Harvard squad in a 2017 NCAA Men's Water Polo Tournament quarterfinal match. In registering a 16-4 decision over the East's champion, Head Coach Jovan Vavic's team took one more step towards extending one of the more impressive streaks in NCAA athletics: 12 straight trips to the national championship final.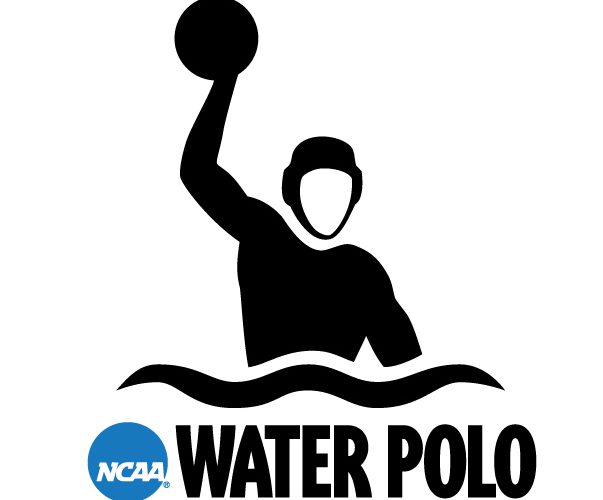 Harvard (24-8) is working on a streak of its own; after never appearing in post-season play in its first 35 years of existence, the Crimson have now advanced to California in back-to-back NCAA tournaments.
Ted Minnis, the Harvard coach in his eighth year in Cambridge, acknowledged how impressive his team's streak is while indirectly putting USC's phenomenal success in NCAA play into context. During Vavic's 23-year reign the Trojans have captured nine championships while missing out on NCAAs only five times.
"When you go back-to-back, winning the first one is great and it's hard to do," Minnis said. "But winning a second one the next year is even harder."
Since St. Francis Brooklyn captured NCAA berths in 2012, 2013, no team from the East had advance to the national tournament in consecutive years.
USC (26-3) fields five players who are also members of their respective national teams—Thomas Dunstan, McQuin Baron, and Marko Vavic all play for the U.S. Men's Senior National Team while Blake and Lachlan Edwards are members of the Australian National Team. The Trojans have netted 439 goals on the season, an astounding average of more than 15 goals per match
Therefore—when facing the Trojans—it's perhaps advisable to stake out achievable goals, which is what Minnis did for his charges.
"We talked about scoring in the first half, and we put three in on the best goalie in the U.S. [Baron]," he said, then underscored that, in this light, even time-outs take on a different meaning.
"[Vavic] played his starters and his first line longer than he wanted to," Minnis added. "He called a time-out in the first quarter [actually, second quarter]; if he's calling time-out there's something he sees that he didn't like."
A sizeable Harvard contingent in the Uytengsu Aquatics Center understood there was little hope of winning but were nonetheless excited about a repeat trip to California for NCAAs. When the Crimson unexpectedly beat Baron three times over the span of seven minutes, their fans broke out Harvard chants. That enthusiasm waned quickly in the second half as the USC offensive onslaught continued virtually unabated.
"I'm happy with the way we played," Minnis said. "We didn't just come out here to roll over,"
For USC, the challenge is to not grow over-confident after besting an opponent that in last year's tournament lost 17-4 to them; the challenge is to beat Cal, which shocked a one-loss USC juggernaut in the finals, beating the Trojans 11-8 in overtime. Standing in the way of their impressive streak of finals appearances are the defending national champion Golden Bears, who will battle the home team in a semifinal match Saturday at 5:15 p.m. (PST). The Trojans are 0-1 against Cal this season, having dropped a 6-3 decision in Berkeley last month.
Freshman Marko Vavic may be new to the USC roster but he represents a continuation of Trojan dominance under his father's leadership. The younger Vavic—who at 6-6 is considerably taller than his coach—was adamant that this year's senior class, which has never won a title, be rewarded for their diligence.
"It is our pool and we don't want to see anyone else in the final besides us," he said. "Having been in the last three finals and losing [them] at the very end, I think our senior class is definitely going to help us win that ring."
As USC prepares for another NCAA match, Harvard flies home. Some—seniors Colin Chiapello and Harry Tafur—will never again don the Crimson's colors again. After the match Tafur's mother Julia—who Minnis calls "Super Jules"—came to grips with seeing her son play for the last time.
"It's significant, and becomes meaningful to everyone," she said about her son's time with Harvard polo—though her thoughts might apply to any parent. "When your child is involved to that level, it's a big part in their life and a big part in the life of the family."