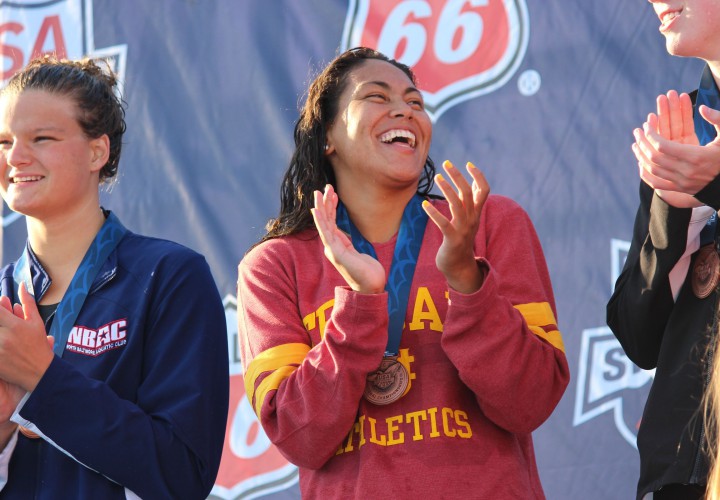 Photo Courtesy: Griffin Scott
LOS ANGELES, California, October 10. Last night, the USC women's swimming and diving squad opened up 2014-15 with a, 150-106, victory against Pacific 12 foe Washington State.
USC Press Release
Four swimmers won two events apiece as the USC women's swimming and diving team kicked off the 2014-15 season with a Pac-12 win over Washington State, 150-106, under the lights at Uytengsu Aquatics Center on Thursday (Oct. 9).
The Trojans opened with a win in the 200y medley relay as freshman Hannah Weiss, senior Andrea Kropp and juniors Kendyl Stewart and Kasia Wilk won in 1:41.89.
Sophomores Chelsea Chenault (10:11.16) and Maggie D'Innocenzo (10:17.51) followed with a 1-2 showing in the 1000y free while junior Jasmine Tosky (1:49.89) and Stewart (1:51.21) did the same in the 200y free.
Weiss scored the first individual win of her Trojan career by throwing down an NCAA 'B' cut in the 100y back (53.91), well ahead of Washington State's Loree Olson (56.90) while USC sophomore Sidney Cooke was third (57.94).
The Cougars scored their first win as Frederikke Hall (1:05.12) edged Trojan sophomore Jamie Christy (1:05.38) and WSU's Presley Wetterstrom (1:05.39) in the 100y breast.
Kropp, a breaststroke specialist, dabbled in the 200y fly tonight and won in 2:03.60 while junior transfer Lucy Worrall from Miami took third in her first meet for the Trojans in 2:05.30.
Wilk wrapped up action before the first break with a win in the 50y free (23.06) and opened up action afterward with a victory in the 100y free (51.48). USC sophomore Evan Swenson was third in the 50y free (23.89) and second in the 100 (52.52).
Weiss won her second straight event by taking the 200y back in 2:00.72, safely ahead of WSU's Olson (2:02.50) while Kropp doubled up as well with a win in her traditional 200y breast in 2:15.52. Tosky was second (2:16.11).
Chenault joined the cast of two-time winners with a 4:58.92 in the 500y free with D'Innocenzo taking second again, this time in 5:02.01. Stewart then registered her first win of the season with a 54.66 in one of her specialties, the 100y fly.
Trojan sophomore Kelsey Kafka won the final individual event, claiming the 200y IM (2:06.57) while edging Olson (2:06.88). USC closed the meet as Stewart, Tosky, Wilk and Swenson touched first in the 400y free relay in 3:26.29.
Washington State Press Release
The Washington State University swimming team opened its season under the lights at Uytengsu Aquatic Center, falling to USC, 150-106. WSU junior Frederikke Hall's first-place finish in the 100 breaststroke highlighted the Cougars' evening. Hall touched the wall in 1:05.12 seconds, finishing 0.26 seconds ahead of USC's Jamie Christy. Hall contributed 15 points to the Cougars' total.
In a tightly contested 50 freestyle, sophomore Haley Rose Love edged out USC's Evan Swenson to take second place in the sprint with a time of 23.85. Love was the Cougars' top points contributor of the evening, adding 20 points to WSU's total.
"We swam great," Cougar Head Coach Tom Jager said. "We were down here a couple years ago, and we scored about 50 more points this time than that time. I think we've built a good team this year."
In her collegiate debut, freshman Anna Brolin took second place in the 100 butterfly. Brolin touched the wall in a time of 56.33 seconds, 0.59 seconds faster than teammate and senior Alison Mand. Mand contributed 19 points for the Cougars with second-place finishes in the 200 medley relay (Hall, Brolin, Love) and 400 freestyle relay (Proulx, Bruggman, Love).
Junior Loree Olson swam the second-fastest time in the 200 IM medley finishing in 2:06.88 seconds. Olson touched the wall 0.31 seconds back from USC's Kelsey Kafka in first place. Olson also notched a second-place finish in the 200 backstroke with a time of 2:02.50.
The Cougars are back in the water tomorrow with a dual meet against UCLA beginning at 1 p.m.