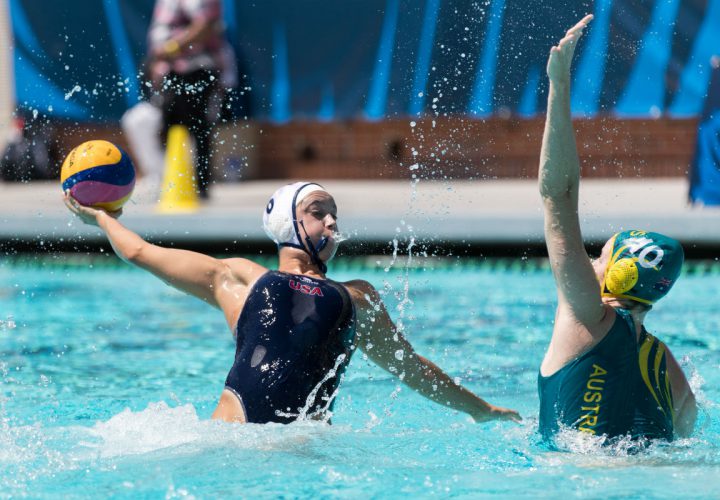 Photo Courtesy: Jared Gray, USA Water Polo
Huntington Beach, CA – May 15 – USA Women's Water Polo Senior National Team Head Coach Adam Krikorian has announced the roster for the 2018 FINA World League Super Final this May 28-June 2 in Kunshan, China. Team USA has won gold at the last four FINA World League Super Finals in addition to winning the event a record 11 times overall. They currently hold the number one ranking in the world. The United States will bring a veteran group to China including 10 members of the 2017 FINA World Championship team that took gold in Budapest, Hungary.
Olympic champions Ashleigh Johnson, Melissa Seidemann, Rachel Fattal, Maggie Steffens and Kiley Neushul lead the way into China in the second major competition of the year. Team USA is coming off a gold medal at the FINA Intercontinental Tournament earlier this spring in Auckland, New Zealand.
The squad will open play against Japan on May 28 before taking on Canada and Russia to close out group play. Medals will be awarded on June 2. Live streaming information will be shared as soon as it is available.
2018 FINA World League Super Final Roster
1. Ashleigh Johnson (Miami, FL/Princeton/NYAC)
2. Brigitta Games (Littleton, CO/USC/NYAC)
3. Melissa Seidemann (Walnut Creek, CA/Stanford/NYAC)
4. Rachel Fattal (Seal Beach, CA/UCLA/SOCAL)
5. Paige Hauschild (Santa Barbara, CA/USC/Santa Barbara 805)
6. Maggie Steffens (Danville, CA/Stanford/NYAC)
7. Jordan Raney (Manhattan Beach, CA/Stanford/Huntington Beach WP)
8. Kiley Neushul (Isla Vista, CA/Stanford/NYAC)
9. Aria Fischer (Laguna Beach, CA/Stanford/SET)
10. Jamie Neushul (Isla Vista, CA/Stanford/NYAC)
11. Stephania Haralabidis (Athens, Greece/USC/NYAC)
12. Alys Williams (Huntington Beach, CA/UCLA/Huntington Beach WP)
13. Gabby Stone (La Jolla, CA/Stanford/San Diego Shores)
Head Coach: Adam Krikorian
Assistant Coaches: Natalie Benson, Chris Lee
Team Leader: Andrew Silva
2018 FINA World League Super Final Schedule (subject to change)
May 28 vs Japan 1:20am pt
May 29 vs Canada 2:40am pt
May 30 vs Russia 12:00am pt
May 31 vs TBD (quarterfinals)
June 1 vs TBD (semifinals)
June 2 vs TBD (finals)
The above press release was posted by Swimming World in conjunction with USA Water Polo. For press releases and advertising inquiries please contact Advertising@SwimmingWorld.com.