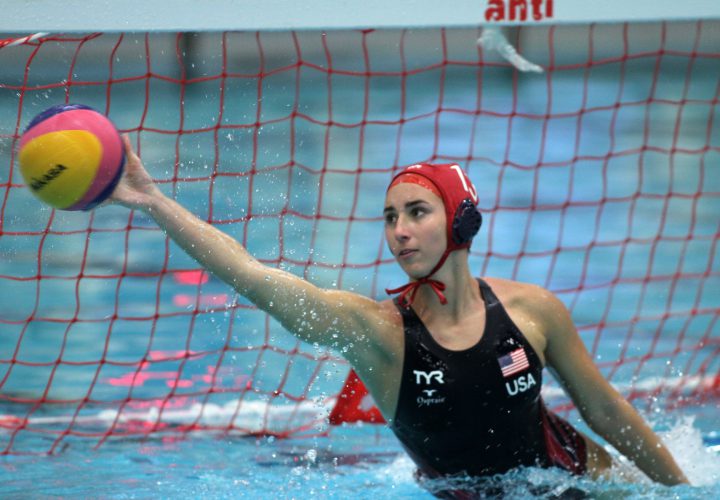 Photo Courtesy: USA Water Polo / Jeff Cable
Original Match
Huntington Beach, CA – December 11 – Due to the ongoing Thomas Fire and resulting air quality concerns all activities at Santa Barbara High School have been canceled this week. This includes the USA Water Polo Women's National Team-Netherlands match scheduled for Saturday, December 16 at 2pm pt. Should a replacement venue be secured, an announcement on match details will be made available immediately. This includes information on the celebration honoring retiring three-time Olympic medalist Kami Craig. Ticket refund information is available at USAWaterPolo.org.
Rescheduled Match
Huntington Beach, CA – December 13 – The USA Water Polo Women's National Team match against the Netherlands previously scheduled for this Saturday at Santa Barbara High School has been moved to Santa Margarita Catholic High School in Rancho Santa Margarita, CA and will start at 6pm. The match in Santa Barbara was canceled Monday as a result of the ongoing Thomas Fire. All tickets purchased for the match in Santa Barbara will be automatically refunded and the planned celebration for retiring Olympian Kami Craig will be rescheduled in the summer of 2018.
Tickets for the match at Santa Margarita will be available at the door only, there will be no pre-sale. Tickets will cost $10 for general admission with children 10 & under admitted free.
The trip to Rancho Santa Margarita is part of a four-game series featuring Team USA that starts tomorrow night in Irvine. To purchase tickets for the December 14 match at UC Irvine, click here. To purchase tickets for December 17 at Loyola Marymount University or December 19 at Foothill High School, click here. All four matches will stream LIVE at Facebook.com/USAWP & YouTube.com/USAWP with LIVE stats available at TheFOSH.net.
Our thoughts remain with all those affected by the wildfires in Southern California.
Press releases courtesy of USA Water Polo.