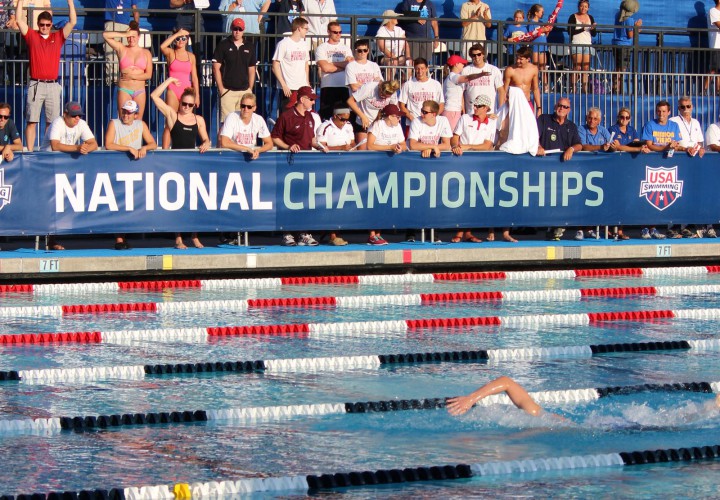 Photo by Griffin Scott
Editorial coverage for U.S. Senior Nationals proudly sponsored by Master Spas!
IRVINE, California, August 10. The final day of qualifying wound up lasting about 30 minutes longer than initially expected as several 50 free swimoffs had to be swum, including a three-way dance in the men's 50 free.  Every single finale field is loaded tonight.
Scheduled Events
Women's 200 IM
Men's 200 IM
Women's 50 free
Men's 50 free
Women's 1500 free
Men's 800 free
Women's 100 fly Swimoff
Earlier this week, KING's Hannah Weiss and NCAP's Cassidy Bayer put up times of 59.98 in the women's 100-meter fly.  Weiss posted her time during prelims, while Bayer turned her effort in during the B final. That led to a tie for a spot on the Junior Pan Pacific Championships roster.  With neither swimmer set to compete today, there was no chance of one earning a spot in another event, so a swimoff was in order to kick off this morning's session.
Bayer punched her ticket to Maui at the end of the month with a 59.85. Weiss went 1:00.09.
Women's 200 IM
California's Caitlin Leverenz, still looking to get herself on the Pan Pacific Championship squad, will need to turn it up a notch tonight in the 200-meter IM finale.  She did what she needed to do this morning with a 2:11.61 to qualify first.  That swim pushed her to 15th in the world rankings, behind Melanie Margalis (2:10.71) as the top American this year.
Margalis, who put up that 2:10 at the Bulldog Grand Slam earlier this summer, finished second in prelims this morning with a 2:11.70, just a second back of her season best.  York Y's Meghan Small, just 16, raced her way to a 2:12.28. That's a two-second drop from her 2:14 lifetime best as Small was on point this morning.
PASA's Karlee Bispo picked up fourth in 2:12.92 with Stanford's Maya DiRado racing to fifth in 2:12.99.
Pleasanton's Celina Li (2:13.99), Longhorn's Madisyn Cox (2:14.23) and BlueFish's Elizabeth Beisel (2:14.39) also picked up transfer spots into the finale.
Men's 200 IM
One could say that the men's 200-meter IM championship heat is going to be loaded tonight with some of the biggest names in the sport all battling for the national title tonight.  NBAC's Conor Dwyer made a statement with a sweltering 1:57.41 that matched the temperature in Irvine today after an early burn off of the morning cloud cover.  That swim vaulted Dwyer to third in the world behind only Kosuke Hagino (1:55.38) and Daiya Seto (1:57.32).  Dwyer may even challenge Hagino's time tonight.
SwimMAC's Tyler Clary, who has had quite an impressive meet so far with wins in the 200 back and 400 IM, is looking for an incredible third national title tonight after qualifying second in 1:58.38.  That swim moved him to 13th in the world.
NBAC's Chase Kalisz, looking to shake off a surprising loss in the 400 IM to Clary, raced to third with a time of 1:58.73.  That's good enough for 14th in the world.
In the final heat, NBAC's Michael Phelps and SwimMAC's Ryan Lochte shut it down the final 15 meters with Phelps taking the heat win, 1:58.74 to 1:59.05.
Club Wolverine's Kyle Whitaker (1:59.13), California's Josh Prenot (2:00.11) and SwimMAC's Ty Stewart (2:00.61) also will compete in the loaded finale.
South African Olympian Darian Townsend, who became an American citizen last month, finished 14th in 2:01.33 and missed his first chance at making a U.S. National Team.  He later scratched the event instead of swimming the B final.
Women's 50 free
Wisconsin's Ivy Martin always has looked fast with her racer red suit while swimming for the Badgers.  This morning, she turned in some actual speed with a stunning 24.62 to lead qualifying by a large margin.  That swim catapulted her to 10th in the world behind Pernille Blume's 24.59 from the Eindhoven Swim Cup.  That's her first time under 25 seconds as she obliterated her lifetime best of 25.10 from sectionals last month.  The big question will be whether she can duplicate that effort with the big lights tonight.
First Colony's Simone Manuel just missed her lifetime best and Abbey Weitzel's 17-18 national age group record in the event as the 18-year-old posted a 24.89 for second.  That pushed her into a tie with Katinka Hosszu for 18th in the world, and came up just short of Weitzeil's 24.80 NAG set during time trials.
Weitzeil, meanwhile, placed third in the morning with a 24.95 and will look to better her 24.80 tonight. Her best this week tied her for 15th in the world this year as Femke Heemskerk also turned in a 24.80 at the Eindhoven Swim Cup.
SwimMAC's Madison Kennedy, already ranked in the top 15 in the world with a 24.78 from the Charlotte stop of the Arena Grand Prix, took fourth in 24.96.  Manuel's teammate, Madeline Locus, qualified fifth in 25.00.
California's Natalie Coughlin, looking to make a National Team in her final chance today, qualified sixth in 25.07.
Tucson Ford's Margo Geer (25.12) and Stanford's Maddy Schaefer (25.16) grabbed the final two transfer spots into the championship heat.
Men's 50 free
California certainly continued to prove that it's the center of the American sprinting universe as Nathan Adrian (21.78) and Anthony Ervin (21.82) both powered their way under 22 seconds during an exciting prelim session.  Adrian has been faster with a fifth-ranked 21.66 from the Monte Carlo stop of the Mare Nostrum, while Ervin entered the top 10 in the world to stand ninth in the rankings.
NYAC's Josh Schneider also entered the top 20 with a third-seeded 22.00 for 16th in the world, while SwimMAC's Cullen Jones raced to fourth in 22.09 to take 19th in the world.  Tonight should be an amazingly fast finale with these super stars in the house.
California's Seth Stubblefield (22.15) and NYAC's Jimmy Feigen (22.29) touched fifth and sixth in the splash-and-dash, while an exciting three-way swimoff was set up with a three-way tie for seventh between Bolles' Caeleb Dressel, Tucson Ford's Matt Grevers and SwimMAC's Mark Weber with 22.35s.
Weber (22.15) and Grevers (22.22) earned the final two spots in the A final, while Dressel will swim the consolation heat with a 22.55. John Murray also downed Tyler Messerschmidt, 22.37 to 22.70, for 16th place to make the B final.
Twitter Coverage
For up to the minute coverage, follow us on Twitter @SwimmingWorld: