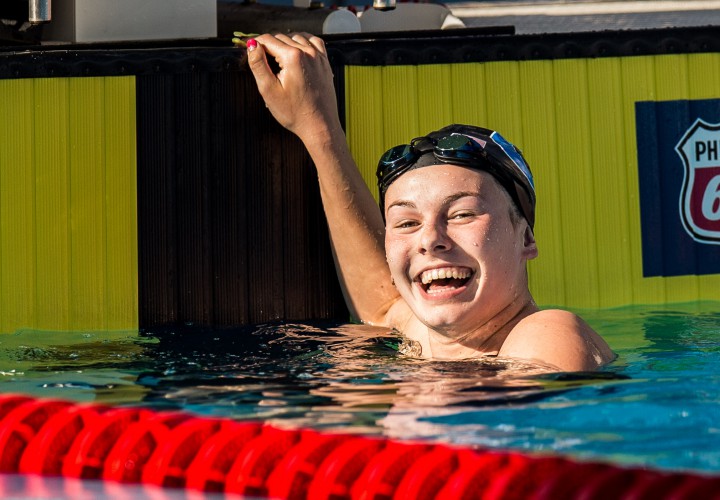 Photo Courtesy: Peter H. Bick
Following the completion of the U.S. National Championships in San Antonio on Monday night, USA Swimming announced the roster headed to Singapore to compete in the World Junior Championships later this month. USA Swimming selected athletes based on their performances at this week's Nationals, and they will have a quick turnaround, with competition in Singapore beginning two weeks from today on August 25.
The roster will include several standouts from Nationals, including Claire Adams and Maxime Rooney, who each won individual events in San Antonio, and also rising stars such as Cassidy Bayer and Reece Whitley. The full roster is listed below.
Women
Claire Adams (Carmel Swim Club): 100m back, 200m back
Grace Ariola (Waves Bloomington/Normal): 100m back, 200m back
Margaret Aroesty (Long Island Aquatic Club): 200 breast
Cassidy Bayer (Nation's Capital Swim Club): 100m fly, 200m fly
Lauren Case (Chattahoochee Gold): 100m fly, 800m free relay
Hannah Cox (Upper Valley Aquatic Club): 200m free, 400m free
Savannah Faulconer (Spartaquatics): 400m IM
Brooke Forde (Lakeside Swim Team): 200m IM, 400M IM
Gabrielle Kopenski (Texas Ford Aquatics): 800m free
Hannah Kukurugya (Crown Point Swim Club): 200m fly
Kenisha Liu (Brea Aquatics): 400m free relay
Kennedy Lohman (Lakeside Swim Team): 100m breast
Ashley McCauley (Marlins of Raleigh): 200m breast
Stanzi Moesley (Roadrunner Aquatic Club): 100m free
Beata Nelson (Madison Aquatic Club): 400m free relay
Melissa Pish (Waves Bloomington/Normal): 200m free
Lauren Pitzer (Lakeside Aquatic Club): 50m free
Nikol Popov (Canyons Aquatic Club): 100m breast
Sierra Schmidt (North Baltimore Aquatic Club): 400m free
Samantha Shelton (Mission Viejo Nadadores): 800m free relay
Ashley Volpenhein (Mason Manta Rays): 50m free
Tatum Wade (Nashville Aquatic Club): 200m IM
Men
Taylor Abbott (Nitro Swimming): 1500m free
Michael Andrew (Indie Swimming): 100m back, 100m breast, 100m fly, 50m free, 200m IM
Chandler Bray (Avon Community Swim Team): 200m breast
Sean Grieshop (Nitro Swimming): 200m IM, 400m IM
Zach Harting (Huntsville Swim Association): 200m fly
Matthew Hirschberger (Nation's Capital Swim Club): 400m free, 800m free relay
Ryan Hoffer (Scottsdale Aquatics): 100m fly, 100m free
Grant House (Countryside YMCA): 800m free relay
Michael Jensen (Upper Dublin Aquatic Club): 400m free relay
James William Jones (Nation's Capital Swim Club): 50m free
Austin Katz (Sarasota YMCA Sharks): 200m back
Daniel Krueger (McFarland Spartan Sharks): 400m free relay
Maxime Rooney (Pleasanton Seahawks): 100m free, 200m free
Grant Shoults (Mission Viejo Nadadores): 200m free, 400m free
Charles Swanson (NOVA of Virginia): 400m IM
Michael Taylor (Dynamo Swim Club): 100m back, 200m back
Michael Thomas (Upper Dublin Aquatic Club): 200m fly
Reece Whitley (Penn Charter Aquatic Club): 100m breast, 200m breast
Chris Yeager (Nitro Swimming): 1500m free
Staff
Women's Head Coach Women: Chuck Batchelor
Women's Assistant Coaches: Dorsi Raynolds, Jeff King, Bill Rose
Men's Head Coach: Tim O'Brien
Men's Assistant Coaches: Geoff Brown, Geoff Sheuer, Brent Arckey
Physician: Tad Kremen