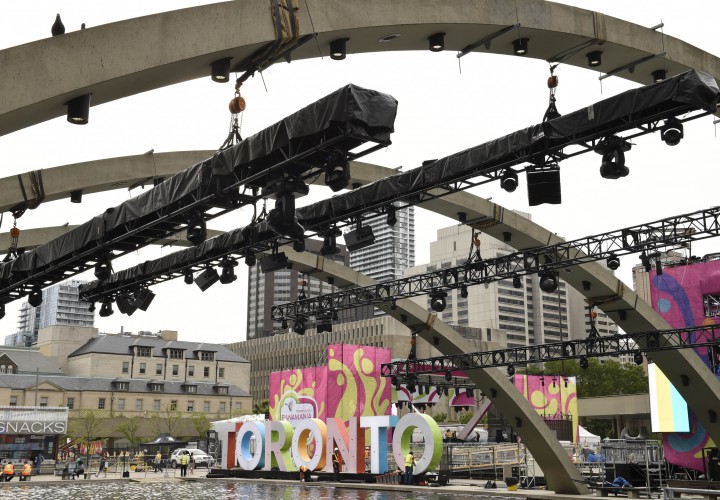 Coverage of the 2015 Pan American Games is sponsored by Triton Wear. Visit Swimming World's event landing page for results and more!
Led by 12-time Olympic medalist Natalie Coughlin (Vallejo, Calif.) and six-time Olympic medalist Allison Schmitt (Canton, Mich.), Team USA will be represented by 40 swimmers at the upcoming Pan American Games in Toronto.
Swimming action kicks off Saturday with the women's open water 10-kilometer event in Toronto's Ontario Place West Channel, followed by the men Sunday. Both races are slated for 3:30 p.m. EDT. The pool competition runs July 14-18 at the CIBC Pan Am/Parapan Am Aquatics Centre with daily prelims at 10 a.m. EDT and finals at 7 p.m. EDT.
In the United States, ESPN will offer extensive broadcast coverage across its various platforms, including live webcast coverage of swimming in its entirety on ESPN3. A full schedule can be found here.
The U.S. roster features eight swimmers with Olympic experience, including three-time Olympians and gold medalists Coughlin, who will swim the 50-meter and 100m freestyle events, and Darian Townsend (Phoenix, Ariz.; 100m free).
Schmitt, who will swim the 200m free, is one of three two-time Olympians on the squad, joining Cullen Jones (Irvington, N.J.; 50/100m free) and Amanda Weir (Lawrenceville, Ga.; 100m free). Fellow Olympians Andrew Gemmell (Wilmington, Del.; 1500m free), Caitlin Leverenz (Tucson, Ariz.; 200/400m IM) and Nick Thoman (Cincinnati, Ohio; 100m back) are also slated to compete.
On the open water side, Eva Fabian (Keene, N.H.) and Chip Peterson (Pine Knoll Shores, N.C.), both world champions, will compete alongside Emily Brunemann (Crescent Springs, Ky.) and David Heron (Mission Viejo, Calif.).
The roster also features 15 swimmers who are making their senior-level international debuts for the United States. A full Team USA line-up can be found at usaswimming.org.
"Our roster for the Pan American Games features a nice mix of veterans and up-and-coming swimmers. As is the case with any international event, the athletes are honored to represent Team USA, and I'm looking forward to seeing some fast swims in Toronto," USA Swimming National Team Director Frank Busch said. "This event can be a springboard to success in 2016 for many athletes."
At the 2011 Pan American Games in Guadalajara, Mexico, the U.S. won a meet-best 44 medals in the pool, including 18 gold.
The above article is a press release submitted to Swimming World. To reach our audience, contact us at newsmaster@swimmingworld.com.