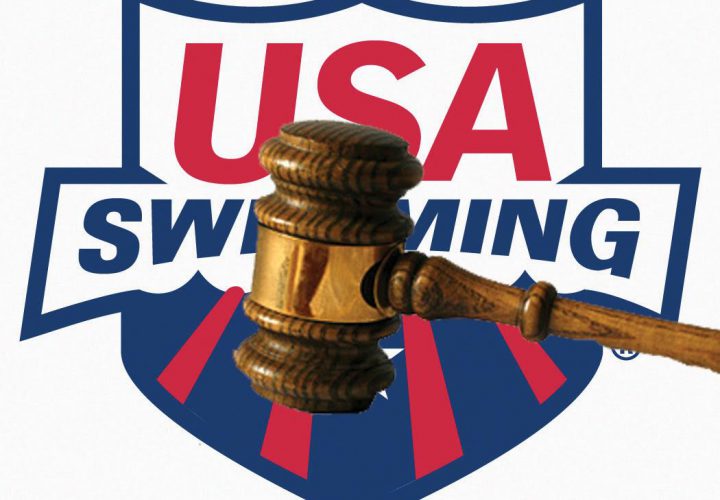 Photo Courtesy: Swimming World
USA Swimming's annual convention, which began Tuesday in Atlanta, will include discussion on several proposed amendments to the organization's bylaws, and most figure to be adopted. The list includes new regulations for foreign athletes training in the U.S. and a new "Pre-Team" membership for USA Swimming.
The ninth of the proposed amendments would add a section to Article 303 of the USA Swimming bylaws, which deals with issues of eligibility.
"In accordance with policies and procedures in the USA Swimming Policy Manual, Individual and Group Members are required to report the presence of any non-member of USA Swimming who is ranked in the top 100 in the world and participate in team activities."
The proposal states that these reports would "assist USA Swimming, USADA and WADA with anti-doping efforts," thus ensuring that all foreign athletes would be tested rigorously and fairly.
This comes just months after Trojan Swim Club—where Dave Salo typically trains a large group of international athletes—temporarily banned all foreigners from the team after Russian-native and Trojan-trained Yulia Efimova was (temporarily) banned from the Olympic Games for her multiple positive drug tests.
This proposal has not yet been reviewed by the USA Swimming Rules and Regulations Committee.
Another proposed bylaw would introduce a new type of USA Swimming membership, known as "Pre-Team" membership, which would allow athletes to be a part of USA Swimming member clubs, but they would be ineligible to compete in any competition.
Currently, USA Swimming offers four types of membership: Annual, Outreach (with reduced fees), Individual Seasonal and Single-Meet Open Water. All LSCs are currently required to offer Annual and Outreach membership and, if this new proposal passes, Pre-Team membership would be a third mandatory offering for each LSC
The final rule proposal in the document would allow for swimmers with disabilities to compete in open water races. If approved, race officials would be able to modify rules and procedures to accommodate for individuals with disabilities, and the swimmer and coach would each be given additional responsibilities before and during the race.
USA Swimming has also suggested switching from three circle seeded heats to two for events 400 meters and up. FINA currently swims just two seeded heats, and that was also the mode of operation at Olympic Trials this summer, which was run according to Olympic rules—and by extension, FINA rules.
Other proposals include the banning of drones from USA Swimming events without prior approval, the elimination of printed membership cards in favor of USA Swimming's Deck Pass app and clarification of the USA Swimming clubs that collegiate swimmers are eligible to represent after the NCAA season ends.
One proposal would eliminate the portion of Section 304 (the Code of Conduct) that bans illegal recruiting of athletes currently registered with another USA Swimming club. The proposal has "the intent to create a free and open marketplace for teams and coaches."
However, the Rules and Regulations Committee rejected that idea "because rampant recruitment would be a major distraction to athletes, coaches and teams and not within the philosophy of USA Swimming."
View the full list of potential amendments by clicking here. USA Swimming's current bylaws can be accessed here.