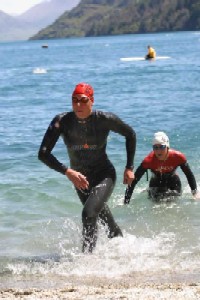 QUEENSTOWN, NEW ZEALAND – The ITU World Aquathlon Championship took place December 2nd, a few days before the triathlon championships events. Brazilian Carla Moreno won the women's race, while Richard Stannard of Great Britain won the Men's race.
A total of 52 women and 92 men completed the event. The format of the event was changed from the normal format, a 2.5k run-1k swim-2.5k run, to a 1k swim-5k run due to the need to wear wetsuits in the extremely cold Lake Wakatipu. The water temperature was a bone chilling 11 degrees Celsius (52 degrees Fahrenheit). The swim course was a 2-lap 500m box in the calm but cold waters of Lake Wakatipu followed by a technical 3 lap cross country style run through the adjacent park.
Another change in the event this year was that the organizers decided not to run the elites in a separate wave or separate them out in the results. There was one women's heat and one men's heat. Prize money was given to the top 3 overall finishers and age group results were posted (which included the elites), but disappointingly, no age group awards were given as has been done in the past.
Although no Americans placed in the top 3 overall (the top American female was Linda Gallo, 6th overall; and top American male was Brendon O'Brien, 15th overall), Team USA dominated the top 3 positions in most of the age groups. Of 32 top 3 finishes in the Women's race, USA took 18, including 5 age group wins. Great Britain was the next closest with 7 top 3 finishes and 3 age group victories. In the men's race, Americans took 12 of the 31 top 3 places including victories in 5 age groups. The host country, New Zealand, finished closest with 5 top 3 places and 2 age group victories. Of the total 63 top 3 placings USA accounted for nearly half with 30!
2003 ITU World Aquathlon Championships
Top 3 Results In Each Age Group
Top 3 Women Overall
Carla MORENO BRZ Female Aquathlon F2529 1 13:50 19:01 32:50 1
Elizabeth MAY LUX Female Aquathlon F2024 1 14:39 18:58 33:36 2
Anna CLEAVER NZL Female Aquathlon F2024 2 13:58 20:02 33:59 3
19 under
Judit GYENESEI HUN Female Aquathlon F0119 1 13:52 20:24 34:16 5
Laura LUXFORD AUS Female Aquathlon F0119 2 14:26 20:08 34:34 7
Kelly BRUCE NZL Female Aquathlon F0119 3 15:29 22:43 38:12 18
20-24
Elizabeth MAY LUX Female Aquathlon F2024 1 14:39 18:58 33:36 2
Anna CLEAVER NZL Female Aquathlon F2024 2 13:58 20:02 33:59 3
Charmaine WHEELER GBR Female Aquathlon F2024 3 15:12 22:08 37:20 14
25-29
Carla MORENO BRZ Female Aquathlon F2529 1 13:50 19:01 32:50 1
Kerry LANG GBR Female Aquathlon F2529 2 13:57 20:07 34:03 4
Linda GALLO USA Female Aquathlon F2529 3 13:48 20:38 34:25 6
30-34
Helen PARKINSON GBR Female Aquathlon F3034 1 17:30 19:45 37:15 13
Lynda HYMANS USA Female Aquathlon F3034 2 17:26 21:25 38:50 20
Shelby SHEFFIELD USA Female Aquathlon F3034 3 16:06 22:52 38:58 21
35-39
Sharon BELTRANDELRIO USA Female Aquathlon F3539 1 15:08 22:04 37:11 12
Sharon HILL GBR Female Aquathlon F3539 2 17:20 21:47 39:07 22
Michele POLLIO USA Female Aquathlon F3539 3 17:42 22:17 39:59 24
40-44
Jane ESAHAK-GAGE USA Female Aquathlon F4044 1 15:19 22:18 37:36 15
Kathleen JOHNSTON USA Female Aquathlon F4044 2 17:19 22:27 39:45 23
Wendy JONES USA Female Aquathlon F4044 3 20:05 23:13 43:18 34
45-49
Karen CHEQUER-PFEIFFER USA Female Aquathlon F4549 1 15:39 22:12 37:50 16
Joan LENNON GBR Female Aquathlon F4549 2 19:56 21:36 41:32 30
50-54
Colleen BURNS USA Female Aquathlon F5054 1 18:53 22:36 41:29 29
Barbara BOS USA Female Aquathlon F5054 2 18:09 27:19 45:28 37
Dee RAGALIE USA Female Aquathlon F5054 3 19:17 26:15 45:32 39
55-59
Barbara LEVERETT GBR Female Aquathlon F5559 1 20:48 26:01 46:48 41
Katherine FRANK USA Female Aquathlon F5559 2 22:28 24:25 46:52 42
Lindy DUNN AUS Female Aquathlon F5559 3 20:08 28:39 48:47 44
60-64
Peggy CROME GBR Female Aquathlon F6064 1 26:52 29:19 56:11 47
Helen GEOFFRION USA Female Aquathlon F6064 2 27:15 37:57 65:11 50
Carl WALKER USA Female Aquathlon F6064 3 30:28 84:20 114:48 52
65-69
No Entries
70+
Madonna BUDER USA Female Aquathlon F7074 1 26:52 33:15 60:06 49
Ruth S. HERTZBERG USA Female Aquathlon F7074 2 28:48 44:13 73:00 51
544 Heidi HOFFMANN USA Female Aquathlon F5559 0 72:51 16:51 89:41 51
MEN
Top 3 Men Overall
Richard STANNARD GBR Male Aquathlon M2529 1 12:32 16:44 29:16 1
Brent FOSTER NZL Male Aquathlon M3539 1 12:30 17:01 29:30 2
Paulo MIYASHIRO BRZ Male Aquathlon M2529 2 12:51 16:49 29:39 3
19 under
Sean MARLOWE CAN Male Aquathlon M0119 1 13:20 17:45 31:05 9
Caleb HILL NZL Male Aquathlon M0119 2 13:25 17:54 31:19 11
Rafael FONSECA BRZ Male Aquathlon M0119 3 13:34 18:36 32:09 16
20-24
Eddie SMITH NZL Male Aquathlon M2024 1 14:19 16:09 30:28 7
Juraci MORLIRA BRZ Male Aquathlon M2024 2 13:27 17:15 30:42 8
Zsolt BIRO HUN Male Aquathlon M2024 3 31:16 10
25-29
Richard STANNARD GBR Male Aquathlon M2529 1 12:32 16:44 29:16 1
Paulo MIYASHIRO BRZ Male Aquathlon M2529 2 12:51 16:49 29:39 3
Csaba KUTTOR HUN Male Aquathlon M2529 3 13:12 16:51 30:02 4
30-34
Joachim WILLEN SWE Male Aquathlon M3034 1 13:11 16:55 30:06 5
David OGG NZL Male Aquathlon M3034 2 14:22 18:59 33:20 22
Jonathan LINYARD NZL Male Aquathlon M3034 3 14:54 19:16 34:09 26
35-39
Brent FOSTER NZL Male Aquathlon M3539 1 12:30 17:01 29:30 2
Leandro MACEDO BRZ Male Aquathlon M3539 2 13:58 16:30 30:28 6
Michael COLLINS USA Male Aquathlon M3539 3 14:24 18:43 33:06 21
40-44
Peter KAIN USA Male Aquathlon M4044 1 14:02 18:39 32:41 19
Russell AVERY USA Male Aquathlon M4044 2 16:05 19:24 35:28 33
Peter SKORSETH USA Male Aquathlon M4044 3 18:36 17:19 35:55 37
45-49
George ESAHAK-GAGE USA Male Aquathlon M4549 1 15:22 20:20 35:42 36
Mark MONTGOMERY USA Male Aquathlon M4549 2 15:03 20:53 35:55 38
Sergio BARREIRA BRZ Male Aquathlon M4549 3 17:48 20:14 38:02 58
50-54
Michael JONES USA Male Aquathlon M5054 1 14:53 20:07 34:59 30
Jon BROOK GBR Male Aquathlon M5054 2 19:23 22:24 41:46 70
Rusty HERBERT USA Male Aquathlon M5054 3 17:52 27:01 44:52 78
55-59
Terry HABECKER USA Male Aquathlon M5559 1 18:21 21:35 39:55 66
Dan NEYENHUIS USA Male Aquathlon M5559 2 17:10 24:29 41:39 68
Bob HARLOW AUS Male Aquathlon M5559 3 22:26 20:37 43:02 75
60-64
Richard USHER USA Male Aquathlon M6064 1 21:29 28:27 49:56 87
Clifford ASHER USA Male Aquathlon M6064 2 21:58 28:38 50:35 88
Pete BATTRICK AUS Male Aquathlon M6064 3 23:36 27:34 51:10 89
65-69
Peter KNOTT GBR Male Aquathlon M6569 1 24:26 28:02 52:27 91
Full Results can be found at:
www.triathlon.org