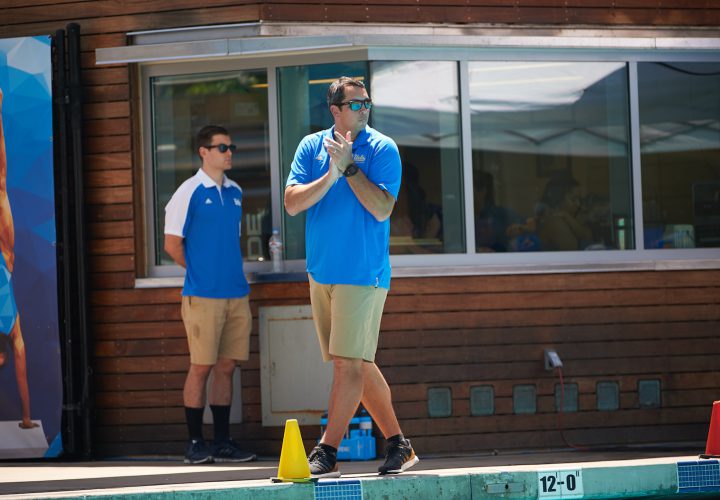 UCLA's Brandon Brooks. Photo Courtesy: Don Liebig
BY Michael Randazzo, Swimming World Contributor
Last month when Maggie Steffens ended her Stanford career by burying the game winning goal to lead the Cardinal to an 8-7 win over UCLA in the 2017 NCAA Women's Water Polo Championship match, she likely also ended Brandon Brooks' career coaching the Bruins. In an announcement Friday on the UCLA website, after eight seasons behind the UCLA bench, Brooks is leaving to "pursue other opportunities."
In what might be considered an obligatory pat on the back for a good—though ultimately not good enough—effort, UCLA Director of Athletics Dan Guerrero was quoted as saying: "Brandon's teams contended for national championships every season, and he upheld the UCLA water polo program's long tradition of success. We wish him and his family all the best in the future."
By all measures the former Olympian, All-American and goalie who backstopped the Bruins to back-to-back NCAA men's titles in 1999 and 2000, was an outstanding coach.
Brooks' teams compiled an impressive 202-41 record and won four Mountain Pacific Sports Federation (MPSF) titles (2012, 2014, 2015 and 2017). He led the Bruins to three NCAA title games and was named the 2012, 2015 and 2017 MPSF Coach of the Year.
The 2017 season was arguably Brooks' best. UCLA went 24-2, won the MPSF title and was the country's #1 team until losing to Stanford in the NCAA final.
His teams did not, however, win a national championship, and at UCLA—now tied with Stanford at 113 for the most NCAA DI titles in American intercollegiate athletics—that simply wasn't enough, especially given the record of his predecessor, Adam Krikorian.
Now the head coach of the U.S. Women's Senior National Team that currently dominates women's international polo, capturing consecutive Olympic golds (2012, 2016), during his time in Westwood Krikorian won seven NCAA titles, including five in a row from 2005-2009.
The coaching change was a reminder of a contentious press conference a month ago—immediately following the Bruins third title loss to the Cardinal in four years.
Brooks opened the session with a heartfelt statement.
"It's pretty fresh," he said of the match, which featured a UCLA comeback to tie at 7 before Steffens's game winner with nine seconds remaining. "We showed an incredible amount of heart and fight to pull ourselves back into the game with resilience to keep coming… If I can have a bit of perspective, that's what a national championship game should look like.
"I don't think it's completely hit me how devastating it is to lose the game. I told my girls: 'This is one game. This one game doesn't determine the greatness of this team.'"
Then, with his voice trailing off, Brooks added: "The way that they worked and came together all year and the fantastic season we had, obviously, we wish we would be playing in overtime or would have won it, but I thought it was a helluva game."
Marcus Veal, a reporter for The Daily Bruin, UCLA's school newspaper, followed up with a tough question about why UCLA couldn't beat Stanford when it counted most.
Following a pause, Brooks responded, his flat tone indicating he didn't appreciate the line of inquiry.
"I don't think that's a fair question. Each year is completely different. Every single year a person is in college it's like they're a different person," he said.
"While I understand that we have lost three times to Stanford in the final, they're all single games."
But those single losses add up—especially when the standard for success is set by John Wooden, UCLA's legendary men's basketball coach, whose teams captured an unbelievable ten national championships in 12 years (1964-1975).
Presumably whatever new opportunities Brooks finds, they won't include Stanford. Over the past eight seasons the Cardinal have owned the Bruins: Brooks' team were 8-15 against John Tanner's, losing title matches in 2014, 2015 and 2017.
Perhaps UCLA's most painful loss was not this year's but in 2015, when Stanford's Kiley Neushul scored on a five-meter penalty shot with 11 seconds to play in regulation.
Following a save by Bruin goal Sami Hill, Brooks called timeout; the referee ruled the timeout came before UCLA had secured possession of ball, giving the Cardinal a penalty shot and—ultimately—a 6-5 NCAA title win.
Brooks was likely not fatalistic about his time in UCLA, but—in an interview in April, just before the Bruins captured their 11th MPSF title—he addressed the challenge of coaching in Westwood.
"I've talked about it with my team: enjoy the work with the understanding that if you put in as much work to be the best that you can, the chips will fall where they may."
With Friday's announcement Brooks has cashed in his chips and will go home, for now.