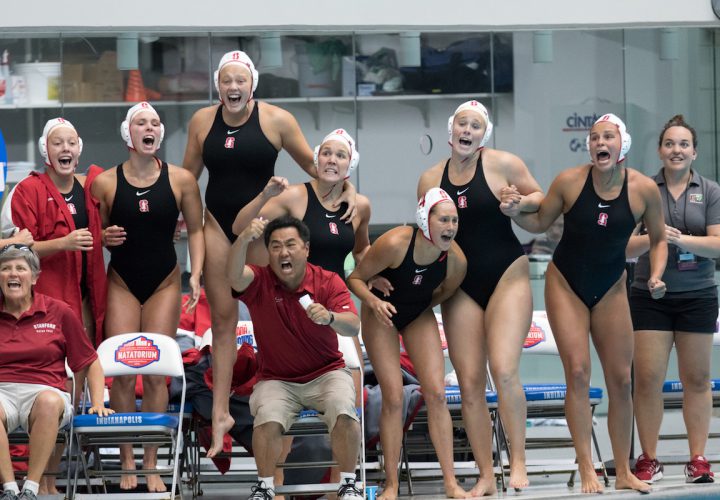 Stanford Players React to Steffens' Game Winner. Photo Courtesy: Justin Casterline
BY Michael Randazzo, Swimming World Contributor.
INDIANAPOLIS, IN. In a match that encapsulated all the anxiety and delight, all the joy and dejection of perhaps one of the greatest seasons of NCAA varsity women's water polo, the 2017 NCAA Women's Water Polo Championship final was reduced to a single moment.
After top-seeded UCLA had turned the ball over with mere seconds left in a deadlocked contest, Stanford attacker Madison Berggren delivered a perfect pass to Maggie Steffens, the Cardinal's all-world player. The Stanford co-captain didn't hesitate—there was barely a moment for the UCLA defense to react—as she fired an absolute rocket past goalie Carlee Kapana to give the Cardinal an 8-7 win over the stunned Bruins.
Afterwards an exhausted but exhilarated Steffens talked about what it was like to be her at that moment.
"It's less about that last-second shot and more about hearing that final buzzer and looking back at Gabby [Stone, Stanford goalie] holding the ball and looking around and seeing the rest of my Stanford teammates," she said. "That is truly the moment you're fighting for."
The win caps an amazing college career for Steffens and four other Sanford seniors—Dani Jackovich, Sophia Monaghan, Jamie Neushul and Stone—who competed in four straight title games, winning three of them. The Cardinal's only loss in this run was last year to USC, when Steffens was on sabbatical leading Team USA to Olympic gold at the 2016 Rio Games.
Perhaps almost as inconceivable as a sindle class qualifying for four consecutive championship finals is Stanford head coach John Tanner's record of success. Though he is the first to say that he's lost more title games than he's won—which is true—he's now 6-8 in 14 NCAA finals and his record of eight-straight championship game appearances is mind-boggling.
For UCLA, the loss was a bitter pill to swallow in what had until the waning moments appeared to be a championship season. Prior to today's loss, the Bruins had only lost one game—to arch-rival USC—and had swept both previous meetings with the Cardinal. Despite falling behind 2-0 barely four minutes into the first period, the Bruins had clawed their way back even with 51 second left on Maddie Musselman's third goal.
Then came the match's two most pivotal plays. First was that the Bruins had the ball and—with a full shot clock—controlled the final 31 seconds of regulation. They used their last time out to set up for a game winning shot. With time winding down and UCLA's Bronte Halligan holding the ball to the left of the Stanford cage, Steffens made her penultimate play. As Halligan attempted a pass back to the wing, Steffens, shadowing Rachel Fattal, anticipated the play and made the steal with 15 second remaining. In a heartbeat the Bruins went from setting up for a game-winning shot to defending one.
The ultimate play was Steffens' brilliant goal—her third of the match—made possible by her teammates. The Bruins, out of timeouts, could not set up to defend the Cardinal's play call. During Stanford's final timeout, Tanner took Associate Head Coach Susan Ortwein's suggestion for a play that would offer Berggren three different looks. One was a dangerous option: over the top of the defense if an attacker breaks free on the left or the right of the goal. A Bruin steal would leave Stone, who started the play mid-pool, out of position on a long shot.
After the fact it seemed absurd to suggest that anyone but Steffens would get the ball but Tanner insisted this was not the case.
"It's not that we drew up some special play, it's just that we had options throughout the pool," Tanner said. "Obviously we want Maggie if she's in a spot where—given a chance—she can take a shot."
He also revealed that the Cardinal had successfully run the identical play in last year's NCAA final against USC, when Kat Klass narrowed a two goal deficit to one with 52 seconds left. Stanford ultimately lost 8-7 to USC on a goal by Stephania Haralabidis with six seconds remaining.
Just because Steffens' ability is unworldly doesn't automatically mean she was going to hit the shot of a lifetime. The Bruins knew she was the target; they had assigned Fattal, their best player—and a fellow gold medal winner at Rio along with Musselman and Stanford's Mackenzie Fischer—to Steffens the entire game.
On the decisive play Stanford's Jordan Raney and Fischer surrounded Fattal and—even though they both had defenders—their primary task was to clear a shooting lane for Steffens by basically puling Fattal out of the way. Which they executed to perfection.
The Bruins' loss was that much more painful because they had been through this before; in the 2015 title match a contested possession call with 11 seconds remaining—UCLA was penalized for calling timeout before their goalie Sami Hill had clearly established control of the ball—resulted in the referees awarding Stanford a game-winning penalty shot.
The Cardinal's Kiley Neushul scored on the ensuing five-meter shot to give Stanford a 7-6 win.
Prior to the epic moments that will only add to Steffens' growing reputation, the match was a struggle that saw the Bruins misfire continuously in a first half which ended with Stanford leading 5-2. The Cardinal capitalized on three power play opportunities as Berggren, Raney and Neushul—Kiley's sister—connected before Steffens put in two even strength goals, the second with a UCLA defender literally pulling her from behind before a lunge allowed Steffens to push the ball past Kapana. UCLA goals were by Musselman and Kodi Hill.

The Bruins' Alys Williams scored with just under six minutes gone in the third, but Neushul countered two minutes later. Another Williams score at 2:39 again cut UCLA's deficit to two at 6-4.
The fourth quarter saw UCLA head coach Brandon Brook's team finally show their championship form. Williams collected her third goal of the game just 21 seconds into the period on a three-meter shot from the left side of the Stanford cage. A Shannon Cleary score again gave the Cardinal a two-goal bulge before Musselman delivered twice to knot the score at seven.
First the freshman struck an unbelievable skip shot from seven meters out that handcuffed Stone. Then, with the seconds of UCLA's championship hopes tick, tick ticking away, the Mountain Pacific Sports Federation Newcomer of the Year beat Stone at two meters off of a beautiful feed from Hill. Not only did Musselman's score bring UCLA back from what seemed an insurmountable deficit, it was her 69th tally of the season, breaking the Bruin freshman goal-scoring record established by Fattal.
Musselman's three scores and spectacular play when her team needed it most verified that she should be in the conversation about the country's best female water polo players. It's shocking that she was not selected as a finalist for the 2017 Peter Cutino Award, given to the top female water polo player.
Not that the vote really matters any more. With her monumental goal—and a weekend where she delivered seven goals in leading her team to wins over the country's #1 and #3 teams—Steffens proved without a doubt that she is the best player in America. And the world, too.