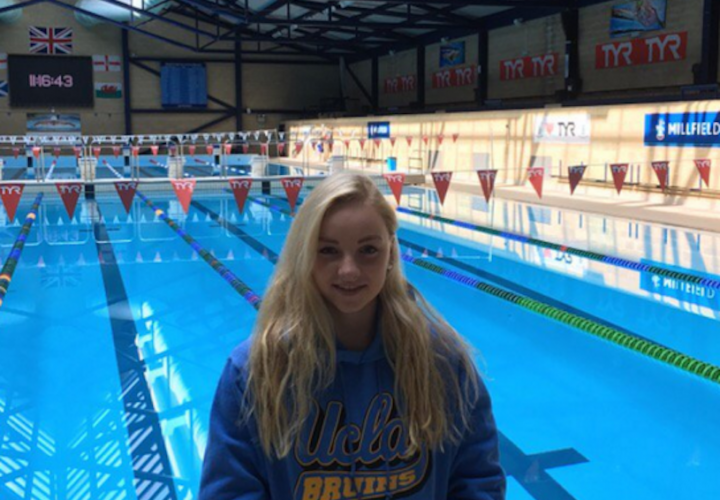 Photo Courtesy: Emma Cain (Twitter)
Agon is the proud sponsor of all high school coverage (recruiting, results, state championships, etc.) on SwimmingWorld.com. For more information about Agon, visit their website AgonSwim.com.
Emma Cain has announced her verbal commitment to the UCLA Bruins. Cain, who is a dual citizen in the United States and Great Britain, is currently living in England and has represented the nation internationally.
At the 2014 and 2016 European Junior Championships, Cain was the bronze medalist in the 200 breaststroke. Two summers ago, Cain finished runner up in the 200 breaststroke (2:30.25) at the United States Junior Nationals.
In addition to international experience, Cain will bring some strong breaststroke times with her to Los Angeles next fall. Both of her breaststroke bests and her 400 IM were 2016 US Olympic Trials cuts.
Cain's best times (LCM/SCY conversion):
100 Breaststroke: 1:10.10/ 1:01.68
200 Breaststroke: 2:27.18/ 2:10.69
200 IM: 2:18.89/ 2:01.80
400 IM: 4:51.91/ 4:15.71
While an immediate smooth transition into short course yards is never guaranteed, Cain should be a boost to the Bruin squad which finished fifth at Pac-12 Championships last season. Her converted time in her best event, the 200 breaststroke, would have finished seventh, just behind UCLA freshman Emma Schanz (2:09.89). The other Bruin in finals of that event was freshman Elena Escalas (2:17.33), finishing 23rd.
A 1:01.68 in the 100 would have been good for seventh, just ahead of Schanz (1:01.94). Schanz swam the breaststroke leg of the fifth place 400 medley relay. It could be tight competition for that spot by February 2018.
To report a college commitment email HS@swimmingworld.com.