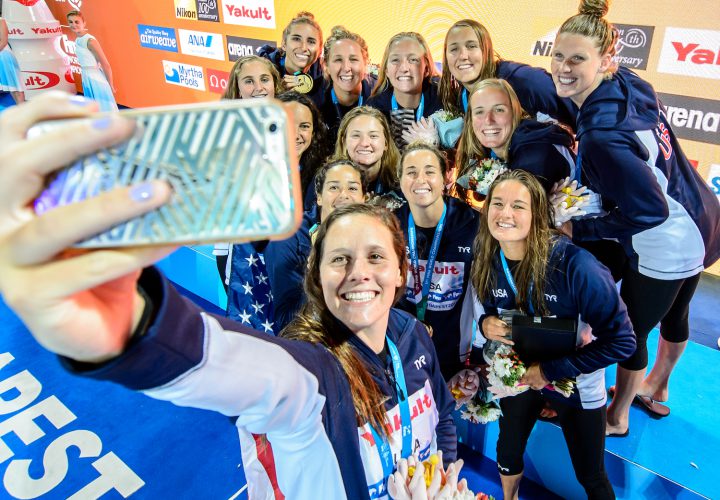 U.S. Women sport Gold 2017 FINA Worlds hardware. Photo Courtesy: Beeldboot.nl\Gertjan Kooij
Editorial Coverage provided by

By Michael Randazzo, Swimming World Contributor
BUDAPEST, Hungary. Behind the hot shooting of tournament MVP Maddie Musselman and a suffocating defensive effort that held Spain to just six goals on 25 shots, the U.S. Women's National Team captured its second straight World Championship and fifth overall with a 13-6 victory on Friday night in Budapest's Alfréd Hajós Swimming Complex.

Team USA head coach Adam Krikorian, who has been at the helm of the U.S. program through three of its World Championships (2009, 2015 and this year) emphasized that his team's overwhelming success—back-to back Olympic golds [2012, 2016] and now consecutive world championships—is a product of its preparation.
"It probably seemed easier than it was," he commented after the match. "That Spanish team is tough. Miki [Oca, Spanish coach] does an incredible job with them."
"We win this game not here tonight, we win it with our preparation. We win it with our training" continued Krikorian. "You don't win gold medals or championships during those 32 minutes [of game time]."
Balanced scoring was a feature of the US attack. Kiley Neushul led the way with four goals. Musselman (16 goals for the tournament) and team captain Maggie Steffens, who her coach called "the greatest leader in the world," both contributed three. Spain's Anna Espar scored three times and Beatriz Ortiz twice on a night when the upset-minded Spaniards hoped for a repeat of Thursday's men's semifinal, when Croatia shocked tournament favorite Serbia 12-11.
But this U.S. squad was on a path with destiny; no previous Olympic champion had captured a world championship in the year following their Olympic success. Team USA, with an undefeated run to the title, trailed only twice in seven tournament games—during the first period of a 12-8 win over Spain in group play and again in the first period of Wednesday's semifinal against Russia.
Their coach was determined that his players avoid any complacency bred by their remarkable success.
"One of the things I love about this group is they're humble," Krikorian said. "As much success as they've had, we go into every game knowing that we can be beat."
"It didn't take a Serbia loss yesterday for us to realize that," he added.
One of the characteristics of a Krikorian-coached team is that they rarely get flustered, and that was in evidence Friday night. When Oritiz beat U.S. goalie Gabby Stone with a long shot a minute into the second period to tie the match at three, it appeared that Spain would be competitive with the heavily favored Americans. But the U.S., which scored 10 of its goals with the man advantage, was simply too strong inside for the Spaniards.
On their next possession, following an exclusion on Marta Bach, Neuchul hammered a 3-meter skip shot past Spanish goalie Laura Ramos to give the U.S. a lead it would not relinquish. Â One minute later Musselman again made the Spaniards pay on the power play, firing another shot past Ramos from the almost identical spot.
A goal by Espar at 7:33 of the third period again brought Spain within one, but consecutive power play goals by Rachel Fattal and Neuchul widened the American advantage to three and put the match out of reach.
Spanish head coach Miki Oca acknowledged the superiority of the Americans on a night when his team simply could not stay out of foul trouble.
"We started the game fighting them for two quarters and then in the third they opened a hole in the score that we couldn't match," he said.
When asked about the twelve exclusions which ultimately doomed his team, Oca replied: "This is part of the game. They have good players with movement; sometimes they get a lot of exclusions."
Steffens—with two Olympic golds to go with two FINA World Championships—has had one of the greatest runs of any water polo player in American history. But she has learned to savor each moment, and on a night when yet another championship was at hand, Steffens urged her teammates to take it all in.
"When we were in our huddle at the end I said: 'Soak it in ladies. One, we are in an amazing arena. Two, we're a team of firsts. And we're not afraid to keep trying to be a team of first. First to two gold medals, first to gold medal and world championship," she said.
"We have that drive to try for more firsts."
With a new quadrennial cycle for Olympic competition beginning with this tournament, the question for Steffens is: will she stay on until 2020 and try to become a three-time gold medalist at the Tokyo Olympics? The recent Stanford graduate deftly sidestepped any questions of her future.
"I enjoy this moment with these incredible women—that's the best thing about water polo; you get to share it with your teammates," she said in response to her intentions about the upcoming Olympics. "I just look forward to playing with these girls again."
While the question of Steffens' future is open to interpretation, Jordan Raney—a teammate on this squad as well as one of eight current or former Stanford players to make the trip to Budapest—was ecstatic about her first opportunity to play in a World Championship match with the senior U.S. team.
"It's surreal, it's amazing," Raney, a senior next year at Stanford, said. "I've got so close with these girls the last couple of months and it's really cool to share this."
Despite so much success, it seems that winning never goes out of fashion with the American women.
"This is really special being the best in the world," said Raney. "I hope that there's many more to come."