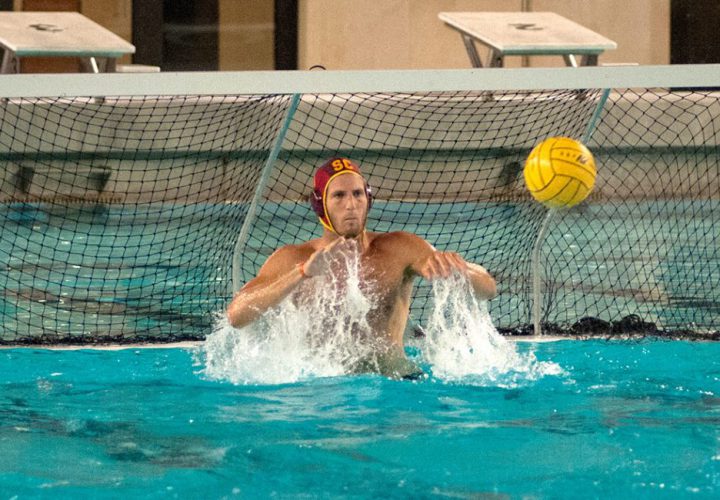 McQuin Baron will need to come up big for the US. Photo Courtesy: USC Athletics / Matt Karatsu
By Michael Randazzo, Swimming World Contributor
The next stop on a journey that American water polo faithful hope will end in 2020 at the Tokyo Olympics begins today for the U.S. Men's Senior National Team. At 9:15 a.m. (PST) today Head Coach Dejan Udovicic's squad will face Spain in their opening match of the FINA World League Super Final in Budapest, Hungary.
Coming off a gold medal performance in April at the 2018 FINA Intercontinental Tournament, Team USA sports a roster with seven Olympians: goalie McQuin Baron, Alex Bowen, Luca Cupido, Ben Hallock, Alex Obert, Alex Roelse and Jesse Smith. Joining this experienced core are six relative newcomers who potentially add a whole new dimension to Udovicic's roster: goalie Alex Wolf, Hannes Daube, Johnny Hooper, Max Irving, Chancellor Ramirez and Marko Vavic.
At the Peter Cutino Awards celebration two weeks ago, Udovicic was upbeat about his team's recent performance in New Zealand.
"I was pleased with the result," he said about a 9-6 win over Australia that secured FINA gold for his team. "We stepped forward a little from two years back."
This summer is crucial if Udovicic's team is to improve on a disappointing 10th place finish at the 2016 Rio Games. Experienced players like Bowen, Obert and Smith must mesh with a crop of young prospects.
"We've got so many talented players but they need more experience [and] more games—which they'll get in the two years before the Olympics," he said.
Unlike the FINA Intercontinental Cup, where Australia and Japan were the main competition, the Super League Finals include some of the world's top teams, including Croatia—which last summer beat defending Olympic title-holders Serbia at the FINA World Water Polo Championships. The contest this morning against Spain will be followed tomorrow by a match at 10:45 a.m. (PST) against Kazakhstan and then the Croatians on Wednesday at 9:15 a.m. (PST).
All matches will stream LIVE on FINA TV and can be accessed by clicking here. (subscription required).
If successful in pool play, the Americans will advance to the quarterfinals on Thursday. Last year, Team USA finished fourth at the Super Finals, dropping a close match to Serbia along the way. The Serbs have chosen to skip the annual tournament this year; Australia, Japan, Montenegro and host Hungary complete the field competing in the Duna Aréna, a spectacular aquatics facility built for last year's FINA World Aquatic Championships.
Udovicic, who will be assisted on this trip by Alex Rodriguez and Gavin Arroyo, hopes that the talent pipeline from U.S. high schools and colleges is up to the task of competing with some of the world's best squads.
"We're trying to put a system in the States—not just once to [achieve] success," he said. "We are trying to be in a position that every year we will be contenders as top four teams in the world."
Another summer of experience should greatly benefit Cupido—recently named the 2018 Cutino Award winner—Hallock, Roelse and McQuin. Then there's Johnny Hooper—a "unique player" according to Udovicic—Vavic, a sophomore at USC, and Daube, who will join Vavic at Southern Cal this fall.
"Everyone's asking for him!" the U.S. coach said about his prized pupil. "Nobody believes that he's in high school."
Not to be overlooked is Max Irving; coming off his second NCAA title as a UCLA, the now-graduated Bruin is hoping to find a spot on Udovicic's roster as a sharpshooting attacker. Chancellor Ramirez, another ex-Bruin, will compete with Hallock and Obert for time at center.
No matter what the outcome this week In Budapest, Udovicic knows that there's a busy summer ahead for his squad.
"What we need is patience… and hard work," he said.
2018 FINA World League Super Final – USA Men's National Team Schedule
June 18 – vs Spain 12:15 p.m. (EST) /9:15 a.m. (PST)
June 19 – vs Kazakhstan 1:45 p.m. (EST) /10:45 a.m. (PST)
June 20 – vs Croatia 9:15 a.m. (EST) /6:15 a.m. (PST)
June 21 – Quarterfinals (TBD)
June 22 – Semfinals (TBD)
June 23 – Finals (TBD)