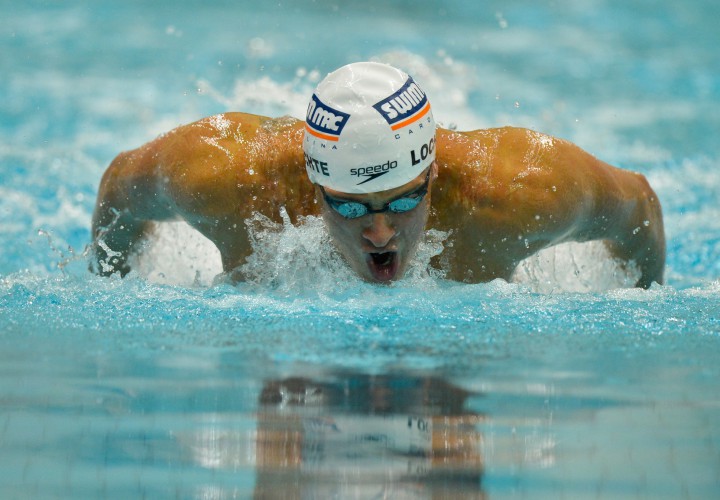 Photo by Kevin Liles – USA Today Sports
By Dr. G John Mullen
SANTA CLARA, California, August 4. AS I enter my 20 or so year involved with swimming, I'm gaining an appreciation for the commitment of the swimmers, coaches, officials, and all those involved. Like most sports, many involved go unrecognized for their countless hours of work, thought, and dedication. Unfortunately, 24/7/365 commitment is neither workable, nor healthy for anyone, especially the swimmer.
During consultations, I'm often approached about when to start resistance training or what to-do with an injured 8-year-old. These areas are well within my expertise and I'm happy to assist these tough questions. Now, I wish to ask a question, why are clubs having swimmers train 12 months a year?
When I think of the problems of performing swimming without a break, two main issues arise:
1) Physical Stress: Swimmers, like all sports, has it's inherent stresses. Research suggests 14-year-olds have shoulder muscular imbalances. Is having them perform the same motions all year best for these imbalances which increase injury risk? Also, if the body is only taught the same motor skill, will the body learn more skills later in life? Will year-round youth swimmers be capable of adjusting their strokes as they mature? Do older swimmers have accumulated stress from years of training. If we want elite older swimmers, less physical stress during their youth is mandatory.
2) Psychological Stress: Performing one activity puts a mental drain on any athlete. If someone is putting their body through the demands of professional athletics, they need a mental break. Think about NFL and NBA players, they have a set off-season where a break occurs. In swimming, some of the greats (ie Michael Phelps), have the mental capacity to swim for a few years without a break. However, an overload eventually occurs, requiring a break. If you are Michael Phelps, you may be able to return to elite swimming after n elongated break. This works for Phelps, but more frequent, short breaks can provide mental breaks for elongating a career. Many swimmers currently don't compete as long as other athletes (most finishing at 18 or 22 years), a future problem as more money enters the sport. Honestly, I think swimming federations should spend more money keeping swimmers involved in the sport until their mid- to late-twenties. Unfortunately, most governing bodies put more resources into teenage swimming [which is also great]. This emphasis limits the time for most swimmers to compete during their peak strength range (typically mid-twenties). I cringe when I think of all the great swimmers who may have hit a best time if they continued swimming to the age of ~27 years. Seriously, think of all the pro athletes who make great strides in their mid to late twenties, this is not an opportunity for many swimmers. If we want swimmers to compete until their late twenties and hopefully early thirties, a shift of mind is mandated from the top down.
Now, the reasons for never taking a break must also be considered, as any differences in opinion/life require consideration:
1) Earlier Peaking: If a swimmer swims without a break from the age of 8 – 16, they will swim faster at a younger age. Now, this may sound absurd, but some may want to reach their peak around 16/17, as it increases their likelihood of a collegiate swimming scholarship. Another reason for earlier peaking is the ability to keep a child in an elite group with better coaching and perks. Imagine a young 13-year-old who swims 4x/week and is on the cusp of entering the "National/Senior" group when she turns 15-years. Perhaps, increasing her swimming frequency can allow her to enter the elite group and have better coaching and and a superior training environment.
2) Coaching Security: Often, age-group programs report success by youth swimming success. If you are a coach of an 11 – 12 group, you may be paid to get this group of kids as fast as possible. The best way to acutely enhance your swimming is to have them swim everyday, without a break. This may sound like I'm blaming the coach, but it is a much bigger issue, specifically with the club and a lack of stress on the process, rather than the results. If an age-group coach was like a stock adviser working with erratic clients wanting quick returns, then that's what you'll give them. Unfortunately, in swimming, you can't trade your stock. So, if you invest in a stock with a quick return, the long-term investment may be horrible and you'll have to go through some bumps along the way.
3) Increased Club Revenue: Many clubs don't want to admit it, but the sole reason they offer swimming 12 months of the year is to get dues for 12 months, opposed to 10 or 11 months. This may sound sadistic, but is the truth. As a business owner, admittedly, I can't blame them! When your job or career is based on the bottom line, then you've got to find ways to make money. Also, many parents want year-round swimming, as "Michael Phelps swam year-round" or "I can't pay for a babysitter" is a frequent response. If you can make more money and your parents want it, why would a coach or club turn it down?
A simple solution is a larger stress for early diversification. This is the concept of having kids perform multiple sports through puberty, then isolating on one sport at the end of puberty. This "old school" approach will decrease injuries, improve athleticism/motor control, increase enjoyment, and increase long-term success. However, if the club or parents do not want to suggest moving away from swimming there are other options.
(Non) Swimming Season
For two months of the year (consecutive or non-consecutive), bring in a "dry-land" coach to instruct the children in other activities. This can involve body weight strength training, in/out-of-water activities, other sports, etc. These activities can keep kids active, healthy, athletic, and fresh for the upcoming season. A different coach can provide a fresh environment for the swimmer, possibly increasing their interest in sport and physical activity.
This idea may sound radical, but can satisfy all parties, ensuring long-term athletic development and health. If your club is having their swimmers train 12 months of the year, consider a change, especially if you want long-term swimming success!